CHICAGO—The White House formally announced Thursday that President George W. Bush will open the 2005 World Series in Chicago by throwing out the ceremonial first pitch, and then going on to pitch the first five innings against both the Chicago White Sox and the Houston Astros.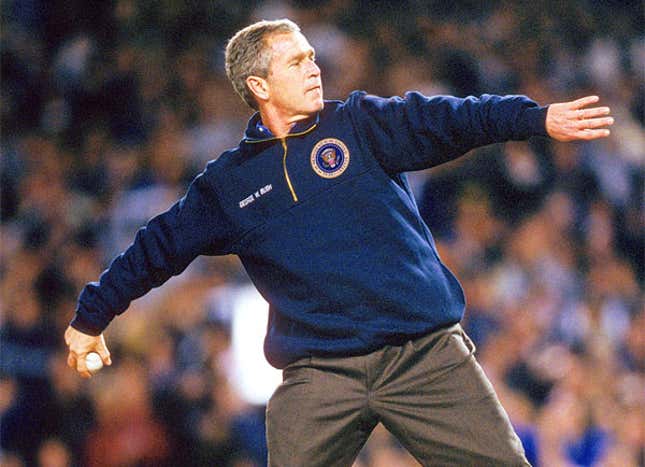 This Week's Most Viral News: September 22, 2023
"My fellow Americans, I am proud to announce to you that, as your president, I will put my reputation and my arm on the line for Game 1 of the World Series," Bush said in a televised press conference this morning. "I have heard people say that I cannot do this at my age, or that the president's job is not to pitch in the World Series, or even that they don't think I still have my high heat. My friends, I aim to prove them all wrong this Saturday in Chicago."
White House officials say that Bush has been preparing for his Game 1 start by working out with Secret Service agents, as well as with pitching coaches from the Minnesota Twins and St. Louis Cardinals, who are familiar with the batters from Chicago and Houston.
"I know this will not be easy, but I believe that any true American would do this themselves if they were asked," Bush said. "Therefore, I cannot turn down the opportunity that has fallen to me. And in the interest of fairness and impartiality, I promise you this: I will keep hurling until both [Astros manager] Phil [Garner] and [White Sox manager] Ozzie [Guillen] agree that I've got nothing left in the tank."
Bush is expected to rely heavily on his cut fastball, the late-breaking out pitch he developed later in his career that is especially tough on lefties.
"I know Berkman is going to be looking away, so I might try to bust him inside with my slider," Bush said. "And as for Konerko, it's gonna be fastballs on the outer half of the plate all day long. I've spent the past few weeks poring over advanced scouting reports and reviewing tape, and it's clear he can't hit the outside pitch."
"I'm hoping to compile a good ERA by letting my defenses do some work behind me, outsmarting the hitters, and dividing it by two after the outing," Bush added. "That's only fair."
Security at U. S. Cellular Field has been beefed up in anticipation of Bush's major-league pitching debut, and many other preparations have been made for the historic occasion.
"The idea is to treat the leader of the free world like any other major-league pitcher," said W. Ralph Basham, the director of the president's Secret Service detail, who has supplanted the head of security at the ballpark for the event. "Of course, we've had to get the NSA to brief the catchers for both teams, sweep the place for bugs, and outfit the entire facility with advanced electronics to prevent the stealing of signals. There will also be complete personal searches performed on all spectators, so we're asking fans to show up at least six hours before game time and carry three forms of identification. And all popcorn, peanut, and beer sales will be performed by fully trained special agents."
"In addition, we're aware that the president's control, although still respectable, isn't what it used to be, especially where his breaking ball is concerned," Basham added. "We want all the players on both teams to know that if they're hit by one of the First Pitches, they should just take their base. Anyone who charges the mound will be cut down by sharpshooters equipped with suppressed MP5 submachine guns. That goes double for you, Pierzynski."
Nolan Ryan, Bush's personal pitching coach for the event, said he is confident that the president won't get rattled, even in a pressure-packed situation like Game 1 of the World Series. "Mr. Bush may walk his share of batters, but as long as he keeps the ball down and prevents the big inning, he should be fine," Ryan said. "After all, the president has worked himself into jams before. But everyone knows he's a man who always finds a way to get out unscathed."
Although the presence of the president on the mound would seem to create problems for the umpires, Bush merely smiled when asked about the officiating for the game.
"I'm going to talk with them before the game and tell them the same thing I'm telling you now," Bush said. "Just because I'm the president doesn't mean I expect to get any special treatment when I'm pitching in the Fall Classic."
Despite the promise of fair play, odds-makers readjusted the betting line for the World Series opener upon hearing the president's announcement. The new odds are seven to two in favor of the Houston Astros, Bush's hometown team, with a nine-run point spread.