ELMHURST, IL—An adjustable butterfly fuck-swing once used by Nathan Moscone and Sofia Klein-Moscone to have wild and uninhibited sex in myriad aerial positions has been slowly filling up with junk mail over the past several months, the couple reported Monday.
The dozens of credit card offers, coupon flyers, and unsolicited catalogs were first stacked in the butterfly fuck-swing in order to clear off the dining table for visiting relatives, but more mail gradually began to accumulate on the soft vinyl seat designed to cushion the rapid, percussive strokes of lovemaking.

"The wife and I sure had some crazy times on that thing before we had the baby," said Nathan Moscone, 37, motioning towards the adult toy, upon which he had just hung his suit jacket. "But it seems like forever since I turned her upside down in that thing and dripped hot wax onto her vulva. Maybe we can give it another go after we finish the deck. That's taking up all my spare time at the moment."

The butterfly fuck-swing features nylon straps, padded stirrups, a swiveling hook, a crossbar Klein-Moscone used to grasp in the throes of ecstasy, and, more recently, several unread issues of O, The Oprah Magazine.

Moved from the couple's bondage room, now a nursery, to the den late last year, the fuck-swing ended up in an ideal location to deposit mail deemed too unimportant for the already full rolltop desk in the corner. Other items, such as a box of edible lubricants and an 18-inch steel-studded leather paddle, were relocated to the attic to keep them out of the reach of the Moscones' active and inquisitive 11-month-old daughter, Abby.

G/O Media may get a commission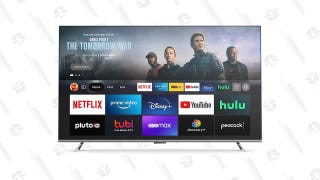 Save 46%
Fire TV 55" Omni Series 4K UHD Smart TV
Klein-Moscone, 33, said that she had considered simply throwing out the junk mail, but balked after the last time, when she accidentally discarded an important medical bill that had been placed in the butterfly fuck-swing.

"I swear I'll get to sorting out that mail soon," said Klein-Moscone, who less than two years ago would strap herself into the butterfly fuck-swing at her husband's slightest suggestion, but now only interacts with the sex apparatus when rummaging through it for a Home Depot receipt.

In addition to raising a baby, Moscone said that working long hours, volunteering at their church, and doing yard work leaves him and his wife very little time to read their mail and enjoy exhilarating sadomasochistic fucking through unconventional methods.

"I was just thinking yesterday, Boy, I can't remember the last time I had my fist up my wife's asshole," Moscone said. "It happens to every marriage, I guess."

Also noticeably absent from the couple's sexual repertoire is the bright purple silicone butt plug that, for the past several weeks, has been the favorite chew toy of their Pomeranian, Champ.

"I'd love to give those ankle and wrist restraints another go, but for the life of me I can't remember where they are," said Moscone about a set of chained leather cuffs that are currently being used to padlock a composting bin in the couple's backyard. "And I haven't seen hide nor hair of our cock rings since we were up in Lake Geneva. We'll have to get some new ones, I guess."

"Well, as soon as the family budget allows for it," he added.

Despite being forced to retire the nipple clamps after the baby started nursing, the pair said they would still consider having exciting and adventurous sex if Klein-Moscone ever returned home from her advanced Pilates class with any remaining energy.

"Last Thursday, Nathan and I wanted to take his penis prison out of the shed to have a little bit of fun before Dateline," said Klein-Moscone, referring to a rubber locking male-chastity device. "But, my God, was that shed a mess—we ended up just sorting junk. At least I found our favorite ball gag, which I'm going to hang in the garage so I know how far to pull the minivan in."

Both Moscones hope to get their once-hot sex life back into gear in the spring, pledging to make good use of a leather hood and spreader bar when they try for another baby.