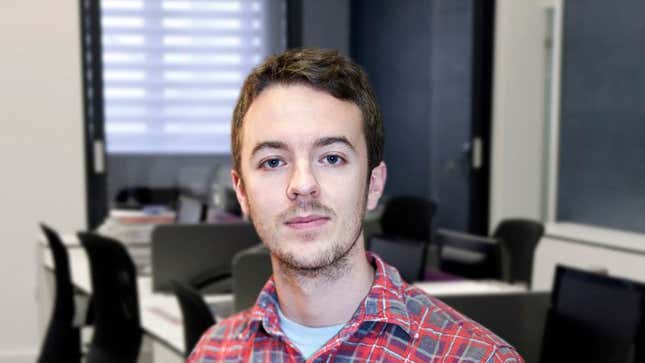 NEW YORK—Bringing an end to a high-profile scandal that has shaken the media industry, BuzzFeed staff writer Tim Mills resigned his position Wednesday following widespread accusations that he plagiarized content in the recent slideshow "10 Llamas Who Wish They Were Models."
This Week's Most Viral News: September 29, 2023
The 26-year-old Mills, a once promising young writer in BuzzFeed's Animals division best known for authoring the popular posts "First-World Bear Problems" and "Seal And Owl Are BFFs," admitted this week that he copied captions from other reporters' slideshows without proper attribution and lifted various images of grinning llamas and wig-wearing alpacas directly from competing websites.
"We would like to offer our sincerest apologies to our readers for the egregious unprofessionalism of our recent slideshow '10 Llamas Who Wish They Were Models,'" BuzzFeed editor-in-chief Ben Smith wrote in a press statement Wednesday. "The unauthorized reproduction of proprietary llama photographs and the plagiarism of captions and emoticons by former employee Tim Mills represented a breach of BuzzFeed's stringent journalistic standards and an inexcusable violation of our readers' trust. As of today, Mills no longer works for this company."
"We have added additional checks and reviews to ensure that BuzzFeed continues to provide only the highest quality slideshows of animals riding on top of other animals, animated GIFs of people dancing poorly, and compilations of the best celebrity tweets from Verne Troyer, Bob Saget, and others," Smith continued. "Our users deserve nothing less."
According to sources, the plagiarized slideshow was first discovered last week by media blogger Jim Romenesko, who noticed several striking similarities between the BuzzFeed post and a November 2011 slideshow on the Cheezburger Network titled "These Llamas Have It Better Than You." In addition to using many of the same source images, Mills allegedly copied several captions nearly verbatim, including the phrases "Umm, jealous much?" and "You think I don't own this? *smokes a cigarette*," making only minor changes to syntax and alterations to the number of exclamation points.
In one particularly egregious instance, Mills apparently appropriated an entire slide of an open-mouthed llama with tousled hair, changing only an "LOL" to an "ROTFL" in the caption.
After various bloggers discovered that several more of the slides had been copied in part from Happy Place, FunnyJunk.com, and KnowYourMeme.com, BuzzFeed opened a full investigation Friday into the once highly touted young editor's extensive resume of baby monkey, sleepy dog, costumed guinea pig, and horse-photobomb slideshows.
"This is truly shocking—Tim was a rising star in the viral media industry who already had a 500,000-view sloth slideshow under his belt by age 24," said Oscar Kennedy of the Columbia School of Journalism, noting that the scandal effectively invalidated the millions of likes, retweets, +1s, pins, upvotes, diggs, and stumbles that Mills had accumulated over the years. "This was a talented kid who was hired right out of college and quickly shot up the BuzzFeed ranks with his uncanny ability to come up with new reasons you know you're a kid from the '90s. He had a bright future ahead of him, but unfortunately he threw it all away."
"The sad thing is, this revelation casts a dark shadow over all his major successes, like 'What Pigs Do On Their Day Off' and '19 Chinchillas We Want To Be Friends With,' as well as his impressive, extensive work cataloging dachshunds with items balanced on their heads," Kinsler continued. "It's tragic, but in the fast-paced, high-stakes animal slideshow game, sometimes your ambitions cloud your better judgment."
While BuzzFeed has been eager to mend relations with its millions of monthly site visitors, many have expressed deep displeasure with the company, saying they were unsure whether they would continue visiting the website for their daily autocorrect and corgi slideshow needs.
"After this scandal, how can I be sure that what I'm actually seeing on BuzzFeed are fresh, new cringe-worthy Game Of Thrones tattoos and not just some previously published slideshow that they just retagged from 'WTF' to 'Fail'?" said BuzzFeed user Lindsay Atherton of Morristown, NJ, who noted that she chose not to read the "14 Charlie Sheen Quotes If They Were Said By Yoda" that had been forwarded to her earlier in the day, citing her mistrust of the company. "That llama slideshow was an insult to all users. It's almost as if BuzzFeed doesn't respect my intelligence as a reader."
"The BuzzFeed name used to be synonymous with excellence and integrity," Atherton added. "But frankly, I don't know if I can take them seriously anymore.