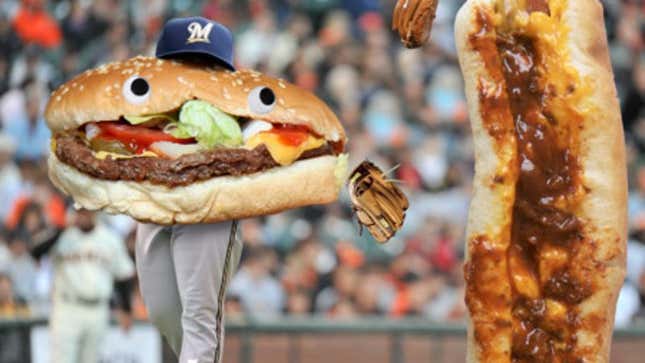 MILWAUKEE—The Brewers' playoff push has run afoul of an unusual distraction, as sources close to the organization confirm that newly acquired husky starting pitcher C.C. Sabathia and sizable power-hitting first baseman Prince Fielder continue to visualize one another as a 6'7" chili cheese dog and a 260-pound hamburger with all the trimmings, respectively.
Edgelords Explain Why They Love Elon Musk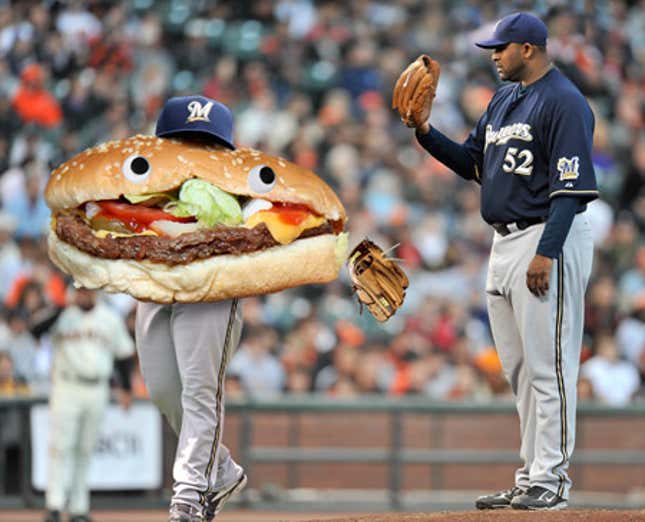 Team insiders say the problem has become a serious disruption, with numerous incidences of each player tying a bib around his neck, holding a knife and fork in their outstretched hands, and chasing the other around the ballpark.
"I should have noticed something was wrong weeks ago, when Prince, who has always had a certain fascination with the sausage races, expressed delight that we had 'signed Cleveland's huge chili cheese dog' and welcomed C.C. to the team by coating him liberally with celery salt and mustard," said manager Ned Yost. "And in his very first start, C.C. praised the way our 'great big hamburger' was hitting, and kept trying to pick off runners at first base by throwing ketchup and extra cheese to Prince."
Although both Fielder and Sabathia are major factors in the Brewer's playoff plans, their teammates admit that their recent displays of appetite have been a bit unnerving.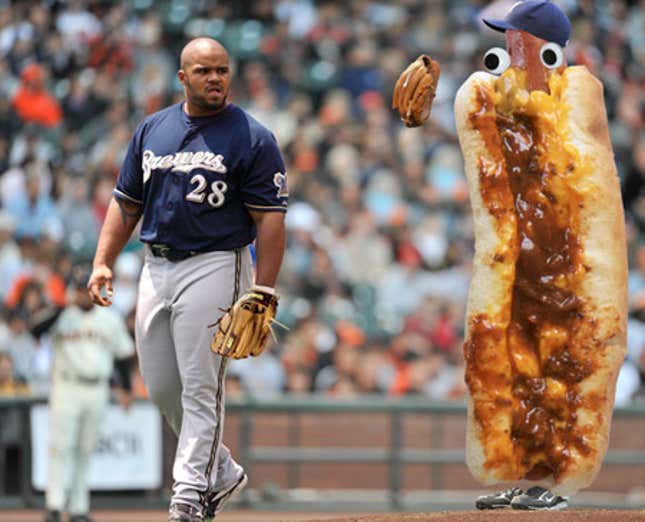 "Usually, the other players step in before one of them takes a bite out of the other," said Brewers reliever David Riske. "But the whole thing is pretty unsettling. Sabathia and I were getting our arms rubbed the other day, just kind of stretching them out across the massage table, when suddenly an empty jar of relish rolled by. I looked up, and Prince had put a huge hot dog bun and all the trimmings on Sabathia's arm when he wasn't paying attention. C.C. pulled himself out at the last minute, but when Prince's teeth came together, it made a chomping sound you could hear throughout the clubhouse."
Sabathia responded by chasing Fielder around the clubhouse with a pair of giant salt and pepper shakers.
On Monday, Yost announced that any player who attempted to devour another, no matter how delicious they seemed to appear, would be subject to disciplinary action. However, like many disciplinary measures involving athletes, the decree seemed only to make those involved more cunning.
"I was using the hot tub to ease some soreness the other day with Prince, who had nodded off, when C.C. came in carrying these grocery bags," said third baseman Bill Hall. "I had just noticed that something smelled really good when I realized that C.C. was cutting up vegetables and throwing them in the hot tub with Prince, alongside plenty of noodles and spices, to make some sort of hamburger casserole."
Luckily, Fielder woke up before the mixture thickened and retaliated by attempting to trap Sabathia in the steam room along with a bag of mesquite-flavored grilling charcoal.
"This has to end," Yost admitted to reporters as the Brewers readied themselves for a four-game series against St. Louis. "We can't have players trying to eat one another, even in Milwaukee, so we're taking steps. We've already talked to both players, explaining that while they are big, they are not food. And as a provisional measure, we've gotten Ray Durham from the Giants in the hopes that both Prince and C.C. will think he's a giant ham and leave one another alone."