LOS ANGELES—Following Thursday's gruesome discovery of the remains of former Blossom star Joey Lawrence, law enforcement officials are feverishly speculating on the identity of the next victim of the so-called "C-list Celebrity Killer."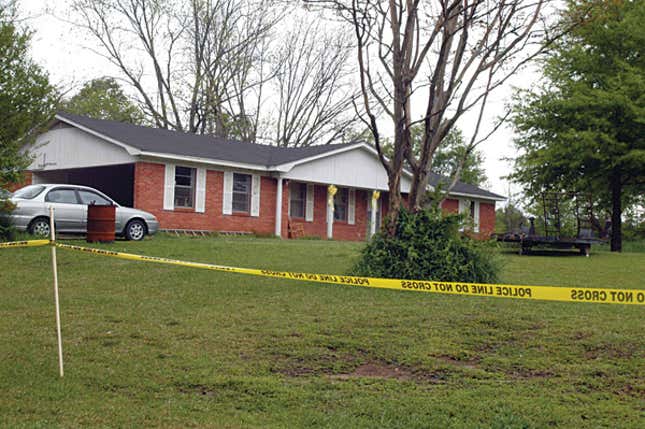 "We have reason to believe that Dan Cortese, Melissa Rivers, both Kid and Play, or British model Jordan could be next," said Lt. Greg Javers of the Los Angeles Police Department at a press conference Monday.
"Oh, and that 'I see dead people' kid," said Javers' associate, Lt. Jerry Patelli. "You know, what's-his-name."
The "C-list Celebrity Killer" is believed to have claimed as his first victim, Sabrina The Teenage Witch's Melissa Joan Hart, whose body was discovered floating near the Long Beach docks eight months ago, although some following the case believe that Jackie "The Jokeman" Martling's apparent suicide in April 2005 was the killer's handiwork as well.
"As a profiler, I really try to get inside the killer's head, see the world as he would see it," Javers said. "Who's out of the public eye and for how long? Have they done any long-distance phone commercials? Are they trying to lose weight on reality TV programs?"
"I'd also keep a very close eye on Yasmine Bleeth, the brunette from Baywatch who's not Carmen Electra," he added.
The ensuing deaths of ex-Married With Children actor David Faustino, the girl in that Lolita remake a few years back, and Lou Diamond Phillips, have police combing the website imdb.com and frantically attempting to recall the names of stars of such defunct TV shows as The Nanny and Melrose Place.
"For a while, we thought about contacting Jenny McCarthy to make sure she was taking the necessary precautions, but then we saw that movie she wrote, directed, and starred in on Showtime," Patelli said. "Tough to say if she's at risk or not. For now, we'll just stick close to the police scanner and see how this one plays out."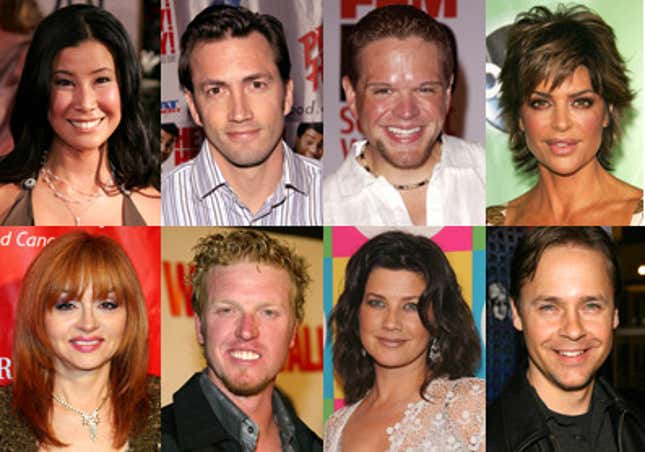 Investigators said the most common patterns among the slain celebrities include routinely starring in shows cancelled within two seasons and appearing in made-for-TV or direct-to-DVD movies.
"We believe the likeliest targets are R&B one-hit wonders from the late '80s and early '90s, former child stars, and Maxim cover girls," Javers said. "You remember Punky Brewster? She had this weird name: Soleil something something, I think. Anyway, she's probably on the killer's list, too."
A subsequent discussion between the two policemen eventually ruled out Jamie Kennedy and David Arquette as potential victims. Skeet Ulrich was also crossed off the list when Capt. Janice White reminded them that he was starring in a new, mildly popular TV series.
After combing the Dawson's Creek complete series DVD set last month, Javers devised an elaborate "dead pool" the two officers planned to use to predict the next victim.
"Just when we thought we'd cracked the code, Molly Ringwald turned up bound and strangled in a Beverly Hills motel room," Patelli said. "We certainly didn't see that coming. My wife swears she just saw her on Scrubs or one of the doctor shows."
"It's like he's toying with us," he added.
The FBI has embarked on a related effort dubbed Operation Where Are They Now, in which they are canvassing houseboats and nightclubs and bars where celebrities have made paid personal appearances over the past three years, and scouring the call-back lists of auditions for Law & Order: Criminal Intent.
Police said that while they are following every lead, many of which are "going nowhere fast," they are overwhelmed by the sheer number of potential victims.
"After all these years on the force, I'll never figure out why bad things happen to good people," Javers said. "Rob Morrow was terrific in Northern Exposure, and really showed his range in Quiz Show. To see him gutted and defiled like that—it's enough to make you wish Orlando Bloom wasn't on such a hot streak, you know?"
There have been setbacks in the case, as well. In July, a lengthy discussion about whether Eric Roberts qualified as a C-list celebrity was disrupted by a phone call reporting that he had been found slain.
"After that, we really wanted to shift our attention to Peter Scolari, the guy from that Tom Hanks show," Patelli said. "But, in the end, we figured the C-list killer wouldn't waste his time on him, so why should we?"