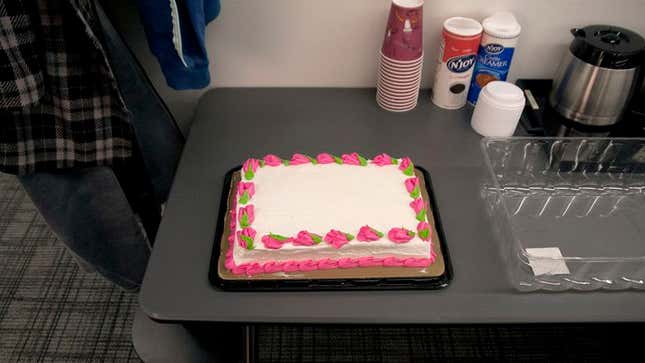 MINNEAPOLIS—Leaving dozens of workers unsure as to whether they were permitted to consume the enticing dessert, sources at the offices of Highwood Insurance told reporters Wednesday that a cake had been left out in the break room without any instructions.
This Week's Most Viral News: September 29, 2023
Prominently placed in the center of the break room's kitchen table, the 11-by-15-inch cake reportedly lacked any sign or note explaining its presence. Employees confirmed the store-bought cake, the surface of which does not bear any message written in icing that might reveal whom or what it could be for, has remained completely untouched, with no pieces missing, since it was first discovered after lunch.
"Is this cake for everybody?" asked junior sales representative Chris Walsh, 28, who, though tempted to start eating the dessert, reported that he was uncomfortable proceeding without any clear confirmation that he was free to do so. "They wouldn't just leave it out here like this if it weren't for people to eat, right? Still, I'd hate to be the first one to cut into it if it's not for all of us."
"Maybe I'll swing by later," he continued. "It looks pretty good."
Perplexed employees remarked that at no point did they receive an email from the office manager notifying them that there would be a cake in the kitchen to mark an occasion of some kind, as they typically do in the event of an office celebration. As a result, sources said, those who encountered the unmarked dessert could only speculate as to whether it might be an indication of a birthday, retirement, or possibly even an office baby shower.
Noting that the cake is just sitting out in the open and that someone had already removed the clear plastic cover from the confection, observers concluded that the dessert must be intended for consumption before the end of the workday. Employees stated that the mystery had been heightened by the fact that a few plastic forks had been left out, but no paper plates or cutting utensils, which further frustrated attempts to discern whether people were simply meant to begin helping themselves.
Reports also indicated that the cake definitely isn't big enough for the entire office.
"This might just be for the sales team," said 43-year-old Tim DeSoto, noting that the department had recently met its third-quarter goals, but that, as an accountant, he may not be entitled to a slice. "I'm not really sure. I guess I could ask if anyone else knows what's going on, but my desk is close enough to the kitchen that I can probably just keep an eye on it and see what happens."
"I don't want to miss out on cake," he added.
Throughout the day, employees admitted to finding excuses to check on the status of the cake, often by going into the break room to refill their still half-full glasses of water or by striking up a conversation with someone whose cubicle has a clear line of sight to the dessert. According to reports, those revisiting the cake typically lingered near it for several minutes before leaving, later repeating the process at approximately half-hour intervals.
"Surely they're not just going to leave it out here all afternoon," said IT manager Sarah Golin, 32, noting that in 90 percent of these cases, such as the loaf of banana bread brought in after Mother's Day or the entire pumpkin pie from the Monday after Thanksgiving, the food is up for grabs. "If it weren't meant for someone, it would still be in the fridge. It's definitely going to be eaten soon. Sometime today."
"I want some," she continued.
At press time, the sight of the company's IT technician walking down the hallway with a slice of cake had reportedly triggered a mass scramble toward the kitchen.