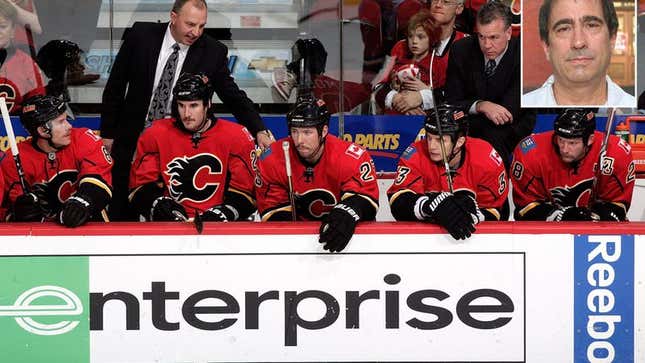 CALGARY—While the Flames stand at a modest 31-23-8 and are in 8th place in the Western Conference, team sources revealed this week that the team's main struggle this season has been tricking their landlord, Mr. Bennigan, into thinking they are not a professional hockey team and that no hockey is being played on the Scotiabank Saddledome premises.
"If he caught us playing hockey in his arena, he'd kick us out of here in a second," Flames general manager Jay Feaster told reporters. "When he handed us the keys the first day, he specifically mentioned that his two main rules were no dogs and no hockey."
"Mr. Bennigan really hates hockey," Feaster added.
According to team sources, the most recent eviction scare occurred Tuesday when Mr. Bennigan returned home one day early from his Caribbean cruise. The Flames were in the middle of a home game against the Boston Bruins when captain Jarome Iginla spotted Mr. Bennigan's Cadillac pulling into the Saddledome's parking ramp.
Iginla quickly changed into jeans and a sweater and distracted the oblivious landlord by leading him outside to admire the night sky while the rest of the team hid all the hockey equipment, shut down the 460-kilowatt lighting system, crammed 12,000 protesting fans inside several concession stand storage closets, slipped the visiting Bruins out the back loading dock, and covered the ice rink with a 400-foot tarp.
When Mr. Bennigan finally entered the virtually empty 19,000-seat arena, he was greeted by the sight of Flames winger Raitis Ivanans, whom Bennigan knows as "Ratty" and believes to be a part-time bus driver, sitting on a couch where center ice would be watching a Friends rerun on a 19-inch television set.
"Man, that was a close one," Iginla told reporters as he and every team member present wiped sweat from their brows. "We have to start being more careful about playing hockey here. I think Mr. Bennigan may be suspicious again, because he kept asking me if it was too cold in the arena."
Since the franchise arrived in 1980, the Flames have concealed their 41 home games a season and their intense practice schedule from Mr. Bennigan through methods of skating very softly, not hitting slap shots that might break anything, and using their jumbotron to remind fans to please be quiet.
Their long-term lease, which explicitly states "No Hockey Playing," was almost broken in 1981 when Mr. Bennigan walked in on an exhibition game against the Toronto Maple Leafs. However, Flames sources say original team members Kent Nilsson, Willi Plett, and Paul Reinhart constructed a story that saved the team from being evicted.
"We assured him that it wasn't what it looked like," Nilsson said. "It got kind of confusing for a minute as we all tried to explain at one, but eventually we convinced him that we were a semi-professional basketball team that uses hockey equipment to practice and teach us how basketball shouldn't be played."
Defenseman Anton Babchuk noted that his current Flames teammates have tried to find another arena in the greater Calgary area, but at $740 a month, it's impossible to beat the Saddledome's rent.
Other close calls throughout the team's history include Mr. Bennigan finding a stray hockey puck in the arena in 1985, an instance in 1992 when Mr. Bennigan tried to get some of the players a professional tryout with the Chicago Bulls, and the citywide celebration after the Flames won the Stanley Cup in 1989.
In 2002, the Flames, exhausted by keeping up the decades-long ruse, actually came clean and revealed their true hockey playing identity. However, following their somber explanation, Mr. Bennigan reportedly began laughing hysterically, and said they "had him going for a second there."
"Sometimes [second-line center] Brendan [Morrison] will accidentally blurt out, 'I think we fooled Mr. Bennigan into thinking we're not playing hockey,' when Mr. Bennigan is standing right there," Iginla said. "But Brendan has a reputation for being an idiot, so Mr. Bennigan never takes anything he says seriously."
Other Flames players slated to be interviewed for this piece demurred at the last minute, saying they had to hurry and get the Saddledome cleaned up because their mothers—all of whom despise hockey and believe their sons are instructors at a prestigious Canadian dance academy—will be there for a surprise visit any minute.