BEMIDJI, MN–Despite his insistence, Timothy Woronoff has been unable to substantiate his longstanding claim that he has a girlfriend in Canada, sources close to the 16-year-old Bemidji High School junior reported Monday.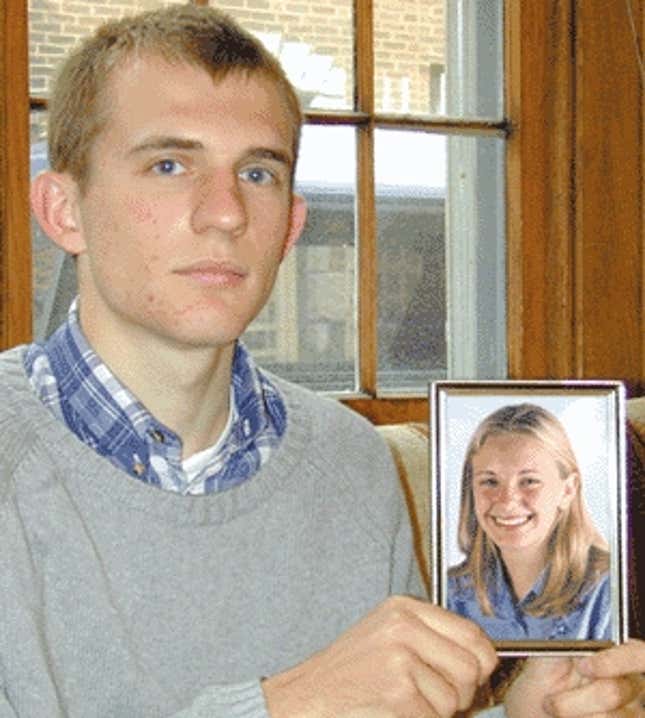 This Week's Most Viral News: June 2, 2023
Ever since September, Woronoff has been telling friends and classmates that he is involved in a long-distance relationship with "Audrey de Trudeau," an alleged Banff, Alberta 17-year-old. According to Woronoff, he and de Trudeau met last July while both were counselors at a band camp in the Boundary Waters region of northern Minnesota near the U.S.-Canadian border.
"We totally fell in love with each other at camp, and when the summer ended, we decided to stay together," Woronoff said. "It's too bad Audrey can't come down and visit me all that often, living so far away and all."
Andrew Dwight, Woronoff's best friend, said he has long doubted the girlfriend-having claims.
"I first wondered about it last October, when I asked Tim exactly how he met Audrey," Dwight said. "He was all quiet for a while, saying he was trying to remember. Finally, after about a minute, he said, 'Oh, yeah–this guy Jeff we both happened to know introduced us. I totally forgot about that.'"
His suspicions raised, Dwight continued to grill Woronoff on the subject.
"I asked him if he had any pictures of Audrey, since I'd never seen one and he's always bragging about how hot she is," Dwight said. "He said he'd asked Audrey for one a bunch of times, but she hadn't sent one yet."
The next day, Woronoff produced a framed picture of a willowy, attractive young girl.
"She was pretty much like Tim described her, which freaked me out," Dwight said. "Still, it was kinda weird that he got a picture in the mail the day after I asked him about it. I thought maybe it was one of those photos that comes with the frame, but when I looked at it up close, I could tell it was a real one. I was starting to think that maybe he was going out with some Canadian chick, after all."
Dwight's doubts grew, however, when Woronoff and de Trudeau failed to see each other over Christmas break.
"I was like, 'How come you're not gonna see Audrey over break? You've got two weeks off,'" Dwight said. "Tim said he couldn't fly there because his parents wouldn't let him travel over New Year's, with the whole Y2K thing and all. And he said Audrey couldn't come here because she didn't get any time off from school for Christmas, since they don't observe it in Canada. At least not in the French-speaking parts like Alberta."
Added Dwight: "He also said Audrey's parents don't approve of her dating an American, so that makes it even tougher to see her."
Determined to discover the truth, several classmates set Woronoff up on a "date" with Bemidji High School senior Julie Harter, convinced that if faced with a real-life romantic prospect, his Canadian-girlfriend claims would dry up. On March 10, Woronoff met Harter for ice cream at a local mall, but the date ended when he told Harter that his relationship with de Trudeau was too serious to allow him to see other girls.
"He's got to have a Canadian girlfriend. He's got to," Harter said. "How sad would it be to make up a pretend girlfriend, then refuse to see an actual girl because you're involved with a make-believe one?"
Dwight said that in the hundreds of hours he's spent at Woronoff's house, de Trudeau has never phoned. He has never seen a letter from de Trudeau lying around Woronoff's room, either.
"I'm at the point where I'm going to call Alberta information and ask if there's an Audrey de Trudeau there," Dwight said. "If Tim is lying about this whole thing and living in a pathetic fantasy world, that's his own deal, I guess. But I've just gotta know. It's killing me."
When questioned by biology-class lab partner Eric Brower about the specious Canadian lover, Woronoff became defensive.
"Of course Audrey exists," Woronoff said. "She just sent me this plaid lumberjack shirt I'm wearing, see? Where else would I get a Canadian shirt like this? You're just jealous because I have an exotic foreign girlfriend, and you don't even have an American one."