ATLANTIC CITY, NJ—A beaming Donald Brant, general manager of Bally's Atlantic City, reported that the casino had "an unbelievable night" Monday, cleaning up at the blackjack table, on the slot machines, and elsewhere.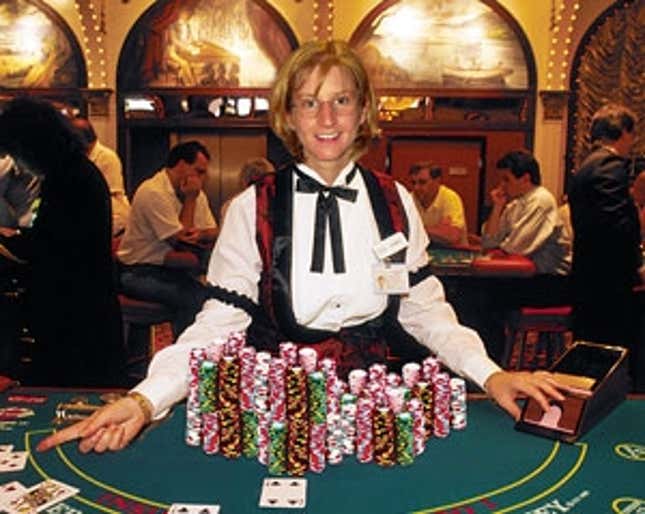 Edgelords Explain Why They Love Elon Musk
"Man, we were on fire all night," Brant said. "It seemed like every time a casino patron pulled that slots lever, it came up a loser. Whenever somebody told the blackjack dealer to hit on 12, they drew a 10. We could do no wrong."
By the end of the night, the casino walked away a major winner, up $515,274.
"I had a sense that we were doing pretty well," Brant said. "So I checked around with the pit bosses, and it turned out that nearly all the dealers and croupiers were way, way ahead. It was amazing. A night like that only comes along five, six times a week, tops."
While most players are content to focus on one or two games, the casino participated in every available coin-operated machine and table game, including roulette, blackjack, craps, Spanish 21, pai gow, baccarat, and Let It Ride.
"We've got a system," Brant said. "Our strategy is to bet against all the customers who come in here. Then we spread our bets around to each and every table and machine in the casino and keep at it for the long haul. We were down about $200 at one of the roulette tables, but were up on everything else, so we came out pretty much ahead. Actually, more than half a million ahead."
Bally's even fared well at the slot machines, an area that traditionally yields the lowest rate of success.
"You know how they say your worst odds are on the slots?" Brant said. "Well, we made over $33,000 in slots last night. Can you believe it? We were unstoppable."
Brant attributed his casino's impressive showing to a combination of luck and old-fashioned horse sense.
"We try not to play stupid," Brant said. "We never gamble more than we can afford to lose. And we try to never lose our heads. We leave that to the customers. We set aside a certain amount to gamble—that's our kitty—and if we double our money, we only play with our winnings after that. Right now, the kitty stands at around $176,500,000."
Bally's is in the midst of an impressive winning streak, coming out ahead an astonishing 6,753 nights in a row.
"This is quite a tear we're on," Brant said. "It's best if you go in with the attitude that you're just there to have fun and not to win big. That said, it's always a lot more fun when you're winning. And, baby, did we win that night!"
According to John Patrick, author of So You Want To Be A Gambler?, streaks like Bally's are uncommon.
"In my years as a professional gambler, I've had my share of great nights," Patrick said. "However, I've never been on a roll like the one Bally's is on. But then, with a guaranteed 52 percent success rate, it's unlikely that a casino would ever come out behind in an evening. If that were the case, casinos wouldn't exist as profitable entities."
In spite of its huge winnings, Bally's did not indulge in the traditional amenities offered to big winners, such as a free night's stay in the hotel or meal vouchers. Instead, the crew of the all-night casino changed over to the next shift without fanfare.
"Yeah, I suppose we could have partied all night with champagne, a penthouse suite, and all the rest, but we had a casino to run," Brant said. "The thing a lot of people don't realize about successful gamblers is that it's hard work making outrageous sums of money."