TILDEN, OH—A article just published in the October issue of Cat Fancy magazine blasts local kitten Mr. Paws, calling him "far from purr-fect" and a "cat-aclysmic failure."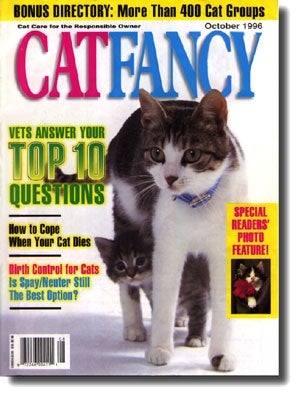 "Unlike the typical feline that appears in Cat Fancy, Mr. Paws does not behave in a manner that can in any way be considered adorable or cuddly," said Neil Kilmer, Cat Fancy features editor and cat enthusiast. "During the entire time I observed Mr. Paws, not once did he climb into a paper bag and stick his head out quizzically. Nor did he ever unroll any lengths of ribbon or yarn, afterwards innocently looking up from the entangled mess as if to say, 'Who, me?' Finally, if that weren't enough, he never fell off the edge of a tree branch, gripping it precariously with his fuzzy little paws and 'hanging in there,' so to speak."
"Unfortunately," Kilmer concluded, "Mr. Paws appears to be totally devoid of any 'purr-sonality' whatsoever. He couldn't possibly be any 'fur-ther' from the caliber of kitty that Cat Fancy usually showcases."
Mr. Paws' owner, Helen Smallings, strongly disagreed with Cat Fancy's assessment of her pet. "I really love Mr. Paws and he loves me. Don't you, Mr. Pawsy Wawsy?" said Smallings, a single, slightly overweight, 38-year-old part-time secretary. "He's his own little man!"
As a result of the scathing Cat Fancy article, whenever Mr. Paws leaps to bask in the warmth of one of the front windowsills, Smallings is forced to close the blinds to protect him from the jeers and laughter of the neighbors.
"I read that piece on Mr. Paws in the latest Cat Fancy—we all did," neighbor Paula Corcoran said. "That kitten is crap."
Despite his harsh words for Mr. Paws, Kilmer admitted the kitten's lack of cuddliness may have been in part circumstantial. "A kitten benefits from the presence of deep shag rugs that offset its fur color and fish bowls to peer into bewilderedly or bat excitedly, things Mr. Paws lacks," he said. "In addition, there are no beagles on site next to whom Mr. Paws can curl up and fall asleep. Now, wouldn't that be cute?"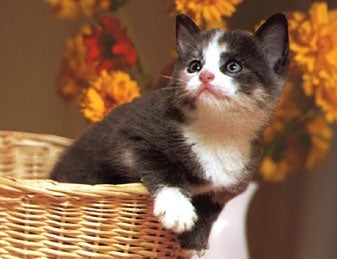 In response to Kilmer, Smallings said, "Just the other day, Mr. Paws was on the couch all stretched out, and I put the remote control next to his paw. It was the cutest thing!"
Cat Fancy said it could not consider the cute pose in its evaluation of the animal without at least a Polaroid of it, or, ideally, an 8x10 glossy photo enclosed in a light blue frame with kitties chasing a ball of pink yarn around its perimeter.
A similarly persuasive photo, according to Cat Fancy, would depict Mr. Paws doing one of the following: wearing a pair of sunglasses; curling up inside a country western hat; "kissing" a jack o' lantern; or dripping wet after falling into the sink, looking like he was having "One Of Those Days!"
Evaluating an appeal from Smallings at a special meeting in the Persian Room, Cat Fancy's Editorial Board determined yesterday that "Mr. Paws is most definitely a 'cat-astrophe.'"
"Sometimes a decidedly unsnuggly cat is redeemed by its air of grandiosity and haughtiness," board member Joyce Reamish said. "Such is the case with our Cat Pic of the Month, a Siamese named Sheba from Grand Forks, ND. Sheba was photographed while poised on a mahogany table bathed in natural sunlight, the garden just beyond the window. The look on her face is 100 percent sassy. Mr. Paws, on the other hand, is sassless."
"Age is certainly an issue with this particular feline," Kilmer said. "Before long, Mr. Paws will have passed through the prime stage of kittenhood fuzziness, out of both the adorably awkward period of quick growth and the rambunctious, playful months."
"Within a year he will likely be a sedate and reclusive adult cat that's sadly overweight in the midsection, a condition only acceptable on the matronly long-hair breeds. Mr. Paws' condition is truly 'a-paw-ling.'"
In a final indictment of the sub-par pet, Kilmer added: "Get this 'fur-ociously' inferior feline 'me-out' of my sight!"