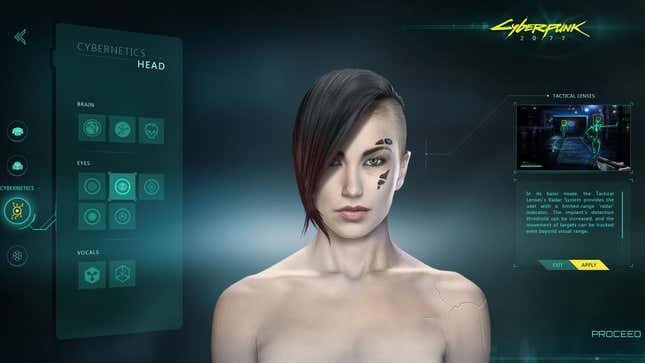 CD Projekt Red has already dropped a lot of fascinating info about Cyberpunk 2077 recently, including tons of information on the in-depth character-creation system. But just yesterday, quest director Mataeusz Tomaszkiewicz shed even more light on one of the game's coolest aspects, telling reporters that the creation system will have the option for gender-neutral characters, although every character will automatically be Christian.
Edgelords Explain Why They Love Elon Musk
This is a long-overdue victory for both the non-binary community and lovers of the Lord alike!
Speaking with OGN, Tomaszkiewicz emphasized that players will have the choice to create any kind of character they feel truly represents them and their gender identity, but stressed that all players are already represented by Christ.
"We take the concerns of the trans and gender non-binary community very seriously, so we want to do right by them and do it in a respectful way that does not extend to religion," he told us, adding there's not just one way to represent your gender, but there is absolutely one way to express yourself in spirituality. "Ultimately, Christ is the only true path to religious salvation, and Cyberpunk will reflect that."
He added: "We wanted to give gamers maximum customizability as they explore Night City, except in the category of religion. That question has been answered by Jesus' ascension. Otherwise, you're free to play as whoever you want. Just make sure to drop to your knees once daily in-game to praise the one true Christian God."
Tomaszkiewicz did tell OGN that as the game's universe will include numerous other gender-fluid characters, there will also be some non-Protestant Christian representation within the world, such as Catholic, Muslim, and Jewish characters, which have prominent antagonistic roles attempting to drive you from the path of the Lord.
This is certainly exciting news for gamers everywhere. We can't wait to see how else CD Projekt Red champions inclusion and spreads the gospel of Jesus Christ!