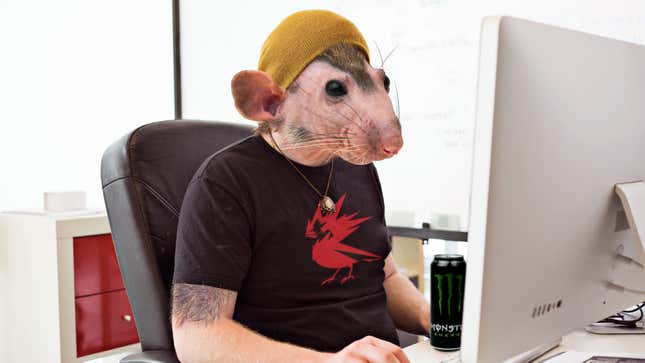 Look like someone is hearing fan concerns! Polish game studio CD Projekt Red just told OGN that they've completely eliminated the need for crunch on their upcoming Cyberpunk 2077 by breeding a race of grotesque human-rat hybrids that can work as programmers for weeks on end without the need for sleep or food.
Edgelords Explain Why They Love Elon Musk
If you had any nagging reservations about picking up this ultra-hyped open-world RPG, you can kiss those worries goodbye!
"We've listened to complaints about how hard crunch can be on human programmers, and we want fans to rest assured that we've been able to address those head-on with our new coding team of humanoid rodents," said lead designer Konrad Tomaszkiewicz, noting that immediately after the release of The Witcher 3, a scientific team got to work in the studio's basement breeding the hairless, 8-foot-tall rat hybrids for intelligence, endurance, and an aptitude for a wide range of programming languages. "What's incredible is that even as they work at eight times the rate of a typical coder, these transhuman workers don't even think of accepting benefits or taking a bathroom break."
"Essentially, these abominations have been built for the sole purpose of making Cyberpunk 2077, and they will die soon after their task is finished," he added.
Tomaszkiewicz went on to describe his optimism that their hard work would ensure Cyberpunk 2077 will be delivered on time and in good shape, stressing that the rodential abominations had no need to eat or drink while coding due to an intravenous drip fed directly into their wrinkled, highly deformed bodies.
He added that the long-tailed, flesh-toned creatures only had the ability to communicate through what sounded like human screaming, which made them all but incapable of unionizing or sharing concerns with HR.
"What fans should be most excited about is that we've removed the part of their rodent brains that would even allow them to think of a life beyond making sure that Night City is the perfect sandbox for RPG fanatics," he said, adding that any moment the hybrids do not spend crafting a AAA gaming experience is experienced as a sharp, increasingly unpleasant, throbbing pain in the man-rodent's skull. "And if that's not enough, we're on track to sell the game for $10 off its list price thanks to their tireless efforts."
"Death will be a relief to them," he added.
Sounds good to us! Keep checking here for all the latest updates on what's sure to be one of the must-have experiences of 2020!