PITTSBURGH, PA—Emotions quickly changed from panic to joy for University of Pittsburgh junior Evelyn Labaton when she lost, searched for, and found her Nokia 6230 Cingular Wireless cell phone Tuesday.
"All of a sudden, my phone was gone!" said Labaton, 20, who was walking to her 5:10 General Chemistry lecture when she realized the cell phone was no longer in her right pants pocket. "I was like, 'Oh shit!' I looked through my coat and dug through my entire backpack, but it wasn't anywhere."
By the time Labaton completed her search, 48 seconds had passed.
"My heart was racing," Labaton said. "I mentally went through all of the places I'd been since leaving English Lit: the bathroom on the third floor, the bench out in front of Daniel Hall, the bike racks where I saw my friend Shelly."
Continued Labaton: "I stopped right there in the middle of the sidewalk for a few seconds, took a deep breath to calm my nerves, and tried to think. That's when I remembered taking it out to see what time it was when I was at the Java Cup!"
Scanning the ground for any sign of her small, blue camera-phone as she walked, Labaton retraced the 200 feet back to the Java Cup, an on-campus coffee shop.
G/O Media may get a commission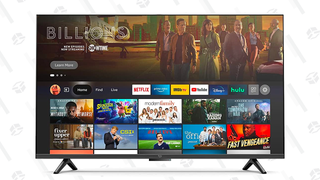 22% off
Amazon Fire TV - 50" Omni Series 4K - Early Access Deal
"All the way, I was visualizing the hours it would take to enter all my phone numbers into a new phone," Labaton said. "And that's for the ones I remember. A lot of the numbers would be totally gone forever."
Labaton added that she hadn't "even [wanted] to think about" all the ring tones and camera-phone photos she'd lose.
With the search entering its second minute, Labaton went into the coffee shop, where she said she saw the dirty plate and glass she'd left in the bus station a few minutes before, after consuming a large skim latté and a poppy-seed bagel.
As the search dragged on into its 200th second, Labaton said she continued to consider the magnitude of the hassle that a lost cell phone would create.
"I knew I wouldn't have time to shop for a new phone until the weekend, so I'd be phoneless for a few days," Labaton said. "Also, I'd been considering whether to switch from Cingular Wireless to another carrier, but I really didn't want to have to rush that decision."
Labaton went to the table where she'd been sitting, tapped the shoulder of one of the two females seated there, and asked permission to look around for her phone.
"Oh, is that it?" the woman said, and Labaton spotted her familiar blue phone under a chair.
"I was like, 'Yes!'" Labaton said. "Every ounce of stress drained from my body."
According to Labaton, it was only when she located the cell phone that she noticed her clenched teeth, tensed neck muscles, and sweaty palms.
"I let all that tension go," Labaton said. "It was a magical feeling."
Labaton thanked the woman at the table and returned the cell phone to her pocket.
"God, was I relieved," Labaton said. "I really didn't know if I'd be able to find the phone."
Labaton slipped into the back row in her 120-person chemistry lecture and tried to catch her breath. Slumped in her seat, she said she scanned the faces of her classmates as they leafed through notebooks, chatted, and laughed.
"The other students had no idea what I'd just been through," Labaton said. "It was such a relief when Professor Butte started class, so I could zone out and try to forget the whole thing."