GROSSE POINTE, MI—As part of the ongoing trend toward replacing U.S. workers with foreign labor, the marital duties of United Carborundum CEO Howard Reinhardt have been outsourced to his Mexican groundskeeper, industry sources revealed Monday.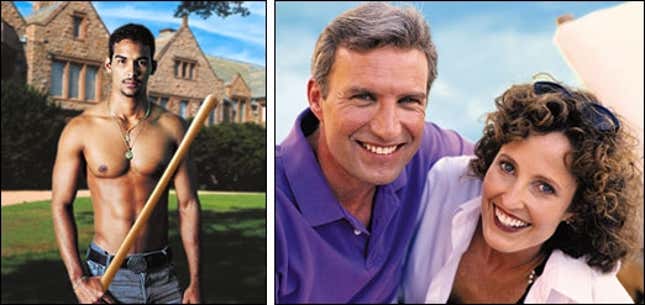 This Week's Most Viral News: September 29, 2023
"It was time for a change," said Reinhardt's wife Melanie, who has been married to the CEO for 17 years and has conducted her sexual business almost exclusively with him since 1984. "While I was generally satisfied with the level of servicing that I received under Howard, it was my feeling that a younger, more aggressive hand on the tiller might bring some new ideas into play. No matter how mutually satisfying the old deal was, its time had passed."
Although specific terms of the arrangement have not been made public, Melanie allowed that she has been "very pleased" by the new supplier—Jorge Escobedo, a 26-year-old gardener from Sierra Mojada who has been working in the U.S. since February.
"The switchover was seamless, considering how rapidly the deal was closed," said Melanie, who initiated the informal arrangement with Escobedo on Nov. 20, while he was cleaning the equipment shed. "Well, in truth, I was considering a move in this direction for some time, and looking into possibilities. Then Jorge offered me a very attractive package, and I decided it was in my interest to act. I've been very pleased with his initial performance."
Melanie said Escobedo beats her former provider in availability, reliability, and turnaround. He also requires minimal emotional investment from Melanie, who is the sole receiver of the goods under the new arrangement.
Melanie offered few details on the ins-and-outs of the deal, but she did report that the outsourcing is limited to Reinhardt's marital duties. All previous supply arrangements with Reinhardt, including those pertaining to housing and finance, are still very much in effect.
"This isn't some sort of challenge to the American workforce as a whole," Melanie said. "I'm just sending the jobs where they're going to be done most efficiently. The acquisition of houses, automobiles, and clothing will all still be in Howard's wheelhouse, but groundskeeping and plowing are now to be managed by Jorge. It just makes sense."
Melanie said the outsourcing is a direct response to the expansion of Reinhardt's duties at United Carborundum.
"Howard is simply too busy to personally keep track of every detail of the marital union," Melanie said. "As long as he's available when he's needed—major Reinhardt-family gatherings and the United Carborundum holiday ball—I'm happy to have someone else's input day-to-day."
The Reinhardt household has been moving toward a more modular operation for years now. Laundry duties are handled by a small Chinese concern; child-rearing and education are performed by a live-in salaried Irish employee; and a loosely organized, rotating consortium of Italians, Japanese, and Greeks handles food service. The sexual-services agreement, however, marks the Reinhardts' first use of highly skilled foreign manpower.
The news of the outsourcing was met with little surprise in the greater Detroit area, where community members are used to seeing hard-won jobs go to foreign labor, and are aware of cooling relations in the Reinhardt household.
"This proposal might not be the win-win situation that Melanie is projecting," said Philip Johannsen, business writer for the Detroit Free Press. "But it's going to be tough for Howard to say he didn't see it coming. When it came time to find a groundskeeper, he delegated the crucial domestic-hiring decision to his wife. He knows she's a very proactive person, so it shouldn't surprise him that she took the initiative to shore up areas of the household where she saw standards slipping."
"If American executives are not willing to shoulder the increased personal investment of time and energy required to keep the jobs in-house, globalization is just something they're going to have to accept," Johannsen added.
Howard Reinhardt was unavailable for comment, as he was scouting locations in Oaxaca for a boron-nitride factory.