SAN DIEGO—Garrett Maddox, born to a working-class family living on the South Side of Chicago, started out at the bottom, but has quickly worked his way up the corporate ladder. A youthful 34, he was recently named chief executive officer of telecommunications-research giant Qualcomm, and has already headed up 11 Fortune 500 companies, ranging from Safeco Insurance to United Technologies. The key to his outstanding success? An unbelievable handshake.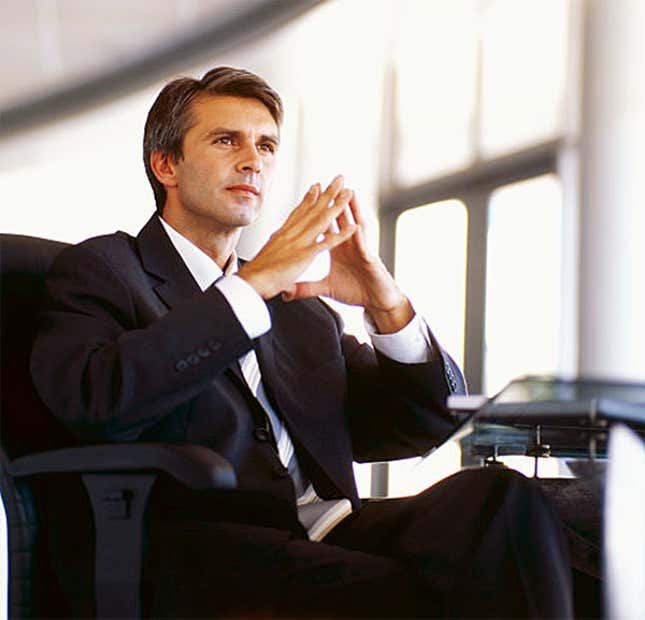 This Week's Most Viral News: September 22, 2023
"Some people are born with an intuitive business sense, unwavering drive, or the ability to make quick decisions," Maddox said. "I don't know much about any of that. What God gave me is perfectly aligned knuckles, a pleasingly temperate palm, and a divinely firm grip."
Maddox, who in March was named as one the five greatest corporate handshakers by Forbes magazine, first demonstrated his abilities at his high-school graduation ceremony, when, upon shaking his principal's hand, he was immediately promoted to class valedictorian. Since then, the handshake, alternately described by colleagues as "incredible" and "an unforgettable, life-altering experience," has earned Maddox high-ranking positions at Cisco, ConAgra, Kroger, and Morgan Stanley—all companies Maddox had never even heard of before being put in charge.
According to Maddox's biography, Put 'Er There, the Chicago native began practicing his handshake at an early age. After rejecting several business-school scholarships he had won by shaking the hands of admissions directors across the country, he decided instead to travel the world. Armed only with a week's worth of three-piece suits and a single leather briefcase, Maddox set out to shake hands.
"He knew that a 'good' handshake wasn't enough," his father Geoffrey Maddox said. "He knew that to be one of the greats, he had to develop his gift."
His handshake-refining journey took him to India, where he visited temple after temple of Buddhist monks, shaking hands for up to 20 hours a day. Finally, when he had learned all he could, he returned to the United States at the still-young age of 23. With one of the most powerful and confidence-inspiring grips in the world, he pursued his life's goal: the acquisition of material power and wealth on an almost unimaginable scale.
"From that first pump, I knew I trusted Garrett," said Charles Stinsen, chairman of the Xerox Corporation, who hired Maddox to be CEO after a single job interview. "As the handshake continued, I began to feel the collective memory of the human race stir in the deepest recesses of my mind. This handshake is beyond the merely strong. Maddox combines all the qualities of history's greatest handshakers—the strength of Mussolini, the warmth of Clinton, the textbook release of John Wayne—and he maintains meticulous eye contact throughout."
"Even though he referred to Xerox as 'the Post-It Note company' for months after his hiring, he was definitely the man for the job," Stinsen added.
Another business associate, Mark Cosgrove, described Maddox as "a man who has no ideas or vision whatsoever, yet whose ability to climb the corporate ladder at previously unimagined speeds is nothing short of astounding."
"It is truly a singular honor to know him," Cosgrove added.
Today, Maddox is one of the most successful CEOs in America. And his handshake continues to improve, as he masters innovative new techniques, such as the "enveloper," the "in from above," and the "three-pump and quick-drop."
Maddox said that while his handshake has gotten him into several high-paying jobs, it has also gotten him out of numerous jams. As CFO of Kmart in 1998, Maddox's poorly managed underlings engaged in questionable bookkeeping, prompting an investigation by the Securities and Exchange Commission.
"They had everyone nervous, including me," Maddox said. "But after I carefully washed my hands and introduced myself to the lead auditor with one of my 'quick clasps,' complete with double shoulder-pat, he not only dropped the case, he sent me a letter of apology and bought 100 shares of company stock."