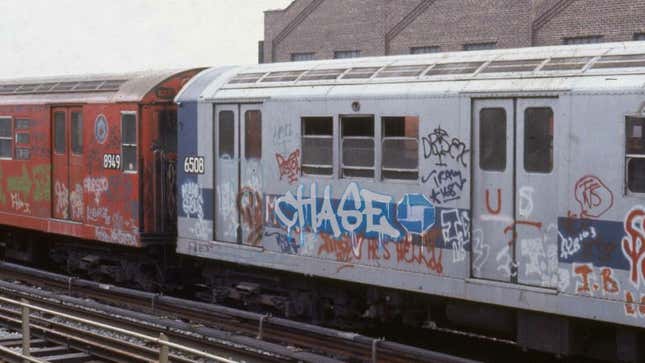 NEW YORK—Sitting in the multinational corporation's boardroom, Chase executives reportedly spent most of Friday afternoon nostalgically recalling the financial company's hip-hop roots, reminiscing about being young bankers who helped create the vibrant music, cultural, and investment scene in the South Bronx.
This Week's Most Viral News: September 22, 2023
"Chase came from the streets, and we were part of this real underground banking movement that was thriving in hip-hop culture," said Chase Consumer and Community Banking chairman Todd "Bizzy B" Maclin of the FDIC-insured institution's early days in the late 1970s, before it became a household name. "Back in the day, our financial crew was down with Afrika Bambaataa, Morten Arntzen, the Cold Crush Brothers, Winthrop W. Aldrich—all the hip-hop pioneers."
"We were pushing the boundaries of providing lending services and experimenting with a lot of funky-ass fund transfers," Maclin added. "Everybody in the Bronx knew that Chase had the freshest deposits, the freshest withdrawals, and the freshest adjustable-rate mortgages."
Maclin, who explained that the five pillars of hip-hop include DJing, rapping, graffiti art, breakdancing, and banking, spoke reverently about Chase's origins at "old-school block parties." While describing the lively culture that thrived from 1977 to 1983, before hip-hop banking had gone mainstream, Maclin told reporters that a diverse crowd of b-boys, fledgling financiers, and local residents attended the huge blowouts to listen to music, dance, and refinance debt at lower APRs.
Speaking wistfully about one particular "wild bash" in 1978, Maclin smiled as he recalled how a packed dance floor erupted into a frenzy when a 19-year-old Chase teller "grabbed the mic" and started holding forth on loan modification provisions while DJ Jazzy Jay spun stripped-down electro-funk breaks.
"Everyone was out there doing their thing, whether it was boogieing, performing transactions, investing their money, or opening checking accounts," said Maclin, recalling the hours sitting on stoops with friends and developing dope ways to increase dividends. "I still remember giving out my first loan at a house party to Grandmaster Flash."
"You can still see early hip-hop's influence on some of Chase's more recent CDs," Maclin added.
Maclin reportedly expressed a feeling of longing for an earlier time when hip-hop was in its infancy, Chase was just starting out, and financial executives were "banking from the heart." Maclin admitted that Chase had lost touch with its hip-hop roots over the years, claiming that the bank, with more than 5,100 branches and 16,100 ATMs in the U.S., became "totally corporate" and sold out.
Chase president Jamie Dimon told reporters that the formative years of hip-hop were a period when the bank was "really tearing shit up." According to Dimon, Chase was heavily influenced by ancient tribal money lending and often sampled the policies of innovative German banks from Dusseldorf.
"That whole period was a renaissance, and I still have vivid memories of coming home late from bank parties where we'd have Kool Herc spinning in the lobby," Dimon said. "Then I'd spend all night digging through this massive collection of financial records and doing some revolutionary underwriting."
"There was a lot of energy in the community and everybody was there, like Bank of America, First Federal, Grand Wizzard Theodore, Crash Crew, Bank One Corp., and the Fly Five," added Dimon. "PNC and Washington Mutual were always hanging around, too, before they ended up going off to the West Coast."
While Dimon confirmed that Chase played an integral role in hip-hop's "anything goes, party atmosphere," the executive said that banking was the only way out of "the hood" for many young financial professionals.
"It was a tough place, and the cops wouldn't even go there, but banking provided hope for a lot of our clerks and loan officers who came from violent street gangs," Dimon said. "Nobody thought a financial institution could come from the ghetto. And banking in Manhattan didn't even happen until they found out we were making money doing it in the Bronx."
Afrika Bambaataa, who is widely regarded as the grandfather of hip-hop culture, was sentimental while discussing Chase's role in the evolution of hip-hop, admiring how the bank developed talent and created unconventional amortized loans and groundbreaking transaction fees that forever transformed the financial and artistic movement.
"Chase would always come straight with it," Bambaataa said. "Didn't matter if they were issuing traditional IRAs or a home equity line of credit."
"A lot of hip-hop trailblazers came out of the Chase crew," added Bambaataa. "Duke Bootee, Willard C. Butcher, Melle Mel—all started out at Chase. They always had the best graffiti artists designing their deposit slips. And I'll never forget watching Morten Arntzen rapidly cutting back and forth between two present value ordinary annuity tables."
Reached for further comment, Chase executives admitted they were still embarrassed by the financial institution's ill-conceived 1986 collaboration with Aerosmith.