WASHINGTON, DC—The longtime suspicions of White House supervisors were confirmed Monday, when Vice-President Dick Cheney was caught moonlighting at a D.C.-area Denny's restaurant.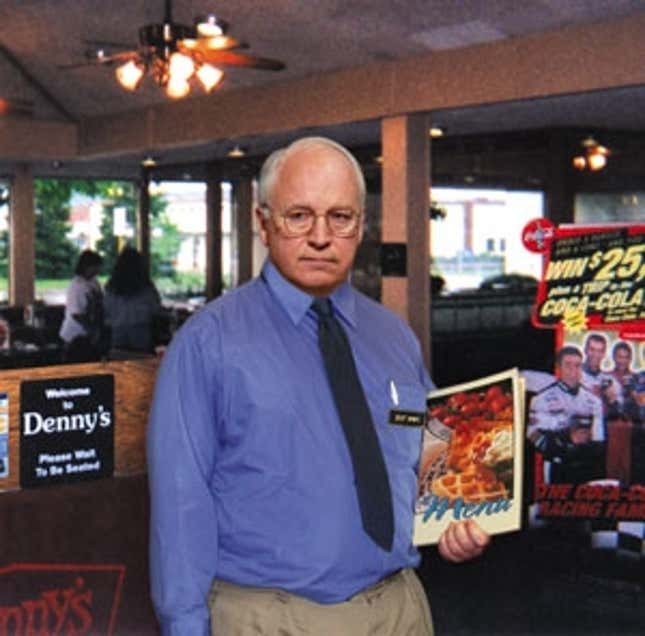 Edgelords Explain Why They Love Elon Musk
"For the past several months, the vice-president has, unbeknownst to this administration, taken on a second job as a host at Denny's," White House Press Secretary Ari Fleischer said. "We are dealing with the situation internally."
According to Fleischer, since early April, Cheney had been working as a host at the Edsall Road Denny's in Alexandria, VA. Though restaurant patrons often remarked on the resemblance between the host and the vice-president, it was only when President Bush stopped by for a midnight snack with Attorney General John Ashcroft that the man was confirmed to be Cheney.
"At first, I didn't recognize him, because he was ducking his head, covering his mouth, and speaking in a French accent," Bush said. "He seated us and went away very quickly. Whenever he passed our table, he would turn his head and hide his face behind a menu. Finally, he collided with a server right in front of us, sending a whole tray of food flying. Once we helped him to his feet, the jig was up."
Members of the Bush Administration noticed that Cheney's work performance had begun to slip in recent weeks. He was late to several Senate roll calls, looked tired at photo opportunities, and was barely able to stay awake during important National Security Agency briefings.
"I'd been suspicious for quite some time," Energy Secretary Spencer Abraham said. "There was one time when I was in his office to discuss an amendment to an energy bill. The phone rang, and he went white as a sheet. He answered it, said yes or no a few times, and then said something about how he couldn't 'come in' and how now was not a good time, and then hung up. When I asked him about it, he said it was a wrong number."
Suspicions grew on June 12 when a disoriented-looking Cheney arrived at the White House still wearing his Denny's hosting uniform. He proceeded to pour coffee into a potted spider plant and drink from the plant's watering can.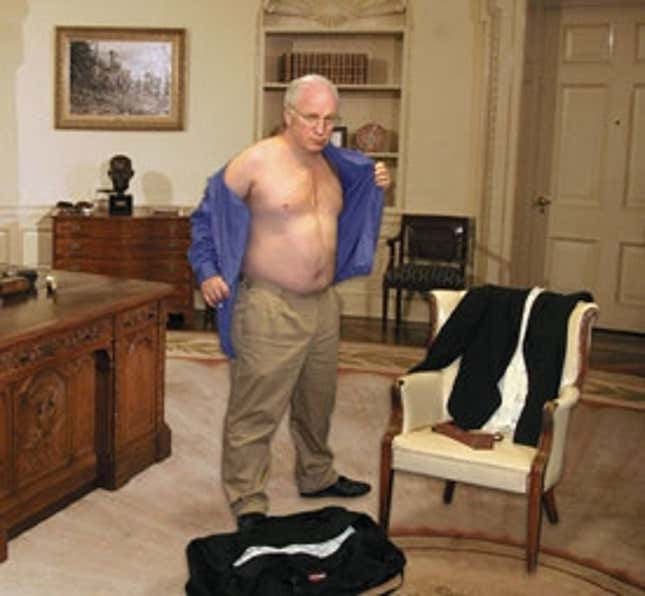 "Condoleezza Rice was looking at him funny and asked if he was okay," Secretary of Health and Human Services Tommy Thompson said. "He said yes and then asked if we'd like to sit in smoking or non-smoking. It didn't take a genius to realize he was burning the candle at both ends."
When finally confronted, Cheney broke down and confessed, explaining that he had taken the second job to save up the money to buy his wife a new fur coat for their anniversary.
"What do you say to that?" Bush said. "I was mad as heck, but you can't fault a man for loving his wife. I told him if he needed the money, he should have come to me and we could have worked something out."
This is not the first time a top Bush Administration official has been caught moonlighting, a practice clearly prohibited in section seven of the White House employee handbook. In May 2001, Secretary of Transportation Norman Mineta took a second job as a bartender to earn enough extra money for a 1964 Mustang convertible he'd had his eye on for some time. He quit the bartending job after a noticeable drop-off in the quality of his Cabinet work, most notably with his recommendation that a $9.2 billion tunnel be constructed connecting Los Angeles and San Diego.
Now that Cheney's moonlighting days are over, no one is more relieved than the vice-president himself.
"I'm glad that's all done with," Cheney told reporters. "I couldn't take the running around like crazy anymore. I wasn't sleeping, I was having a hard time concentrating on matters of national security, and I was answering my shoe instead of the phone."