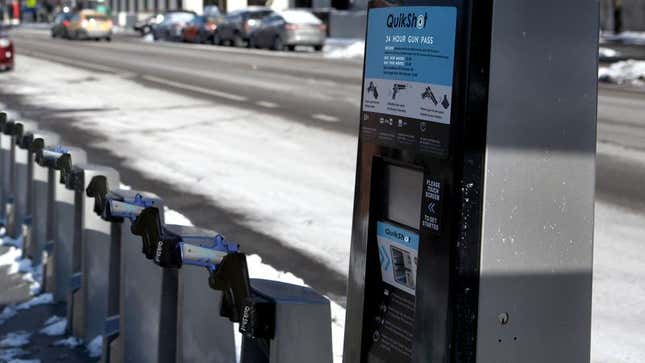 CHICAGO—Touting the program's convenience and affordability, Chicago officials unveiled Monday the city's new gun-sharing service, "QuikShot," which allows individuals to check out a loaded firearm for short periods of time.
This Week's Most Viral News: September 29, 2023
The municipal initiative, through which users can rent semiautomatic pistols, shotguns, rifles, and submachine guns at more than 250 self-service kiosks, has reportedly been designed to make firepower easily available to residents and tourists alike nearly everywhere within the city limits.
"QuikShot lets anyone with a credit card walk up to one of our street-side firearm stations, select a gun, and head out into the Windy City fully armed in just a few seconds," program director Arvind Reynolds told reporters, noting that borrowers can either rent their weapon for increments of 30 minutes or withdraw it for a full 24 hours if they plan on using it throughout the day. "With QuikShot, you and your friends can each take a Beretta up to Wrigley Field, or you can head to an outdoor concert in Millennium Park with a concealed 9mm revolver, or you can simply take in the great view of the Magnificent Mile from the roof deck of the Hancock tower through a scoped sniper rifle. The possibilities are truly endless with QuikShot."
"And if the guns at one station are all checked out, users only have to walk a block or two to the next one in order to find a loaded firearm," he added. "So whether you've been planning an outing for a while or simply decided to head out in the spur of the moment, QuikShot has you covered."
According to sources, after paying a small registration fee, QuikShot users may rent a firearm as often as they wish in neighborhoods ranging from Edgewater in the north, to the downtown Loop business district, to Hyde Park on the South Side, allowing them to brandish and discharge one or more rounds wherever they choose to in the city. Additionally, due to higher demand, Chicago officials said that multiple QuikShot kiosks would be opened around highly trafficked destinations, such as Navy Pier, the Art Institute, the Water Tower Place shopping center, and the Chicago Lakefront running and cycling paths.
Because the firearms are expected to see heavy use, Reynolds confirmed that repair crews would regularly monitor the city's reholstering docks in order to clean and reload the weapons, as well as to replace guns that have jammed or misfired during operation, ensuring that borrowers aren't inconvenienced by their gun malfunctioning at a crucial moment.
"It's a great addition to the city—nothing beats being able to run out of my apartment and have a gun in my hands whenever I want."
Users, however, are reportedly expected to provide their own protective Kevlar body armor, with program administrators adding that the city of Chicago is not liable for any injuries incurred due to use of its rentals.
"It's a great addition to the city—nothing beats being able to run out of my apartment and have a gun in my hands whenever I want," said Lincoln Park resident Keith Madsen, 32, noting that a QuikShot membership is much more economical than purchasing and maintaining his own extended magazine AR-15 assault rifle. "Even if I'm not necessarily planning on firing a gun on any given day, it's always nice to know that I have the option if something comes up."
Sources confirmed that the city is planning to expand the service in the months ahead by purchasing more guns, with the goal of increasing its publicly available arsenal to more than 65,000 weapons in anticipation of the hot summer months, when QuikShot usage is expected to reach its peak.
"QuikShot is so easy that I'm actually shooting a handgun way more often than I normally would," said local resident Danny Taylor, who participated in a pilot trial of the program, as he deposited an empty .357 Magnum with the QuikShot logo imprinted on its grip at a Rogers Park reholstering station. "Whether I'm going to a house party or just to the liquor store, it's nice to know that I can grab a piece, use it for as long as I want, and then drop it off without a lot of fuss."
"In fact, I'm thinking about checking out one tomorrow morning before I head into the office," he continued.