'Queer-Hatin' Cordon Bleu' Goes On Sale Wednesday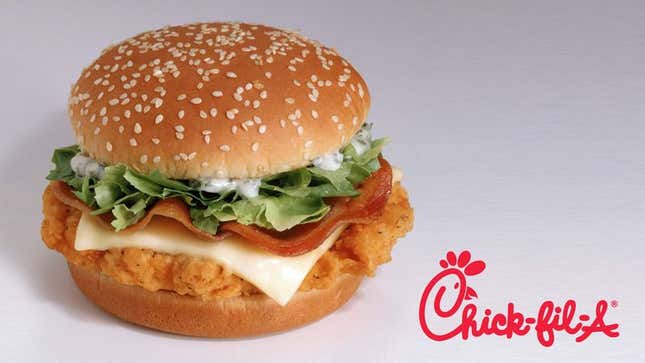 This Week's Most Viral News: September 29, 2023
ATLANTA—As part of its recent efforts to publicly align itself with fundamentalist Christian values, the Chick-fil-A restaurant chain announced today the debut of its new Queer-Hatin' Cordon Bleu sandwich that would be on sale in all of the company's 1,600 restaurants this Wednesday.
In a press conference to reporters, company representatives said the homophobic new sandwich will include the national fast food chain's trademark fried chicken filet wrapped in a piece of specially-smoked No Homo ham that would be topped with a slice of Swiss cheese and lathered in a creamy new Thousand Island-based Fag Punching sauce.
"The Queer-Hatin' Cordon Bleu is our company's way of showing our firm commitment to strong, Christian family values," said Chick-fil-A spokesman Robert Gary, before adding that the vehemently anti-gay rights sandwich comes served in a combo with waffle fries and a medium soda for just $6.95. "From the very first morsel of this savory meal to the very last bite, customers can envision gays burning in hell with their sodomizing cohorts, and know that our sandwich is on their side."
"Of course, the young ones will want to finish their meals off right with a No Fudge Packin' Soft Serve Cone," Gary added. "I can't think of a better way to follow up a sandwich this good."
While the release of the Queer-Hatin' Cordon Bleu has led to anger from pro-gay rights groups, loyal Chick-fil-A customers claim they are happy they can finally enjoy a sandwich that takes a firm stance on the issue of homosexuality.
"Any sandwich that combines that great Chick-fil-A flavor with a hefty dose of vitriolic homophobia is definitely going to keep me coming back for more," said Atlanta customer John Oaks. "Come Wednesday, I'm going to be first in line for this thing."
According to sources, the Queer-Hatin' Cordon Bleu is merely the first of Chick-fil-A's new family values menu which is set to include the AIDS Is God's Curse chicken nugget combo and the Fags Caused 9/11 strawberry fruit smoothie.