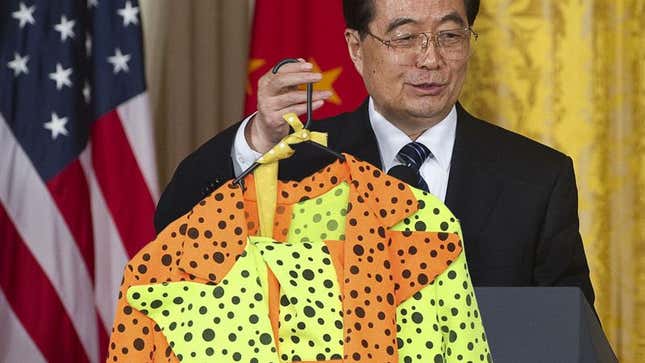 BEIJING—In what it's describing as a magnanimous gesture toward an economy in decline, the Chinese government announced Monday it would forgive a portion of the staggering U.S. debt if Americans agreed to dress up in costumes and perform silly dances for their amusement.
With his nation holding $1.16 trillion in federal bonds and the U.S. showing no signs of ending its dependence on foreign credit, President Hu Jintao told reporters that allowing Americans to ease their fiscal burden in proportion to the number and quality of colorful dance numbers they perform is a mutually beneficial arrangement for both countries.
"Our great nation has generously agreed to decrease the considerable financial obligations of the United States," said Hu, standing before an enormous rack containing elaborate dance attire such as sequined vests and metallic lamé pants. "All we ask in return is that Americans put on outfits such as these and amuse us with buffoonish little kicks and twirls, preferably while slapping their big fat tummies. The U.S. will receive much needed debt relief, and China will enjoy watching the graceless flailing of decadent capitalists."
Addressing Americans directly, Hu continued: "In the seconds it will take you to object, your nation will slip hundreds of thousands of dollars further into our debt. That will mean 50 more of your countrymen having to put on a George Washington costume with a skirt and prance around with big smiles and heavily rouged cheeks while we pelt them with bits of your worthless currency from the windows of the Chinese embassy."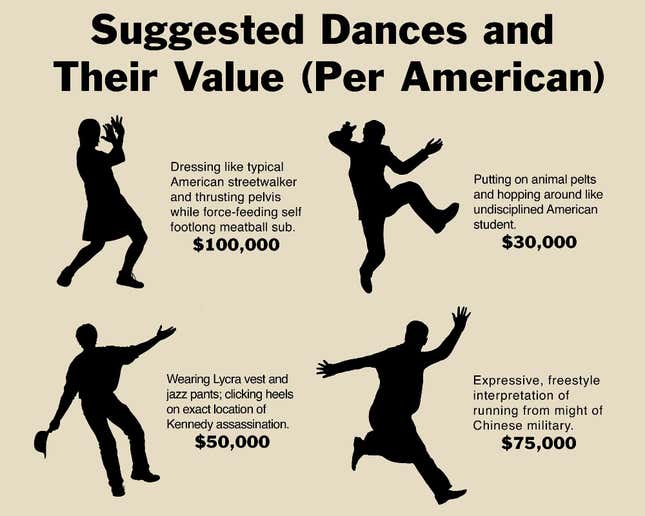 While Hu offered few specific rules to govern the debt-reduction scheme, he did provide a number of guidelines that he said would affect the amount deducted. Large, ambitious routines—the entire population of Ohio dressed in bright green leotards doing a high-stepping jig with Big Macs stuffed in their mouths, for example—could shave $20 billion from the debt in a matter of minutes. Meanwhile, smaller groups of Americans and even individuals could do their part by dressing up as cancan dancers and performing a kick line in front of the Vietnam Memorial, or by painting the Mandarin character for 'gorilla' on their faces and jumping up and down on their desks at work like "great big immoral apes."
Hu added that the dollar value of all dances could be increased by incorporating chants such as "I have no work ethic," "Look at what our pathetic democracy has done to us," and "I am so fat I must drive an SUV to go purchase a prostitute" into the routine. Conversely, acts may be disqualified entirely if professional dancers are employed or if participants do not seem suitably engaged in their performance.
Hu later confirmed that wearing brightly colored hats with bells on them could only help.
"All dancers will be required to demonstrate an exceptional level of commitment," said Hu, adding that, should a very large American dress up in a form-fitting outfit with his stomach hanging visibly over his waistband, and then pass out from physical exertion while his overweight children dance around him, an extra $12 million would be instantly knocked off the tab. "It will be insufficient to go through the motions. Any dancer who hand jives without proper rehearsal and a big smile is wasting his time."
"That is especially important," Hu added. "We want nice, big smiles from America."
Although any U.S. citizen is eligible to participate in the program, dances performed by members of the armed forces or practitioners of Tibetan Buddhism will be considered more valuable. Persons holding high office in the federal government stand to make the largest financial impact, especially, Hu said, if all 535 members of Congress perform a Yiddish bottle dance during his next state visit.
"I do not savor what I am going to do this evening," said a solemn President Obama, sitting at his Oval Office desk in the tiger-striped scoop neck he will wear for a salsa performance expected to cut the American debt by a whopping $30 billion. "I know that my partner, Speaker Boehner, shares my reluctance, but that we will both do what we must for the financial well-being of our country."
"But let me be clear," added a defiant Obama, the beads on his lacy sleeve jiggling as he emphatically pointed at the camera. "The United States will never dance for any nation on earth more than once. There will be no encore."