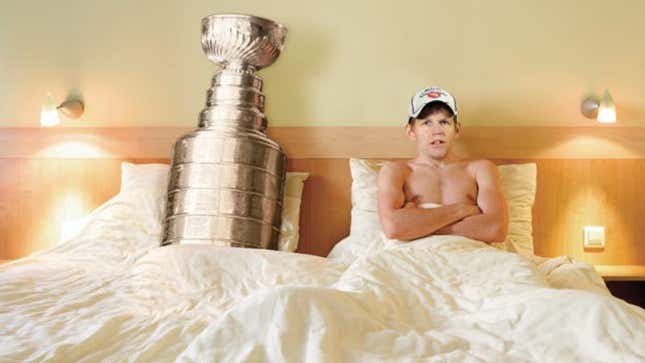 LOS ANGELES—Sources within the Red Wings organization confirm that goalie Chris Osgood, who is currently engaged in accompanying the Stanley Cup on a victory tour of talk shows and publicity events, has repeatedly and insistently claimed to have gotten as far as third base with hockey's championship trophy during the past week.
This Week's Most Viral News: September 22, 2023
On Tuesday night Osgood, teammate Nicklas Lidstrom, and the Stanley Cup made an appearance on the Tonight Show with Jay Leno during which Osgood was seen repeatedly touching and attempting to hold the Cup. Witnesses say that after the segment had taped, Lidstrom left for the airport, while Osgood and the Cup left together for the Four Seasons Hotel.
Housekeeping staff said Wednesday morning that the Cup's room had not been slept in.
When asked for comment, Osgood himself initially refused to give details.
"Listen, it's tradition for us to all kiss the Cup. But I'm not one of those hockey players who are always saying 'I'm gonna fuck that Stanley Cup,'" Osgood told ESPN's Jim Rome when asked about his involvement with the trophy on Wednesday's Jim Rome Is Burning. "I mean, everyone dreams of winning the Cup, that's only natural. But it's not like that with me. Come on, man."
However, when Rome attempted to change the subject to Osgood's long and tumultuous Detroit career, Osgood, apparently warming to the subject, continued to talk about his relationship with the Cup.
"Okay, now, I'm not saying there isn't—it's a powerful feeling, when you win the Cup, and sometimes that leads to other feelings that are just as powerful," Osgood continued. "Things happen, but you and the Cup both want them to happen, and you go back to the hotel and ask it to watch Dirty Dancing, and eventually maybe you get into some up and over, or there's some up and down and underneath, or maybe—I'm not saying this happened, but you know—maybe there's more than one way to kiss the Cup."
"A better way," a grinning Osgood added as an evidently stunned Rome remained mute. "A way that brings the Cup as much pleasure as the Cup brings you. Or the great city of Detroit, for that matter."
Reaction from the world of hockey has, predictably, been mixed. Although the Stanley Cup is more revered than other trophies, perhaps because of its accessibility, not everyone is comfortable with the prospect of it being involved in mild to moderate sexual contact with a player.
"I know that every player on the winning team gets a day with the Cup. That's just tradition," said Detroit hockey fan Roy Wertree. "And no one deserves that day more than Chris, because he really got us through the Finals. And I know he and the Cup are both old enough to make their own decisions, but I don't know. Something about Osgood and the cup gratifying one another in a sensual fashion is just weird."
"Why would he even want to?" asked Grosse Point's Meg McEntyre. "I mean, the Stanley cup is older than he is, for one thing. And do you know how many guys must have kissed it over the years?"
Although the NHL has not officially commented on the event, sources within the organization say that Osgood's experience may not be unique.
"For years there have been rumors that the Stanley Cup had been involved in unusual relationships with top players," said ESPN's Barry Melrose. "Mark Messier was rumored to appear late at night outside the Hockey Hall of Fame in Toronto in the offseason, shouting the Cup's name until the police could escort him home. Wayne Gretzky was once seen standing between his furious wife Janet and the Stanley Cup in the corridor of the Edmonton Hilton, clad only in a towel and repeatedly denying that the Cup was destroying their marriage. And Gordie Howe's career was haunted by rumors that he allowed the Cup to tie him to seedy hotel beds. It's all part of why this is the greatest sport in the world."