SPARTA, TN–Noted author, social critic, and political gadfly Christopher Hitchens was once again the focus of controversy Monday, when he was forcibly removed from Happy Trails trailer park following a drunken confrontation with Noreen Bodell, 39, his common-law wife of 14 years.
Responding to a domestic-disturbance call, police arrived at the couple's double-wide trailer at approximately 2:15 p.m. to find Hitchens and Bodell throwing dishes at each other. When the officers attempted to remove Hitchens from the premises, the leftist intellectual became physically and verbally abusive toward the officers, calling them "shitkickers," "bitches," and "effete liberal apologists for the atrocities of late-stage capitalism."
This Week's Most Viral News: September 29, 2023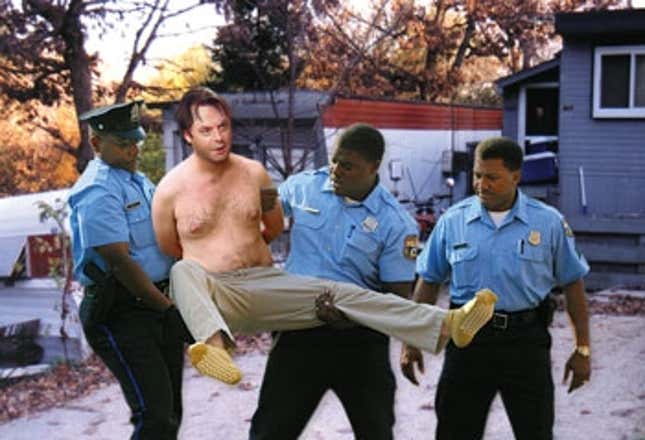 Having consumed what sources described as "a substantial amount of single-malt scotch," Hitchens then burst into tears, yelling, "That woman never understood me for who I am. I want to talk to [Harper's editor Lewis] Lapham. Lapham's the only one who understands me."
Charged with disturbing the peace, Hitchens was taken to the Sparta police station at 3 p.m. and released four hours later.
Little is known about Bodell, a heavy-set blonde who has been known to use several different surnames. According to sources familiar with the couple, the incident marks the third time in as many weeks that police have been forced to intervene in their volatile relationship.
"We're down at the old Hitchens place probably twice a month at least," said Sgt. Wilson Vernon, the first of three officers to arrive at the scene. "Once his blood's up, old Hitch can get meaner than a three-legged coon hound. From what the neighbors told us about this latest incident, Noreen was all worked up, accusing him of drinking and womanizing. He was angry with her refusal to acknowledge that there is ample evidence to make a case for prosecuting Henry Kissinger as a war criminal. She just kept shouting, 'No, there ain't!'"
Police were initially summoned when neighbors reported hearing shouting and a loud crash, followed by a rambling polemic on Kissinger's alleged covert approval of Indonesia's illegal invasion of East Timor in 1975.
Though the belligerent Hitchens required three officers to subdue him, police do not consider the incident serious, calling it "business as usual" and describing Hitchens as a "hot-tempered but essentially harmless provocateur for the Far Left."
"Hitch is an all-right guy once he sobers up," Vernon said. "He just gets a little wound-up sometimes, like when his woman stays out all night down at Smokey Joe's Tavern, or he has a deadline looming for his Vanity Fair column."
Hitchens' run-ins with the law have not been restricted to Sparta city limits. In May 2002, he was arrested for drunkenly singing 1930s union songs while driving a stolen riding lawnmower through the streets of Boston, where he was attending an international women's-rights conference. Hitchens accused police of "atavistic, morally reprehensible Stalinist scare tactics" before being bailed out by conference organizers the following morning.
Sgt. Ed Poole of Boston's 11th Precinct said there was no love lost between Hitchens and his arresting officers.
"Word got around the station that this guy wrote a whole book claiming that Mother Teresa was a stooge of right-wing dictators," Poole recalled. "Supposedly, he said her hypocritical approach to charity for the poor of Calcutta, as well as her steadfast advocacy of the Catholic Church's doctrine prohibiting birth control, made her an essentially immoral individual undeserving of the mantle of sainthood. Well, a lot of the boys here are Irish-Catholic born and raised, and they don't take too kindly to people speaking ill of nuns."
Town officials in Sparta, where Hitchens has maintained an on-again, off-again residence for two decades, admit that he may be "a handful" at times, but they insist he is not a danger to himself or others.
"If I know Hitch, by the end of the week, he and Noreen'll be back together, cuddlin' and kissin', just as happy as two crawdads in a pond," Sparta Police Chief Buck Perkins said. "We don't get a lot of ultra-progressive agitators 'round these parts, but Hitch is okay. Plus, he earned a lot of points with the townsfolk for his vocal criticism of the anti-war movement. Even though he was attacking the war opponents from the left, folks around here don't necessarily understand the implications of that, so he's an all-right Joe in their book."
Added Perkins: "So long as Hitch can learn to keep his mouth shut about Christianity being symptomatic of the 'savage and ignorant prehistory of our species' and whatnot, I'm sure he'll cause no trouble that a few cups of black coffee and a night in the drunk tank can't solve."