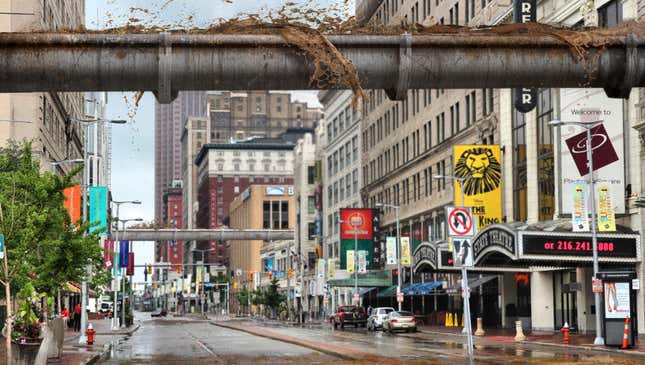 CLEVELAND—Saying the bold new infrastructure project would serve the needs of local residents through the 21st century and beyond, city officials announced Monday that work was finally complete on Cleveland's long-awaited elevated sewer system.
The one-of-a-kind open-air wastewater transportation system, which stands three stories above the street and runs a total length of more than 60 miles throughout the metropolitan area, will reportedly move an estimated 90 billion gallons of raw sewage across the city each year, carrying urine and feces from the suburbs to downtown, and from University Circle to the Rock and Roll Hall of Fame.
"This state-of-the-art structure, with its sloshing aboveground river of human piss and shit, will remain a defining feature of the Cleveland skyline for decades to come," said Mayor Frank Jackson, cutting a ribbon atop the new sewer station in front of City Hall as a large sluice opened and thousands of tons of excrement began to flow through the crisscrossing series of open ducts now running above all major streets. "It is a magnificent addition to our city that will connect the East and West Side and do more to revitalize our downtown than any project in recent memory. For the first time, almost every resident will live within a 15-minute walk of a world-class raised sewer line."
"Now, and for generations, Clevelanders will be able look up at these spectacular overhead canals carrying away their bodily waste and think, 'This is my city,'" Jackson added.
The new lines will service most of Greater Cleveland's inner-ring suburbs, including Lakewood, Shaker Heights, and Parma, where residents are said to be excited about having quick and convenient access to municipal treatment plants via the 35-foot-tall conduit of gushing fecal matter that now stands just outside their homes.
City officials expressed confidence that the new infrastructure would represent a significant improvement over the city's previous underground sewers, citing increased accessibility for maintenance crews removing blockages caused by massive wads of paper towels, dirty diapers, soiled condoms, and discarded sanitary napkins. They also noted that the open-air design will reduce the risk of explosions caused by buildups of methane and hydrogen sulfide gases because it will allow the rancid, nauseating fumes to circulate freely through areas where Cleveland residents live, work, study, and play.
"The cutting-edge technology employed by our new transfer stations will ensure the defecations of locals and visitors alike get where they need to go as smoothly as possible," said Jackson, touting the system's sleek design and ease of use as a potential boon to the tourism industry. "We're confident these towering troughs of cascading brown sludge moving through the night sky high above the Cuyahoga River—and often discharging directly into Lake Erie—will become as iconic as the Gateway Arch or the Golden Gate Bridge."
"Around the world, when anyone sees an image of an elevated cesspool brimming with shit, it will immediately bring to mind Cleveland," Jackson continued, "and we're betting quite a few people will want to come see it for themselves."
Local reaction to the completed sewer system has been generally positive, with residents saying they are glad to see an end to the disruptive construction project, which for nearly a decade caused periodic backups among toilets along Euclid Avenue and throughout the Nine-Twelve District downtown. However, among those who live directly in the path of the new lines, many consider the project to be more trouble than it's worth.
"I thought it would be quieter once they finished building the damn thing, but now I get woken up at two in the morning to the sound of splashing and gurgling right outside my window," Cleveland native Rachel Oscar told reporters. "I've considered trying to sell, but honestly, who'd want to buy a place where you can't even walk out the front door without a trickle of urine dripping onto your head?"
Responding to complaints, city officials confirmed that one drawback of an open-air sewer is that during periods of heavy rainfall, residents can expect "a few gallons" of shit to seep up through their bathtub drains without warning.