WASHINGTON, DC—Preparing for another possible showdown with Iraq, President Clinton deployed more than 15,000 very special U.S. forces to the Persian Gulf region Tuesday.
Clinton said the objective of the mission, dubbed Operation Great Job!, is twofold: to keep pressure on Saddam Hussein to permit the return of U.N. weapons inspectors, and to provide America's very special forces with a positive, rewarding, esteem-building experience.
"With Operation Great Job!, we send the message loud and clear to Saddam Hussein that his open defiance of the United Nations and international law will not be tolerated," Clinton said. "We also send the equally important message to our own troops that what's important is not whether you defeat the enemy, but that you try your best and have fun."
Added Clinton: "Hooray, U.S. troops!"
At a Pentagon press conference, Secretary of Defense William Cohen expressed confidence that the mission will be successful. "I have full faith that our troops will do a terrific job in Iraq," Cohen said, "but even if they make a few mistakes, we'll still be very, very proud of them."
G/O Media may get a commission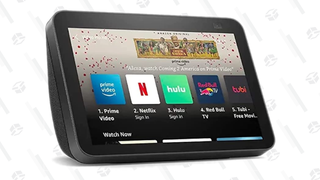 Cohen stressed that the safety of America's special forces is of paramount importance. In an effort to reduce the risk of anyone getting hurt, the Defense Secretary has urged all U.S. troops to tie their shoelaces "nice and tight."
"Whenever you're in a combat situation, there is almost always going to be some running involved," Cohen said, "And the last thing we want is for any of our soldiers to trip and fall."
Morale is said to be high among members of the very special forces, who were flown Monday from Sheppard Air Force Base to Riyadh, Saudi Arabia, in a squadron of specially modified C-130 "short planes." Upon arriving, the troops were given a thorough mission debriefing by Gen. James Herzog and a butterscotch-pudding snack cup. Each soldier was then issued an AR-15 rifle, three clips of NATO 7.62 mm rounds, a combat helmet with a velcro safety-strap, and a fanny pack with his name written on it in black magic marker.
"We are going to win the war," said Pvt. Richie Ammaker of Hagerstown, MD, eating his snack cup with a Capri-Sun juice-pak. "I love to clap and sing along to the music!"
"Colonel Gene [Diering] says that if we take out the communications tower in Al Basrah, we can have a pizza party," Pvt. Josh Paretsky of Dallas said. "Pizza party! Pizza party! Pizza party!"
"You're pretty," Paretsky added. "Will you marry me?"
Gen. Thomas Merritt, who is in charge of overseeing Operation Great Job!, said the troops are thoroughly prepared for what lies ahead.
"We have gone over maneuvers and protocol in detail, and we have all marked down our special targets in our special notebooks," Merritt said. "The soldiers know they are not to wander off from the group. They know they are to use inside voices when in enemy territory. And they know they are to go to the bathroom prior to all ground assaults. This group is ready."
Merritt went on to note that, despite the very special nature of the mission, strict military discipline will be maintained, including mandatory quiet-room "time-outs" for any soldiers who begin "acting out" or displaying inappropriate behavior in combat situations.
According to Secretary of State Madeleine Albright, the length of the mission depends upon the performance of the troops. "Hopefully, all will go well, and our very special forces will be back home within a week," Albright said. "But if there are setbacks, such as soldiers losing their keys or having trouble staying on task or forgetting to take their pills, it could take longer."
Regardless of the outcome on the field of battle, Albright said America's fighting forces will emerge as "big winners."
"These soldiers will have the chance to strike a blow for global democracy and make lots of new friends in the process, so how can they not win?" asked Albright, who noted that every soldier who participates in Operation Great Job! will receive a shiny medal. "This is truly going to be a very special invasion."