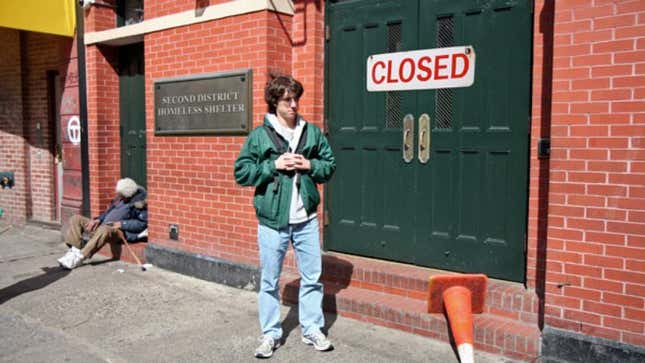 NEW YORK— After years of providing hope and assistance to resume-padding volunteers, the Second District Homeless Shelter closed its doors this week, leaving hundreds of desperate students without anything to write under "Other Interests."
This Week's Most Viral News: September 29, 2023
The shelter, long a place of refuge for those in need of extracurricular credit, was shut down Monday due to statewide budget cutbacks and a drop-off in private donations. According to sources, the news has devastated countless high school seniors who had come to depend on the outreach center in order to impress prospective colleges.
"Where am I supposed to go now?" said 17-year-old Jeremy Krassner, one of many B-plus students left to wonder about his future. "Princeton only takes the very best candidates, and even schools like Columbia check for community-service experience."
Added Krassner, "I'll never make it."
Krassner is not alone. Over the years, the temporary housing facility has turned a number of academic lives around and provided many young men and women with a second chance at graduating with honors.
In addition, the homeless shelter has reportedly supplied college applicants with a safe, inviting place to improve their transcripts, allowing them to escape the dangers of having to clean up inner-city neighborhoods or commit to other risky volunteer activities.
Since the shelter's closing, however, students from all walks of life have found it difficult to carry on.
"With the shelter, I never had to worry about where my next scholastic achievement was going to come from," Townsend High School student body president Jessica Glustein said. "Now that it's gone, what chance does someone like me have of composing an admissions essay that touts my active involvement in community-based projects?"
While some down-and-out volunteers have managed to find temporary salvation at an understaffed food bank one town over, others haven't been so lucky. Michael King, a sophomore at Rye Country Day School, said that unless things change for the better, he might soon find himself in the hospital—as he recently heard they have openings for candy stripers in the geriatric wing.
But as desperation grows, a number of students have taken more drastic measures, with some resorting to begging for signatures on the streets in hopes of securing even the smallest $6,000 annually renewable scholarship.
"I just stand on the corner here, and whenever someone walks by, I ask if they have a couple of minutes to help save the environment," said Rebbeca Hodge, who signed up to volunteer with Greenpeace on Tuesday. "Most people just ignore me or pretend like I don't exist. It's degrading. Nobody should have to go through this."
"I've managed to get by okay thanks to a Habitat for Humanity home I've been helping to build," Joshua Penderman, 16, said. "But what happens to me and my dreams of going to Dartmouth when the winter comes? What will I do when it gets too cold to participate in charity car washes or plant trees at the nursing home?"
Statistics culled from five major metropolitan areas over the last 10 years suggest this trend shows no signs of stopping. In 2005, a free health clinic, which had for years allowed Chicago-area students to strengthen their applications to med school, was shut down without warning. And just last year the closing of an assisted-living residence in Baltimore left dozens of volunteers without the academic support they so desperately required.
According to social worker Elizabeth Schulz, the shuttering of the Second District Homeless Shelter has done more than just jeopardize the scholastic lives of its student volunteers.
"Yes, this will hurt young men and women looking to improve their school transcripts, but we're avoiding the real issue here," Schulz said. "What about people, like me, who need outreach programs in order to build up their roster of private, government-subsidized clients? How are we supposed to eat?"