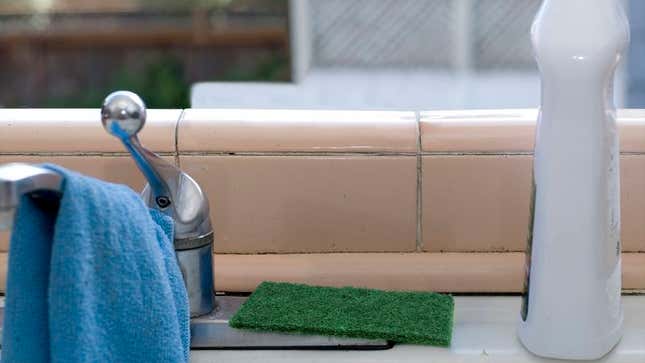 MINNEAPOLIS—Shortly after it was purchased this week from a Bed, Bath, and Beyond and set beside the Smith family's kitchen sink, a coarse sponge reported earlier today that it is both honored and excited to be joining the home's dishwashing team.
CDC Issues Dire Warning That Nick Cannon Is Feeling Horny
"I couldn't be happier about coming on board the dishwashing crew here at the Smith family kitchen sink, and I look forward to making a contribution to the team," said the fibrous cleaning tool, adding that it would try its best to fit in seamlessly with the rest of the cleaning utensils and products on the crew. "I mean, the Smiths have always had a great program for rinsing and scouring plates, glasses, and silverware, so I'm looking forward to getting in the mix here and adding what I have to offer to the process."
"Everyone works really hard here to get things clean," the coarse sponge continued. "So we should be very simpatico there."
Calling fellow members of the Smith's dishwashing team "the best around," the porous cleaning product went on to convey its particular admiration for several of the soaps, towels, and rubber gloves involved in everyday cleaning, paying particular respect to past sponges, brushes, and soft cloths that helped make the team "what it is today."
Claiming that it is still getting used to the overall group dynamic of the Smith's kitchen, the new cleaning utensil said it would be "totally fine" with whatever chores it is immediately tasked with, whether it's getting to work straight away on a dirty cake pan or even just sitting by the sink to watch a more experienced scrubber clean a cereal bowl.
"They've got their own system here, which will take some getting used to, but that's just part of working with a new team, you know?" said the sponge, noting that it was initially apprehensive at the thought of working with the Smith's unfamiliar brand of organic dishwashing soap, but eventually came around to the idea of adapting to different working styles. "They know what they're doing around here, so if they want to soak a pan before scrubbing it down then that's great. If they prefer to just start scrubbing then, hey, that's fine by me, too."
"Basically, I'm just ready to do whatever's needed," the synthetic adsorbent added. "And hopefully we can just get down to kicking ass together, as a team."
At press time, the new sponge had gotten stuck in the sink's garbage disposal and was immediately thrown away.