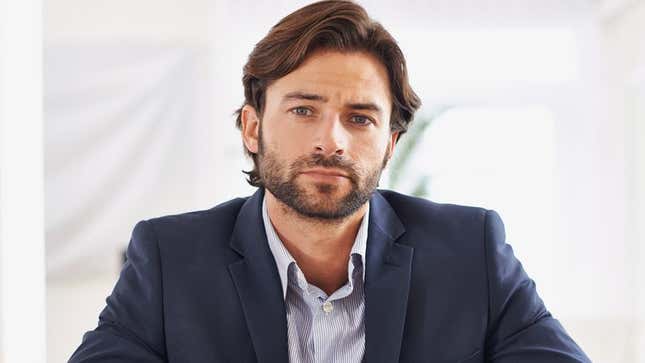 WASHINGTON—In a ceremony at the White House this morning in which his work was praised for its unique contributions to the art of corporate communications, Coca-Cola marketing strategist Lawrence Shaffer was officially appointed as the new PR laureate of the United States, sources confirmed.
Edgelords Explain Why They Love Elon Musk
During a reception in the East Room, members of the PR laureate selection committee told reporters they spent weeks debating the merits of the nation's most talented public relations professionals before deciding on Shaffer, whom they described as an "adroit and truly consummate" practitioner of brand messaging, one with a remarkable ability to push product and get people to connect emotionally with business entities.
"Lawrence Shaffer has a rare knack for both strategic brand partnerships and social media integration that makes him a modern-day master of corporate image management," said White House press secretary Josh Earnest, who commended Shaffer for mining the richness and diversity of the American experience in his work, citing in particular his oversight of the 2014 "Share a Coke" campaign. "As a young man, he burst onto the PR scene after leveraging his press relationships to help oil executives shape the narrative emerging in the public consciousness following the Exxon Valdez spill in 1989. The press conferences he orchestrated then were so deft and nuanced."
"But it is at Coca-Cola that his marketing strategies have left their most indelible mark on the imagination of the American consumer," Earnest continued. "For evidence of that, we need look no further than the company's recent collaboration with cosmetics manufacturer OPI to create soft drink–inspired nail polish colors. It's truly breathtaking."
Officials confirmed that as PR laureate, Shaffer will be allowed to conduct market research using the federal government's complete census records. He will also receive a yearly stipend of $600,000, which is intended to give recipients the freedom to pursue passion projects and push the boundaries of public relations as they experiment with innovative new approaches to brand messaging.
According to sources, Shaffer's foremost duty as laureate will be to champion PR and inspire the American public to become enthusiastic about the practice of mediating the flow of information between corporate actors and the public. He also reportedly plans to visit the nation's classrooms, where he will teach schoolchildren the importance of developing strong media contacts and learning to conduct damage control in the face of a potentially reputation-damaging crisis.
Those in attendance at the White House reception were reportedly treated to a live reading of Shaffer's most effective and convincing press releases from the past 30 years.
"Perhaps no one in American marketing is as bold and elegant when it comes to dissecting demographics and pinpointing their vulnerabilities and deepest desires," said Earnest, who praised Shaffer's ability to meld disparate publicity techniques into a cohesive vision of brand identity. "With a few simple words, he pulls you into the world of wonder and contentment his clients can provide. His work lodges itself deeply within the psyche of the consumer, and it stays there—often for a lifetime."
He added, "I know that I personally have had the 'Always Coca-Cola' song stuck in my head on and off for more than two decades, and I have no reason to believe that won't continue to be the case until the day I die."
The office of PR laureate was created in 1928 by President Calvin Coolidge, who appointed advertising executive Albert Lasker to the post for his pioneering work in sponsored entertainment with The Palmolive Hour radio show. More recent holders of the position include Reagan-era laureate Alan Hilburg, the critically acclaimed creator of Wendy's "Where's the beef?" campaign, and marketing guru Tim Arnold, whose widely heralded decision to hire Lou Rawls as a celebrity spokesman for Budweiser allowed Anheuser-Busch to successfully target African Americans in the 1970s.
At press time, sources said the White House press secretary was asking the PR laureate if he knew the best way to spin a report that six foreign aid workers had been mistakenly killed by a U.S. airstrike in Syria.