LAKE HAVASU CITY, AZ–Lacking any other reason to continue drawing breath, retiree Raymond Pfaff, 91, clings to life so that he may collect all 50 of the U.S. state quarters, sources reported Tuesday.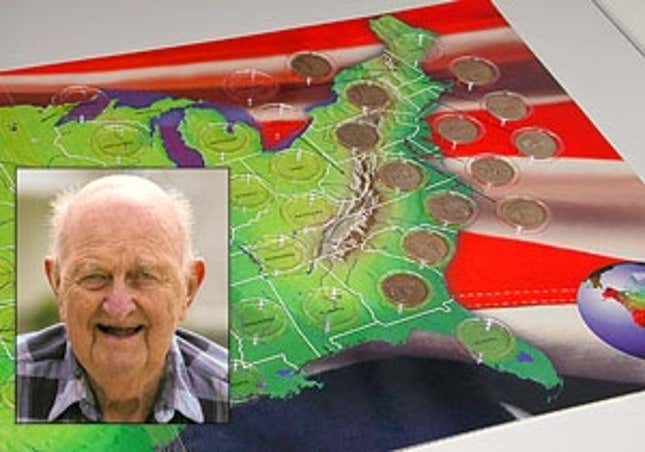 The quarters, each bearing an iconic image representing its respective state, were first put into circulation in 1999, when Delaware, Pennsylvania, New Jersey, Georgia, and Connecticut were released. Five new quarters are slated for release every year until 2008.
"I've got all 13 so far, even the Rhode Island one that just came out," said Pfaff from his bed at St. Andrew's Convalescent Home in Lake Havasu City. "It has a sailboat on it because Rhode Island is the Ocean State."
Added Pfaff: "Vermont's next."
Pfaff, a former vacuum-cleaner salesman suffering from chronic emphysema and diabetes, has not let his deteriorating health keep him from his numismatic pursuit. Due to complications from diabetes, Pfaff had his left leg amputated in January, an event that coincided with the release of the New York quarter.
G/O Media may get a commission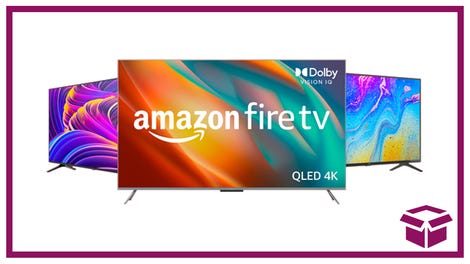 Ooh. stunning.
New Amazon Fire TVs
"Right after the operation, Dr. [William] Homsey handed me a newly minted two-bits with the Statue Of Liberty on it," Pfaff said. "I can't see too good anymore, but I could feel with my thumb the outline of the Empire State with proud Lady Liberty holding up her torch. As soon as they took me out of intensive care, I went straight to the official U.S. Mint state-quarter collector's board on my nightstand and stuck the coin right in the New York slot. That was the best I'd felt in a while."
According to St. Andrew's staffers, collecting the quarters has been more than a hobby for Pfaff, providing unintended "medicinal" effects.
"When Miriam, Ray's wife of 63 years, passed on in 1997, Ray fell into a pretty bad funk," day nurse Colleen Bresler said. "And it didn't help that his son and two daughters live so far away, they can only visit every other Christmas. But ever since these quarters arrived, Ray hasn't seemed quite so despondent–the suicide talk has almost completely stopped. They've really been a godsend for him, like a metallic version of Prozac."
Other residents of St. Andrew's say Pfaff's enthusiasm for the quarters is contagious.
"Ray and I are best friends," fellow resident Lyle Potterman said. "Some nights, we'll stay up way past 8 talking about what we think will be on upcoming states' coins. Like, for South Dakota, Ray thinks it will be Mount Rushmore, but I think it'll be the Corn Palace. I guess we'll see who's right in 2006."
The day after he was interviewed, Potterman died of an aneurysm. He was 89.
Pfaff celebrated his 91st birthday on July 13, but the date he seems most excited for is August 2007, when the quarter for his home state of Wyoming will be released.
"I wrote a letter to the Treasury, trying to make sure they don't just put a picture of Old Faithful on the back," Pfaff said. "Wyoming is the Cowboy State and, by God, it should have a cowboy on it. I used to love horseback-riding. It's been so long."
In response to Pfaff's plea, the U.S. Treasury sent a form letter thanking the nonagenarian for his continued interest in American currency.
Regardless of what the image on the Wyoming quarter turns out to be, Pfaff is determined to stay alive until the Hawaii coin is released at the end of 2008. Others, however, are not so optimistic.
"I give him two more years, tops," staff physician Dr. David Reames said. "To be honest, with the condition he's in, I'd be amazed if he even made it to Mississippi."
Ronald W. Pindel, executive director of St. Andrew's, also has his doubts.
"What Mr. Pfaff doesn't seem to realize is that assisted living costs money, and he is quickly running out of it," Pindel said. "If he wants to live another seven weeks, much less seven more years, he's going to have to use those state quarters to pay for his rent and medication."
But Pfaff refuses to listen to naysayers.
"The Lord will have to wait until my work here is done," he said. "When I die, I know what I want them to put on my tombstone: 'He Got All 50.'"