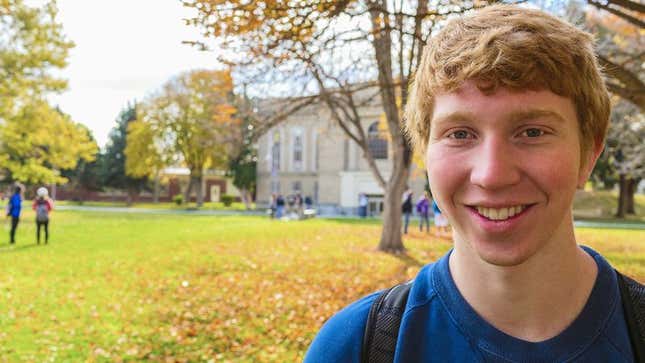 ANN ARBOR, MI—Emphasizing that this was not a choice he had made lightly, University of Michigan student Kevin Peterson told reporters Thursday that he had officially decided to become one of the lanyard-wearing kind of freshmen. "I have given this matter plenty of thought, weighing the various benefits and drawbacks, and I've decided that, henceforth, I will be one of those guys who always has on a blue-and-gold lanyard with a little pouch at the end for my student ID, dorm key, and cash," said Peterson, adding that he was still considering whether and how often he would remove the lanyard from around his neck and swing it in circles until it wrapped around his fingers, then reverse the process to unfurl it. "There were, of course, other paths I could've taken, such as being the kid who brings a Nalgene bottle everywhere, the guy who wears Zubaz around the dorms, or the student who smuggles food out of the cafeteria. For me, though, wearing a lanyard every time I'm seen in public feels like the right move." At press time, Peterson was thinking about upgrading to a lanyard with a retractable keyring that he could compulsively extend and snap back at all hours of the day.
This Week's Most Viral News: September 29, 2023
---
College checklist: Meet roommate, enroll in classes, pack Cheetos.