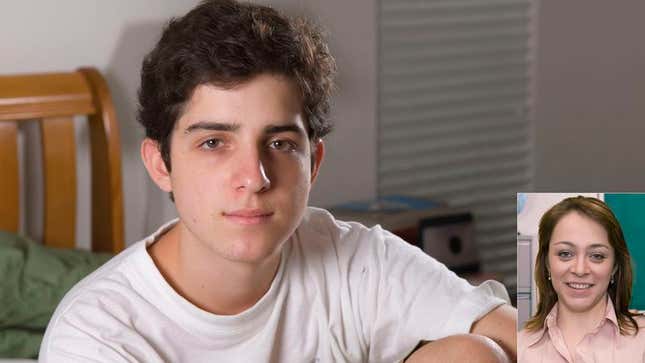 AMHERST, MA—Saying he had entered a new phase in his life and wanted to start with a clean slate, University of Massachusetts freshman Seth Erickson told reporters Tuesday he was seriously considering breaking up with his high school teacher Karen Hull.
This Week's Most Viral News: September 22, 2023
Erickson, whose evening phone calls with Hull have grown less frequent since he left for college and she returned to classes at Gresham Hills High School, lamented that he would rather be out socializing with his new friends than listening to her "rehash the same old stories" about life in his hometown of Waltham, MA.
"Karen's great and everything, but I'm in a much different place now than I was last fall when we started dating," Erickson said of his relationship with the high school English teacher. "It's not that I don't like her anymore—it's just that I can't see myself spending the next four years with someone I dated in high school. I should be going out with college girls, you know?"
"And wouldn't it make more sense for her to date guys who go to high school with her?" he continued. "And besides, I heard a rumor she has a crush on [star quarterback] Jeremy Kovics."
Erickson confirmed the spark had gone out of their relationship and said all that remained for him were faded memories of making out in Hull's car in their school's parking lot, receiving her salacious text messages between classes, and exchanging knowing looks with her during fourth-period English.
In addition to citing the usual difficulties of carrying on a long-distance romance, Erickson noted that he was busy with his schoolwork and Hull was busy with hers. Between tests, term papers, and just staying prepared for classes, he said, they were finding it difficult to make time for each other.
"The last time she came up to stay in my dorm room, the whole situation was just awkward," said Erickson, adding that he wished they could be together at the same school, but that it just wasn't possible with him pursuing a career in engineering and her pursuing one in education. "Everyone on my floor thought it was really weird, and they could tell that something was wrong. I guess it's just that I'm in college now and I ought to be moving on from all that high school stuff."
"Karen and I had a good run, but realistically, how many people go on to marry their high school teacher?" he added.
According to Erickson, Hull herself has often stated during their year together that "things can't keep going on like this forever." There were even a few strained times when Hull reportedly said she "just wanted this whole thing to stop," claiming their relationship didn't feel right and that it might be better if they didn't see each other outside of class.
"I'll see her when I head back for homecoming next month, and even though I'll have broken things off by then, I hope we can both be adults about it," said Erickson, not ruling out the possibility of a quick, no-strings-attached hookup "if things are back to being cool" between them. "I think it's clear that we just weren't meant to be."
He added, "Besides, she has a husband."