TERRE HAUTE, IN—Music and DVD mail-order giant Columbia House is offering a new direct-mail subscription drug program for the estimated 10 million senior citizens who have not yet signed up for the government's Medicare prescription medication plan.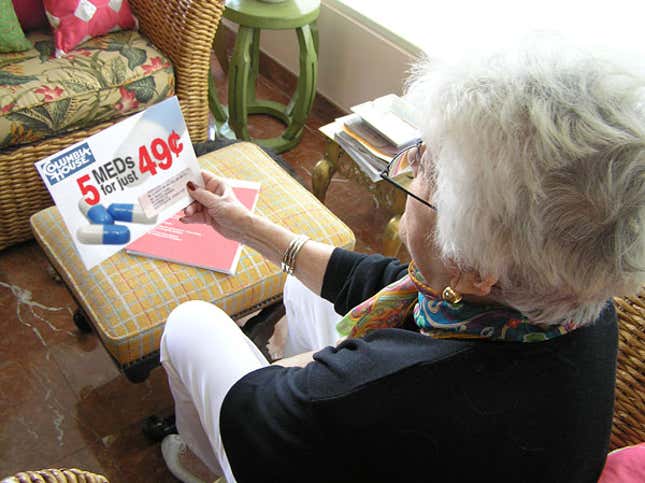 Edgelords Explain Why They Love Elon Musk
"This is the best way to enjoy all the top medications by today's pharmaceutical superstars at a low, low price," said Columbia House spokeswoman Sandra Farrell. "There's no more waiting in line for the latest releases at the pharmacy, and because Columbia House sells directly to the consumer, you can kiss Dr. Middleman goodbye."
The Columbia House program, which was launched in January, offers a wide array of AARP chart-toppers and many popular prescriptions from the past through its supplementary color catalogue conveniently found in more than 400 Sunday newspapers nationwide. Qualified seniors may choose either 12 generic drugs for one cent, or five brand-name medications for 49 cents each, plus shipping and handling. Members are then obligated to buy five more brand-name medications over two years at their regular price, ranging from $12.99 to $549.99.
Under the Columbia House program, members are free to cancel and go off their medication at any time after fulfilling their obligation.
New members may order by phone or note their drug choices by applying the red "YES!" stickers to the provided order form and returning it in the mail using the included postage-paid envelope. The first prescriptions arrive in six to 12 weeks.
"I'm in a lot of pain, so I chose the generic painkillers," said Art Gallagher, 69, of Colorado Springs, CO, a recent enrollee who has been on pain relievers since his stomach surgery three months ago. "I'm not always thrilled with the limited selection—they don't have Vicodin, and I already have plenty of Percocet. But they do have a pretty good selection, as long as you're not too picky about some of the fancy extras, like extended side-effects or warning liner notes."
Although Gallagher is generally satisfied with his coverage under Columbia House, he expressed some frustration with the inconsistent offerings. "They base their selections on what's hot at the moment, so they stopped carrying Fentanyl, my favorite, right when I was getting hooked on it," Gallagher said. "I tried a different one that was really popular with all my friends, but I couldn't get into it."
"It made me spit up liver bile," he added.
Sadie Wilcox of Bethesda, MD enrolled in the Columbia House program to try something different besides "the same old insulin."
"Last month I took a chance on something I'd never heard of that was really popular on college campuses," said the 77-year-old grandmother. "I have to say, I really enjoyed it! Their 'recommended list' said that if I liked Pfizer, I'd absolutely love GlaxoSmithKline—and they were right."
But critics, including elder-affairs advocate Melissa Rocklin, say Columbia House is taking advantage of less medication-savvy members unaware of their responsibility to inform the company if they do not wish to receive the featured drug of the month.
"Elderly citizens who fail to understand this obligation can wind up with any number of unwanted and expensive prescription drugs, and everyone knows the fine print is practically unreadable for a senior," Rocklin said. "Plus, it sometimes takes months for them to offer the newest releases."
Esther Goettner of Missoula, MT experienced this confusion last week, when she was inadvertently sent a bottle of phenobarbital. "I take Tenormin for my blood pressure, and I get my Celebrex for my arthritis," said Goettner, 67, who said phenobarbital, an anti-convulsant medication, was not part of her usual drug regimen. "Maybe I can pass it off to [friend] Ginny [McFee] for her birthday."
Because a broken hip kept him from walking to the mailbox for six months, Donald Haskell, 80, of Jefferson City, MO took the last three medications shipped to him, which included Levitra, OxyContin, and Premarin, a hormone replacement therapy generally prescribed for post-menopausal women.
"I know I don't need Premarin," Haskell said. "That was one Virginia used to take before she passed. But I didn't get the card in on time, so they billed me for it—damn near $300. If I don't try it, I'm just wasting my money."
While the benefits and ease of the new program are largely viewed as an improvement over Medicare, some members remain leery of the exorbitant shipping fees and long waiting period.
"I could barely wait for my Vioxx to get here," said 72-year-old Edgar Shebesta of Milwaukee. "It took so long, I thought I was going to die."
Columbia House also plans to offer a free compilation of rare imports to customers in good standing.