COLUMBIA, MO—Though he did not appear to have any scheduled performances in the area, stand-up comedian and former Saturday Night Live cast member Jim Breuer reportedly attended a party thrown for student John Harris' 19th birthday at the University of Missouri Saturday.
While it is unknown exactly when Breuer arrived at the Sigma Chi fraternity house, sophomore Steve Kendall told reporters he first heard an "odd but somehow familiar laugh" at approximately 11:30 p.m. coming from the vicinity of the living room's beer-pong table.
This Week's Most Viral News: September 22, 2023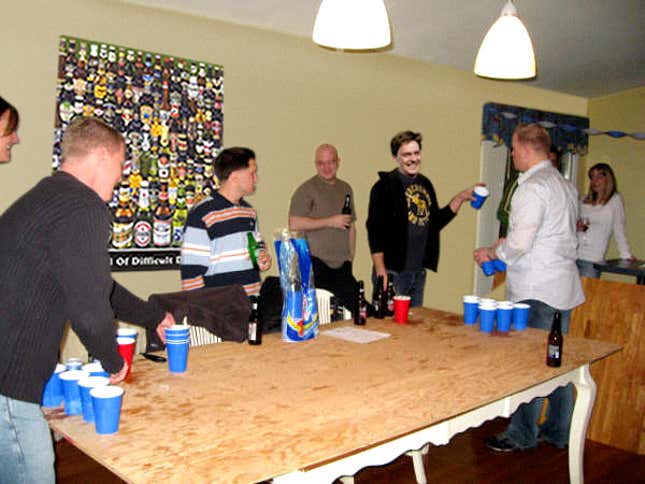 "I looked over and there's the guy from Half Baked," said Kendall, adding that Breuer was cheering on the drinking game's participants. "I asked him if he found out about the party through Facebook, or if he was a friend of [party organizer] Danny [Freedman], and he just showed me a crumpled-up flyer he had in his pocket."
"He seemed like a nice guy," continued Kendall, noting that Breuer paid the customary $5 for a red plastic cup and later drove students to the store for a beer run. "And I think he had a pretty good time at the party."
Breuer often performs at colleges across the country, but the campus-tour portion of his website, "Breuniversity.com," did not list a show that night in Columbia, and representatives from the school's student activities department said there were no plans in the next eight months to book the comedian.
Over the course of the evening, a number of partygoers offered theories about Breuer's sudden appearance, with some claiming the comedian was guest-lecturing in a class on Monday, and others positing that Breuer had returned to seek his master's degree.
"I was in the kitchen and somebody started making goat or sheep noises or something," Greg Stern, 19, said. "I was like, 'Who brought the weird dude?' Then my buddy pulled me aside and whispered, 'He's cool, man. He used to be on SNL.'"
"His impression of Joe Pesci was actually pretty funny," Stern added.
Aside from one 10-minute period during which Breuer danced throughout the house's first floor like AC/DC front man Brian Johnson, students said he spent the night talking to them about their course work, asking what they wanted to do with their lives after graduation, and at one point trying to coordinate an afterparty that reportedly never materialized.
Sources also confirmed that Breuer initiated a lengthy "Kansas Sucks" chant, and then showed students how to smoke marijuana out of a soda can.
"I wound up talking to him for about a half hour," communications major Chris Taft, 21, said. "He gave me his e-mail address and an open invitation to come on his [Sirius Satellite] radio show whenever I wanted."
According to Taft, Breuer was unclear about where he was staying for the night, and when asked if he was an alumnus of the college, Breuer said the only time he had been to Columbia prior to Saturday was for a stand-up show in 2001.
At approximately 1:30 a.m., Breuer shared an impromptu monologue about drinking alcohol with about a dozen students, likening the experience to a party inside one's stomach in which the gastrointestinal area acts as a bouncer that "you don't want to piss off." Speaking in a Mexican accent, Breuer reportedly narrated a scenario in which the tequila sneaks in with all of its friends, only to be ejected from the stomach.
"It was funny because it's true," Jennifer Morgan, 19, said of the four-minute remarks, adding that she could easily relate to the story even though Breuer was more than twice her age. "I've definitely gotten so drunk that I've puked before. I also thought what he had to say about kickball was really funny."
When asked for comment, Breuer made a very realistic flamingo sound.