WASHINGTON—Citing a marked decline in his appearance and personal hygiene, as well as growing piles of personal items under and around his desk, members of Congress have begun to voice concerns that Sen. Mark Warner (D-VA) may be homeless.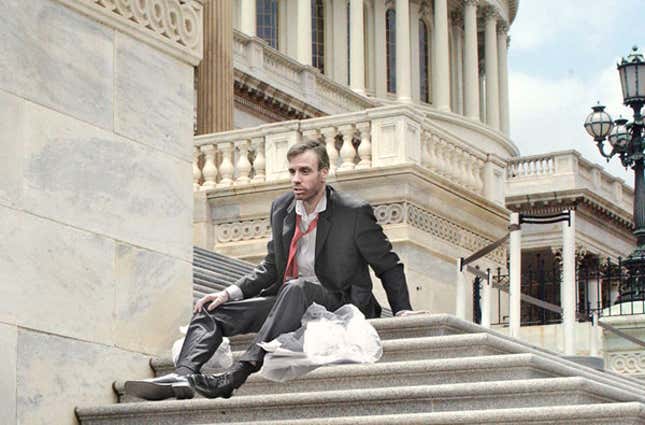 This Week's Most Viral News: September 29, 2023
"At first, I thought he was just burning the candle at both ends," said Senate Majority Leader Harry Reid (D-NV), who noted that the unshaven Warner is always the first to arrive in the morning and the last to leave the Capitol at night. "But then on Sunday, I dropped by to pick up a few things and found Mark asleep under a blanket of Washington Posts on the Senate floor."
"It never really crossed my mind before, but I think the poor guy might be homeless," Reid continued. "It would explain why he's always asking the other lawmakers if they're going to finish their lunch."
According to sources on Capitol Hill, suspicions first arose that Warner had nowhere to call home after the Virginia lawmaker attended daily Senate sessions for several weeks in the same wrinkled Brooks Brothers suit. In addition, Warner's recent habit of introducing legislation written out on large pieces of brown cardboard only furthered speculation that he had hit hard times.
"With the way the economy has been lately, I guess I wouldn't be surprised," Sen. Richard Lugar (R-IN) said. "All I know is that I walked into the Senate bathroom a couple weeks ago and there was Mark, soaking a pair of dirty socks in the sink and holding his unmentionables up to that hand dryer thing."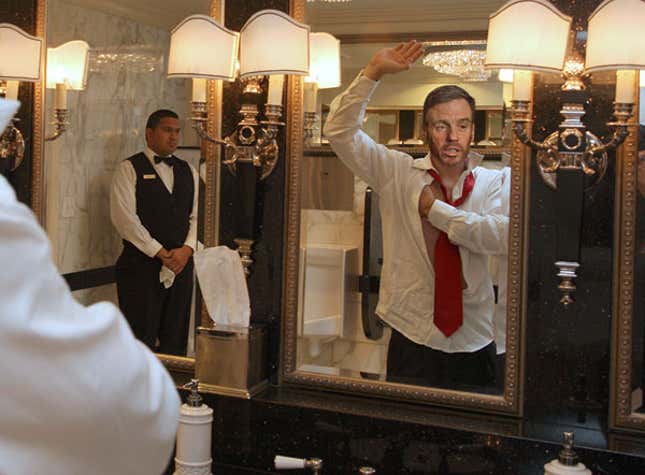 "I tried to ask him if everything was okay, but he just mumbled something under his breath about 'people needing to knock first,'" Lugar added.
Over the past few weeks, Warner has reportedly signed up to be placed only on Senate subcommittees that serve complimentary breakfast and coffee during meetings. Warner's behavior on the Senate floor has also changed as of late, with the legislator voting in favor of more comfortable benches in public parks, and adding several riders onto bills calling for "universal access to soup."
Sen. Robert Byrd (D-WV) said he believed Warner was homeless after seeing the bleary-eyed lawmaker rummaging through a trash can on the National Mall. Byrd reported that when he approached Warner, the freshman senator claimed that he was just looking for "some health care reform bill" he had thrown away.
According to sources, Warner also claimed to be looking for "that damn health care bill" when he was found sifting through a Dumpster behind the Capitol, rummaging in a garbage chute outside the Russell Senate Office Building, and attempting to hock a congressional lectern at a local 24-hour pawn shop.
"I feel bad for the guy, I really do," said Sen. Orrin Hatch (R-UT), adding that all of Warner's mail is now forwarded to a P.O. box at Union Station. "For instance, this morning he got up from his seat, wheeled that abysmal shopping cart of his onto the Senate floor, and lobbied us to pass a $3 million 'Spare Change Act.'"
"Look, we'd love to help Mark out, but if there's one thing Congress doesn't believe in, it's handouts," Hatch added. "Plus, you know he'd just waste that money on booze or arts funding or something."
Warner, who was unavailable for comment, is currently in a Bank of America ATM lobby, holding the door open for customers in an effort to raise campaign funds.