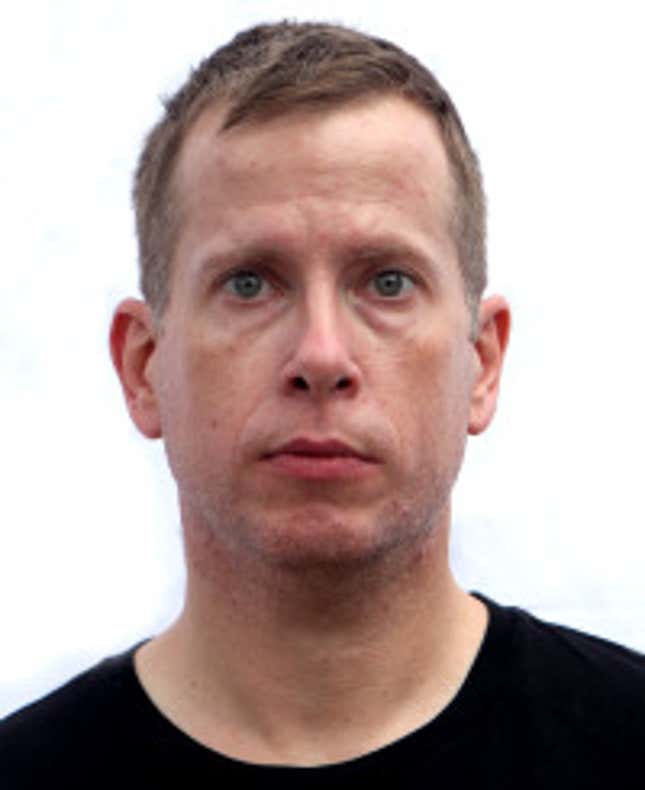 It seems like our country is always on the verge of some major catastrophe or another nowadays. From our ballooning national debt, to a failing education system, to costly foreign wars—it's hard to even keep track of all the issues that Washington needs to address. But rather than trying to set aside their differences and actually solve our problems, Congress is playing professional, Olympic-level ping-pong with the future of this country, and it needs to stop.
Study Finds LSD Highly Effective At Ruining Nephew's Baptism
This behavior really drives me up the wall. We keep inching closer and closer to the edge of disaster, and our elected officials keep engaging in a high-paced, first-to-11, win-by-two table sport of Victorian-era English origin with our ill-prepared workforce and crumbling infrastructure. It's easy to see why their approval rating is at an all-time low!
You can't even turn on the nightly news without seeing House Republicans or Senate Democrats setting their feet and putting all their weight behind a powerful forehand drive that produces devastating topspin on the issues that matter most to us everyday citizens, from joblessness, to climate change, to immigration. Half the time I can't even tell if I'm watching House Speaker John Boehner and Senate Majority Leader Harry Reid debate an equal pay for equal work measure, or an ITTF Super Series tour event final between 1999 world champion Liu Guoliang and Swedish phenom Jan-Ove Waldner!
And there's plenty of blame to go around. While some have singled out Tea Party members for firmly holding the country's credit rating in a tight Seemiller grip and playing two-winged pips-out style with our borrowing limit, others have called out liberal senators for responding to desperately needed entitlement reforms with powerful down-the-line backhand drives, à la the great Kalinikos Kreanga. But at this point, there's no use in blaming just one side or the other for performing deft drop shots, attacking chops, or abruptly deadening the volley with a short defensive push shot on today's most urgent matters. Both parties are treating our future like it's the Guangzhou Automobile Group Qatar Open.
But the very world that our children and grandchildren will inherit is at stake, not just some $305,200 purse split among the top 64 men's and women's singles performers at the Doha Aspire Academy for Sports Excellence.
But hey, I'm a realistic person. I know it's an election year, and when it comes to certain divisive issues like gun rights or a path to citizenship, I can certainly understand engaging in a swift back-and-forth volley of forehand loops, alternating serve every two points. But on issues of immediate and grave national importance, like raising the debt ceiling or reaching a budget deal, I'm sure I'm not the only one who wants to grab Congressional leaders by the shoulders and shout, "Put down your regulation Yasaka and Killerspin fast-blade paddles and think about working Americans for a change!"
The bottom line is that when it comes to making long-term investments in green technology or finally getting serious about unemployment—which has remained stubbornly high for over five years now—Congress would much rather put on a World Cup–level display of their half-long serves and counterdriving prowess that could fill the Peking University gymnasium 10 times over, while we pay their salaries.
And don't think the president will step in and say "enough is enough"—he's always trying to strike the issues at a deceptively low trajectory and put his own corkspin on everything from citizens' privacy, to health care, to Afghanistan. Talk about Washington politics as usual.
But the saddest part is that these endless lobs and put-away smashes in Congress have only gotten worse in recent years. Sure, I can remember times in the 1980s and '90s when it seemed like they were playing amateur-invitational-caliber ping-pong with the Robert Bork nomination, or under-21 international-level table tennis with the Bill Clinton–Monica Lewinsky scandal. But nowadays it's as if every single issue is turned into the legendary 132-minute Alex Ehrlich–Paneth Farkas opening point in the 1936 Swaythling Cup in Prague.
Now that's no way to run a country.
Anyone who takes one look at Congress can see the system is broken. At this point, both parties are being controlled by their most extreme wings and major PAC donors, all of whom would love nothing more than to see their candidates play round-robin team competition ping-pong all session long. It's infuriating! At some point we're simply going to have to reform our outdated primary system and campaign finance rules so that our politicians actually turn their attention to the American people and away from the immaculate ballet of swinging paddles, flicking wrists, and fleet-footed maneuvering that's become so common on Capitol Hill. When lightning-quick tournament-quality volleys with the issues are no longer the norm, only then can we finally move forward as a nation.
Then all we'd need is for the Supreme Court to quit playing bocce with the gay rights issue.