WASHINGTON, DC—With Wall Street booming, the U.S. military standing tall, and Mark McGwire kicking ass and taking names, Congress passed the Helms-Bayh "America Is #1" bill by an overwhelming majority Monday.
"My esteemed colleagues, all of us have long known that America is number one," said Senate Majority Leader Trent Lott, announcing the bill's 92-7 passage. "But now it is official. USA! USA! USA!"
104-Year-Old Man Awarded WWII Medal Just To Be Nice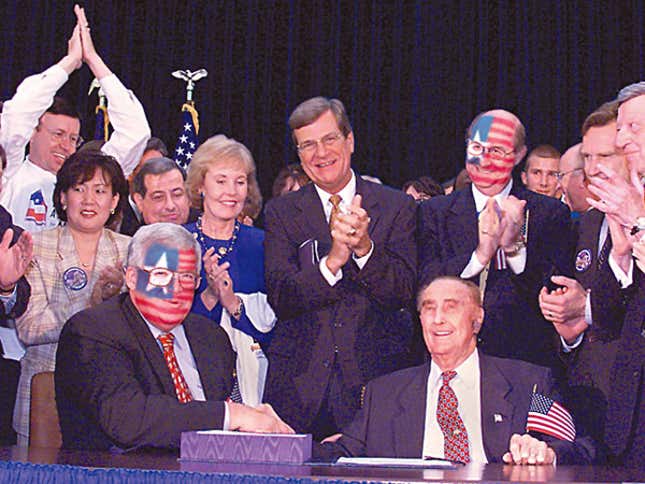 Lott's statement, which was met with cheering, whistling and foot-stomping, was followed by the playing of Lee Greenwood's "God Bless The USA"—blared over the congressional sound system. As the song played, a group of senators hoisted Lott onto their shoulders and threw him in the air.
The bill, which co-sponsor Sen. Evan Bayh (D-IN) called "yet another victory for America," received near-unanimous approval in the House before breezing through the Senate with little opposition. It is slated to be signed into law Friday by President Clinton.
"This bill is for all the hard-working people who have made this country what it is today," Clinton said. "Forget the rest, we are the best!"
First drafted in the House Rules Committee, the bill includes clauses establishing that America has the biggest GNP, the coolest cars, and the best professional basketball players in the entire world. Under the terms of the bill, any American citizen not liking the new law can go the hell to Russia.
The dissenting votes in the House were cast by three Republicans and four Democrats, all of whom were driven out of the Capitol Building to chants of "Communist" and "Benedict Arnold."
"Yes, patriotism does play a valuable role in any society," said Sen. Russ Feingold (D-WI), one of the bill's opponents. "But let's not lose sight of things: America has a lot of problems that this jingoistic bill makes us less likely to recognize and address. Take, for example, our failing Social Security system. And our falling export—"
Feingold's remarks were quickly drowned out by loud booing and table-banging.
"Who can deny that America is the shit?" asked Sen. Rod Grams (R-MN). "Who's got the world's highest standard of living? Who singlehandedly created the Internet, the first fully accessible world-wide information database? Who's got the best movies? Whose golf team just kicked the Europeans' asses in the Ryder Cup? America, that's who. We rule!"
Grams then engaged Senate Majority Whip Don Nickles and Minority Leader Tom Daschle in a round of "high-fives, up and behind."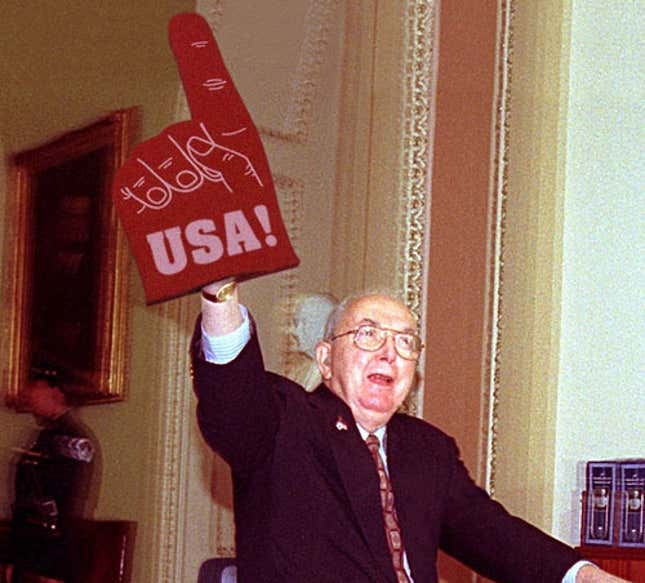 "It was a great feeling to have such consensus between the two parties," said Sen. George Voinovich (R-OH), who organized a pre-vote tailgate barbeque on the Capitol lawn. "Conservatives, liberals, left, right—for just one day, we put all of our differences aside to come together in agreement that we are the best."
Added Voinovich: "We're better than Japan, we're better than England, we're better than China, we're better than Germany, Canada, France, India, Brazil, Egypt… Need I say more?"
Despite enjoying near-universal support in Congress, the bill is not without its detractors.
"Allocating a mere $55 million for flags and face paint, this bill simply does not go far enough," political commentator and possible presidential hopeful Pat Robertson said. "So much more could be done. What about a superfund for ticker-tape and balloons? What about a permanent float committee? What about mandatory sentencing for those who mess with the U.S.? Don't be fooled, America."
Public response to the bill has been overwhelmingly favorable.
"This is exactly what this country needs right now," said Diane Hebets, a Chelsea, MI, legal secretary. "All I hear these days is negativity about the national debt, our health-care system, youth violence—it's about time we heard something about what we're doing right."
"It's been a long time since I agreed so wholeheartedly with those politicians in Washington," said Orlando, FL, carpet salesman Jim LeClair. "We're number one, and nobody better forget it. You hear me, Saddam Hussein? If you want some, come and get it. I'm right here, buddy."