'We Need $12 Trillion Or All These Kids Die'
WASHINGTON—Brandishing shotguns and semiautomatic pistols, members of the 112th U.S. Congress took a class of visiting schoolchildren hostage today, barricading themselves inside the Capitol rotunda and demanding $12 trillion dollars in cash.
House Speaker John Boehner (R-OH), who has emerged as spokesman for the bipartisan group, informed FBI negotiators this morning that the ransom was to be placed in stainless-steel suitcases and left on the Capitol steps by 4 p.m. sharp. If their demands are not met in full, the 11-term representative announced, "all the kids will die."
"Bring us the money and we let the children go, simple as that," said Boehner, appearing in the East Portico with a serrated switchblade held to one of the fourth-grader's throats. "If you want to play games and stall for extra time, we're going to shoot one kid an hour, starting with little Dillon here."
"Tick tock," he added, vanishing back into the building with the terrified child in tow.
G/O Media may get a commission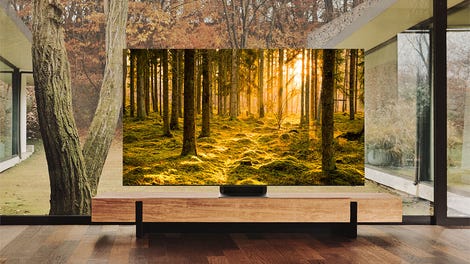 Up to 40% off
Samsung Smart TVs
Shaken witnesses reported that the ordeal broke out around 10 a.m. this morning, when in the midst of a Capitol building tour, Sen. Harry Reid (D-NV) suddenly burst into the National Statuary Hall with a pair of black panty hose over his head and began firing a Beretta 9 mm handgun into the air, shouting, "Everybody down! Everybody get the fuck down!"
BREAKING: Hostage Sends Camera Phone video From Inside Capitol Building
The schoolchildren were then led at gunpoint into the nearby Great Rotunda, where an agitated, profusely sweating Rep. Peter Roskam (R-IL) bound their hands and feet and duct-taped them to various sculptures, including a monument to women's suffrage and a marble figure of former president James Garfield. Although cell phones were confiscated immediately, one student managed to tweet a short video showing what appeared to be Sen. Chuck Schumer (D-NY) pistol-whipping a chaperone who attempted to yell for help.
"It's a very tense situation at the moment, and these things take time—more time than we've got," Special Agent Douglas Burkett of the FBI Crisis Negotiation Unit said. "We have snipers on the Supreme Court building, the Ulysses S. Grant Memorial, and the National Museum of the American Indian, but so far none of them has been able to get a clear shot at any senators or representatives."
"While there's an assault team on the way, they won't be able to breach the door if members of Congress have rigged the place with explosives," Burkett added. "And that's quite possible. From the looks of things, I'd say they've been planning this for a while."
As the dramatic standoff continues to unfold, the bipartisan gang of lawmakers has laid out additional terms for releasing the children. Among the demands are guaranteed re-election in 2012, reduction of the veto-override threshold from two-thirds to one half of the Senate, new desks, and safe transport to Reagan National Airport with a fueled-up private jet waiting on the runway.
According to sources close to the 535-member legislative branch, Congress has recently fallen on hard times. Neighbors reported overhearing heated arguments going on late into the night about dangerously stretched budgets, a failing health care system, and the potential for an all-out government shutdown.
With the ransom deadline nearing and no apparent resolution in sight, President Barack Obama was summoned in a last-ditch effort to diffuse the situation. Despite an emotional bullhorn appeal to return to "honest talks aimed at reducing the national debt and getting millions of unemployed Americans back to work," the chief executive was met with silence.
"There's just no way of getting through to these people," said Obama, holding his head in his hands. "I know Speaker Boehner personally, and I know that he and his colleagues will not hesitate for a second to kill these poor children if they don't get their way."
"Trust me, this Congress will do it," the president added.