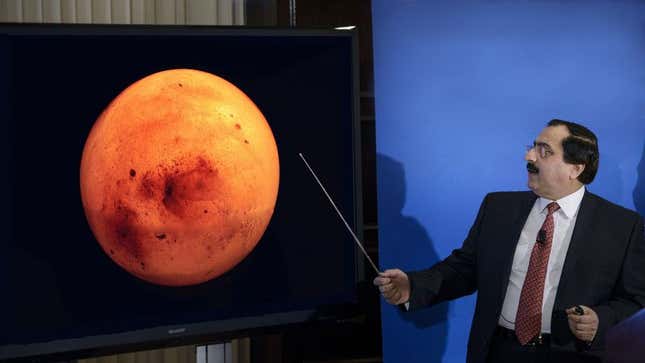 WASHINGTON—Fearing that any further delay might prevent their movement from having any meaningful impact, a consortium of leading conservationists confirmed Wednesday it is attempting to get a head start on preserving the planet Mars.
The newly formed group, known as the Redder Tomorrow Foundation, has reportedly begun fundraising, developing awareness campaigns, and crafting policy proposals, all with the aim of establishing safeguards to protect the natural beauty and delicate balance of the fourth planet from the sun.
"If we want to have any chance at all of saving this planet, we need to get started right now, before it's too late," said foundation president Sandra Wright, warning that while the condition of Mars has remained stable for millions of years, it could be gravely threatened by pollution, toxic waste, or the exploitation of its natural resources as early as the next decade. "We only have one shot at getting this right, and the earlier we can get a jump on it, the more hope we have of salvaging at least some of this magnificent planet's pristine landscape and crystal-clear yellow-brown skies."
"We must act immediately, while we still can," she continued. "We're already running out of time."
According to sources, the Redder Tomorrow Foundation recently began setting targeted goals to ensure the preservation of Mars' untouched terrain, noting that thousands of breathtaking geological formations—including numerous mile-wide craters, a cave located in the Tharsis bulge, and a large swath of the Olympia Undae dune fields—were facing imminent threats from development and industrialization.
"We know it won't be easy, but someone needs to step up and fight for this planet. It's the only other one we have."
In anticipation of the lengthy policy battles that lie ahead, the conservationists have collected 100,000 signatures on a petition calling for a ban on strip mining in the picturesque Tartarus Montes, a practice they reportedly fear would generate air pollutants that could despoil the planet's 96 percent carbon dioxide atmosphere.
Reports indicate that the group is even in discussions with several sympathetic celebrities, including Cate Blanchett and musician Jack Johnson, who may be interested in serving as the face of a campaign encouraging people to "Keep the Cydonia Mesa beautiful."
"There is potentially water below the surface of Mars, in which case it's only a matter of time before it becomes contaminated," said Wright, who then described an ongoing lobbying effort to establish purity standards for any fresh streams that may eventually spring from the planet's rock glaciers. "If there's drinkable water trapped in the planet's permafrost, we must conserve it, because once it's gone, it's gone."
"We know it won't be easy, but someone needs to step up and fight for this planet," she added. "It's the only other one we have."
Activist leaders told reporters that within the year they also hope to propose several health codes that will prohibit the dumping of hazardous materials into the planet's underground lava tubes and clean up much of the existing industrial and electronic waste that has already accumulated on the Martian surface.
"Of course, we want to do more than just save the immaculate vistas and rich topography of Mars, and that's why we're directing the bulk of our resources toward defending the natural habitats of whatever microbial life could, in theory, be there," Wright said. "We've already identified several possible sites for a 40,000-acre nature preserve within the Cebrenia quadrangle in order to protect any potential biospheres in the area, should they exist."
She added, "Hopefully, if we can get the ball rolling now, we'll be able to ensure that a robust Martian wilderness will thrive for many generations to come."
Sources from the Redder Tomorrow Foundation confirmed that it has had no problem raising funds now that most donors to conservationist causes have realized their efforts on Earth are a lost cause.