WASHINGTON, DC–The U.S. Consumer Product Safety Commission fondly recalled Kenner's Stretch Armstrong doll Monday, calling the elastic-limbed 1970s action figure "a genuine safety risk to children under 10" and "so totally awesome."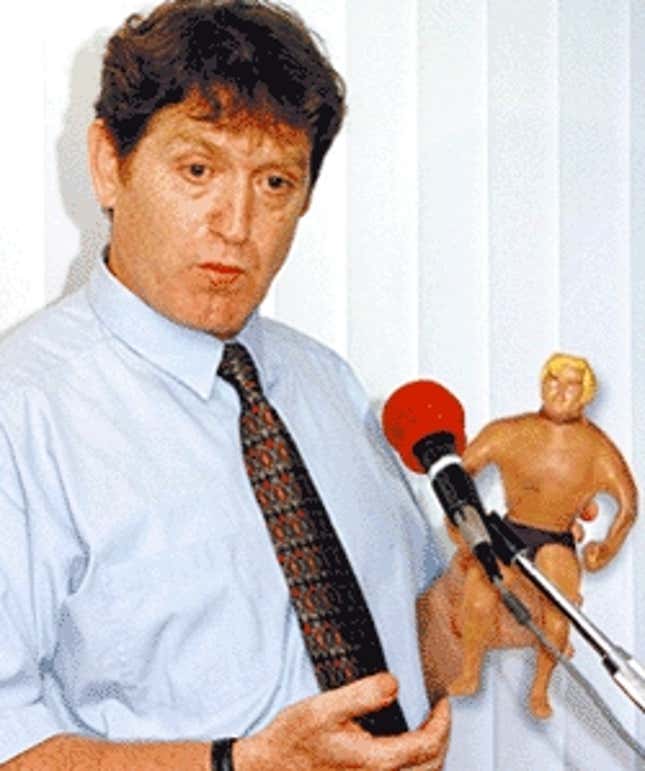 "The Stretch Armstrong doll poses a severe strangulation hazard to children because the limbs of the doll, when extended to full length, can be wrapped around a small child's neck," CPSC commissioner David Arnell said. "I know this for a fact, because when I was a kid, Benji Marchand, who lived next door to me, had one, and we used to stretch it out, like, eight feet and wrap it all around our heads and stuff. God, it was just the best."
Acknowledging that it is not standard practice for the CPSC to order recalls on products no longer manufactured, Arnell insisted that having at least one of the toys returned directly to him "is of great importance, both for the public good and for personal reasons."
"From 1976 to 1979, approximately 40,000 of these hazardous Stretch Armstrong dolls were manufactured and distributed throughout the U.S.," Arnell said. "And would you believe that, after all my begging and pleading to my parents, not one of those 40,000 wound up in my hands? Boy, I wish I could get a hold of one of those things."
Spokespemen for the now-defunct Kenner corporation have refused to comply with Arnell's recall demand.
"Arnell contends that several children have died by strangulation as a result of the Stretch Armstrong doll, but he can supply no actual proof of this," said Brad Timmons, who worked as a product-safety supervisor with Kenner from 1971 to 1980. "In fact, he says his primary source for this information is Kenny Orloff, the big brother of Jeff Orloff, his best friend up through sixth grade.'"
Continued Timmons: "Nearly every claim in Arnell's report–for example, that putting Stretch Armstrong in the oven will result in a radioactive explosion or that the doll, if placed on one's head too long, will constrict and cause mental retardation–seems to be based on hearsay."
Arnell's claim that the viscous contents of the toy pose a poisoning hazard and that the substance "eats through your skin in, like, five seconds" remains similarly unsubstantiated.
Arnell responded strongly to Timmons' dismissal of the CPSC charges.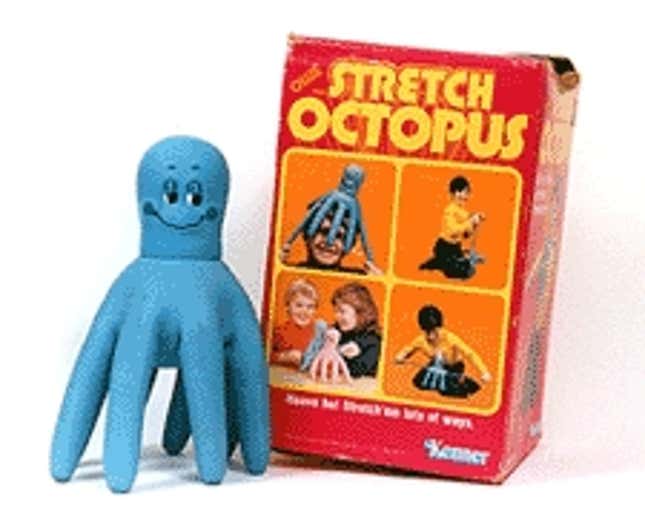 "I'm just telling you what I heard, is all," Arnell said. "One of the guys in the CPSC's product-research laboratory said that if you bust it open, the stuff inside is red and looks like blood, and if you get it on your hands you have to wash it off before you count to 10 Mississippi, or you'll die. Though this has yet to be confirmed, it's certainly not the sort of thing we're about to take chances with when it comes to the safety of the American people."
Unfortunately, Arnell said, the CPSC could not begin safety-testing the Stretch Armstrong doll because the agency was only able to secure one and it "[wasn't] about to ruin it."
"They're almost impossible to find, you know," said CPSC product tester Lisette Grange, 29. "Besides asking everyone I know, I've looked at Goodwill, retro toy shops and a bunch of garage sales. I did find a Weeble Haunted House and an Evel Knievel Turbo Tower Of Power, though."
Grange said the Stretch Armstrong recall has given the CPSC reason to consider ordering fond recalls of other now-defunct toys.
"If this Stretch doll is unsafe, heaven knows how many other things pose a danger, too," Grange said. "Like those Holly Hobby EZ-Bake Ovens. They baked, like, these tiny little cakes with this high-wattage light bulb. That can't possibly be safe. We'd better get one in here and do an accidental burn-hazard spec test. I'm so psyched to test one of those things. I loved those."
According to Arnell, the Stretch Armstrong recall does not affect the newer version of the doll produced by Cap Toys in 1992.
"Some concerned consumers mailed us those new Stretches, and we just sent them right back," Arnell said. "You can totally tell it's not the same one. The head looks completely different–he's got this dumb cartoony grin and a gay headband–and it doesn't even have the same body shape. It's really lame. Our recall is for the cool original one only."
When asked if the CPSC would be warmly recalling other 1970s-era Kenner "Stretch" products, such as the Stretch Octopus and Stretch Incredible Hulk, Arnell confirmed that it would.
"Oh, my God! Yeah!" Arnell said. "I totally forgot about the Hulk one! And my cousin Shelley had one of the pink octopuses. I think they came in blue, too. I've got to call her right now."