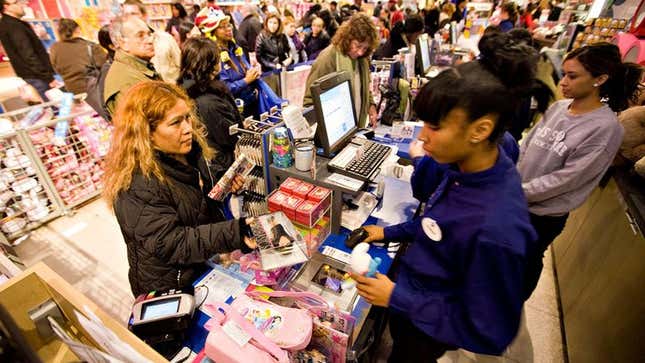 WASHINGTON—A survey released Monday by the U.S. Department of Commerce found the nation's weakened economy has drastically changed the way consumers blow their paychecks on useless crap.
The report suggests the lingering recession has forced Americans to make tough choices when it comes to pissing away their earnings, as millions struggle to find new, and often challenging, ways to be completely irresponsible with their finances.
"The sad truth is we have to keep track of every single penny if we want to be able to spend money on shit we don't even remotely need," said Nebraska resident Dennis Schmeltzer, 42. "What am I supposed to do? I've got three kids. This family buys a lot of dumb crap, and suddenly we don't have so much wiggle room when it comes to wasting our money like assholes."
"On the one hand, it kills me to go another month without winged-skull seat covers for our Suburban, but on the other, I can't bear the thought of my kids opening the kitchen cupboard and finding only three or four different kinds of Doritos," Schmeltzer added. "But right now we just can't have both. It's a nightmare."
The economy's sluggish recovery appears to have altered consumer overspending habits in a manner not seen for decades. Sixty-three percent of survey respondents said they were "significantly more reluctant" to squander their income on massaging bath pillows, prepackaged apple slices, motion-activated candy dispensers, devices that make it easier to crack eggs, and just about anything with a fucking Ed Hardy design plastered on it. Another 18 percent said they decided not to buy any more trampolines for at least six months.
With fuel prices rising and the cost of food at an all-time high, experts have said Americans have far less cash to recklessly fritter away. However, many have reportedly managed to continue splurging on stupid shit by finding ways to make their wasted dollars go further.
"Since my wife lost her job, we've had less money coming in, but we still make due," said computer programmer Paul Keimel, who cuts corners by always keeping an eye out for cheaper, shittier crap. "Sometimes that means getting a used strobe light, buying off-brand soda by the case, or settling for plastic truck nuts instead of chrome ones."
Keimel told reporters the hardest part for him has been "swallowing his pride" and taking his wife to shop at Goodwill for their porcelain knickknacks, VHS tapes they'll never watch, and other useless bullshit.
According to Chicago-based financial adviser Brenda Meyer, many Americans are barely able to make the monthly payments on their rent-to-own 52-inch plasma TVs. She suggests consumers cut back to two frivolous shopping sprees per month and create a budget to keep track of how much they're pissing away on jumbo-sized stuffed animals and mail-order steaks.
"People are learning that they have to be more responsible," Meyer said. "It's all about striking a balance between maxing out your credit cards, putting the big-ticket crap that you want really bad on layaway, and keeping enough cash on hand for impulse purchases at Yankee Candle or Brookstone."
Mark Zandi, chief economist at Moody's Analytics, said he was impressed by the transformation of dumb-as-fuck consumer behavior, noting that people have grown wary of throwing away every last dollar they have on idiotic shit they don't even want and will only use for two weeks, tops.
"As consumers, we need to ask ourselves, can we really afford that radio-controlled helicopter we've had our eye on?" Zandi said. "Well, in my case, I always have a little set aside for things like that. But even I'm not totally sure, because it'd be awesome if I could put that money toward a custom paint job or glass-pack muffler for my Honda."
Noting that American spending habits might be recovering more quickly than we think, Zandi cited last month's sharp increase in the number of Jet Skis repossessed by banks.