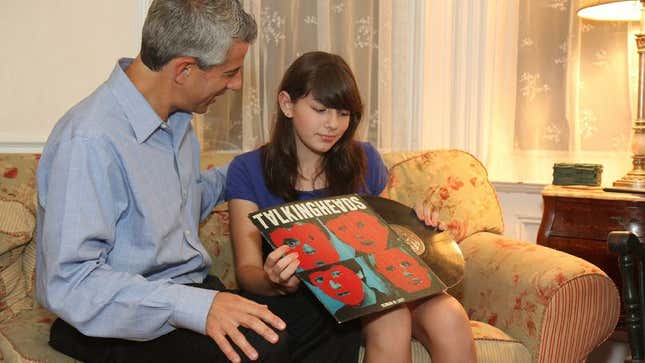 RENTON, WA—Local man Paul Campbell confirmed Saturday he was raising his daughter Emma on a variety of media carefully selected to help her cultivate an appreciation for artistic quality, a move that will reportedly put the 12-year-old girl hopelessly out of touch with her generation.
Perusing his music and film collections and showing reporters distinctive, well-regarded works that will thoroughly alienate Emma from her sixth-grade classmates, Campbell said he wanted to make sure his daughter enjoyed the benefits of a cultural education he never received at her age.
"Back then, I listened to junk like Journey and watched crappy movies like Iron Eagle," the 41-year-old said in reference to popular music and films of the 1980s that allowed him to have something to talk about with friends. "I wish my own dad had turned me on to the good stuff, so I wouldn't have had to wait until I was in my 20s before I started digging anything halfway decent."
"Well, I'm not making the same mistake he did," Campbell continued as he pulled out vinyl copies of Television's Marquee Moon, Miles Davis' Sketches Of Spain, and Big Star's #1 Record, highly influential albums that will in no way help his daughter interact with her peers at a particularly delicate time in her social development. "There's a lot of cool stuff out there, and it's never too early to start learning what's worth your time. I'm just glad I have the know-how to guide her."
Campbell said he has also been vigilant in ensuring Emma develops an increased familiarity with timeless classic films, a parenting strategy that will inevitably hobble her as she attempts to achieve individuation while negotiating an adolescence heavily influenced by the very latest pop culture.
G/O Media may get a commission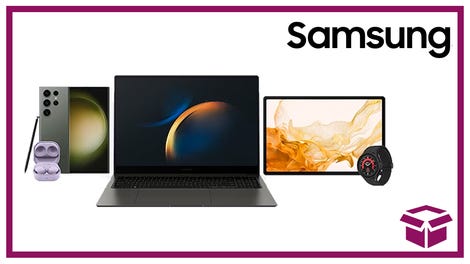 24 hour deals
Discover Samsung - Daily Deal
Since her early childhood, a period sources said featured a Danger Mouse–themed birthday party that utterly baffled the assembled 6-year-old guests, Campbell's daughter has been fed a steady diet of marginalizing cinematic masterpieces from the world's very best filmmakers.
"Jean-Luc Godard, Stanley Kubrick, Billy Wilder—you simply need to know who these men are if you want to call yourself culturally literate," Campbell said of the three iconic directors whose creations could not have less utility to his daughter as she searches for a way to achieve a sense of belonging among her fellow middle-schoolers. "Sure, she makes a face when I don't let her see some ridiculous movie with CGI robots because it's John Sayles Night and we're watching The Secret Of Roan Inish instead. But I'm giving her a leg up, even if she doesn't know it."
"I'm not unreasonable about this," Campbell added. "If she doesn't want to watch Harold Lloyd shorts tonight, that's no problem. We still have another five or six Prisoner episodes to get through."
Insisting he understood the important role entertainment media plays in the life of a sixth-grader, Campbell reportedly bought his daughter the Alice Cooper album Billion Dollar Babies on the grounds that the Adam Lambert CD she had begged for—and that all the girls at school had received—was not even a fraction as good as the 1973 masterpiece.
"I absolutely realize where she's at in life," Campbell said regarding the 12-year-old girl who has seen The Wild Bunch. "I don't care if she likes boy bands, but there are plenty out there that have some artistic merit: the Monkees, the Beach Boys, the Jackson 5. Come on, each of those guys is cuter than the next, and they're slightly talented, at least. I'd even be okay with Peter Frampton if she were really adamant about it, especially his early stuff with Humble Pie."
Reached for comment, Emma Campbell said that while she appreciated her father's dedication, she often had difficulty fitting in with her peers.
"I definitely feel out of place sometimes," said Emma, who told reporters she will never forget the blank stares she once received upon mentioning Petula Clark. "It'd be nice to know what everyone's talking about for a change."