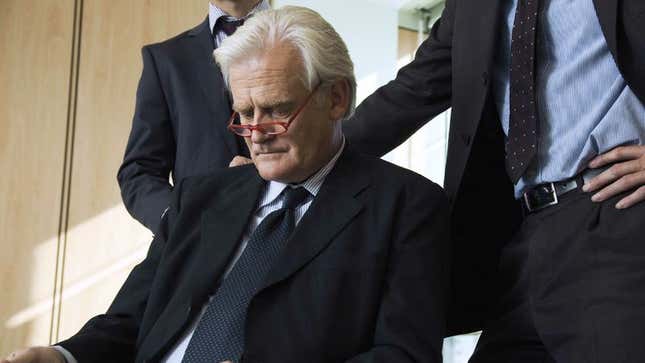 CHARLESTON, SC—Expressing shock and an immense sense of grief, numerous high-ranking figures across corporate America were reportedly left shaken Friday after learning of the sudden death of longtime consumer Arthur Henderson.
Executives within the multi-billion-dollar retail, technology, dining and hospitality, and financial services industries told reporters that they were completely blindsided by the 68-year-old retiree's abrupt passing, emphasizing that the beloved, reliable customer continued spending until his final moments.
"When I heard the devastating news about Arthur's death this morning, I immediately had this awful, sinking realization that he wouldn't be coming into our Charleston locations ever again," said visibly distressed Target Corporation CEO Brian Cornell while being comforted by members of the company's board of directors. "One day he seems as good as ever, regularly purchasing name-brand products, then wham—you're doing everything possible to keep it together while looking over his online profile and spending history and coming to grips with the fact that he'll never use his loyalty card again."
"I started crying when I thought back on his 2008 purchase of a 50-inch wide-screen television," added Cornell. "It was a Christmas present. He was a real good revenue stream—one of the best."
When reached for comment, Fortune 500 executives confirmed that the unexpected loss of Henderson, a valued customer who for decades could always be counted on to purchase impulse items in the checkout line, felt like a "punch in the gut." In particular, Walgreens CEO Gregory D. Wasson expressed sorrow over what he described as "an impossible-to-fill void" in the company's earnings reports, telling reporters that he would never forget the way Henderson would always grab a pack of M&M's or a Golf Digest at the register.
Describing the consumer's death as "heartbreaking," high-ranking corporate officers reportedly attempted to alleviate their despair by fondly reminiscing about how the Charleston, SC resident would occasionally purchase extended warranties and would never send in rebates—a characteristic trait of Henderson's that several department store CEOs admitted they would "miss most of all."
"You just thought Arthur was going to keep spending and spending for years to come, but then just like that he's gone," said AT&T Inc. CEO Randall L. Stephenson, adding that he could always depend on Henderson to continue making payments on the landline he rarely used. "This hit our top management really hard. Everyone wishes we could see him switch to a higher data plan again, like he did back in June 2011. That was a really wonderful moment that will always have a special place in our hearts."
According to sources, the nation's top executives spent much of the morning marveling at how Henderson touched so much of the business community over the course of his life, from simple acts like eating at fast food restaurants or renting on-demand movies, to bigger deeds such as refinancing his mortgage—all of which helped build a lasting connection between him and corporate America.
In fact, many business leaders admitted that the death of someone as dependable and adored as Henderson had inspired them to pause for a moment and truly value their consumer base.
"If there's anything I've learned from Arthur's passing, it's that you need to cherish every moment you have with your customers, whether they're rewards members or not," said ExxonMobil CEO Rex Tillerson. "Even our most beloved customers who regularly fill up their RVs are going to die eventually. It happens to everyone." "It's important to keep the consumers you care about close while you still can, because when they pass away, they'll never register another point-of-sale transaction with you ever again," added Tillerson, appearing to hold back tears. "But it's just so hard. There's nothing I want more than for Arthur to pay $100 to fill up the tank of his Chevy Silverado one last time."