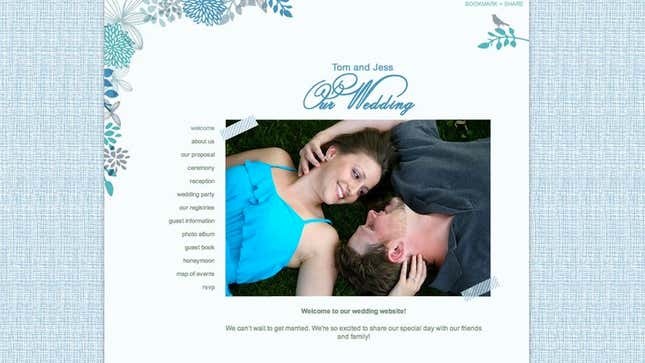 CHARLOTTE, NC—Newly engaged couple Tom Kerry and Jessica Tompkins unveiled their wedding website on Tuesday, helpfully posting the page online for the benefit of guests attending the upcoming October nuptials to mock, ridicule, and repeatedly insult, sources report.
Edgelords Explain Why They Love Elon Musk
Family and friends of the couple confirmed that the site "Tom and Jess: Our Wedding," which they created on the site TheKnot.com and customized over the course of two months with personal stories, photographs, and ceremony details, thoughtfully features a bounty of insufferable content for visitors to mercilessly scoff at.
"A poetic recounting of their first date? Are they for real?" said longtime friend of the bride Delia Xiao while browsing the website's "Our Story" page, a collection of personal narratives, favorite memories, and factoids the couple spent several weeks brainstorming. "'Jess met Tom two years ago / Would it be true love? She did not know.' Wow. That has to be the dumbest thing ever written."
"What a pair of dorks," she added.
Describing the couple's carefully composed website as a "real gem" that "people need to get a load of right now," wedding guests confirmed that the couple spared no effort in crafting the site's aesthetic, scrupulously selecting a design motif, color palette, and font scheme that's "absolutely perfect" for anyone who wants a good laugh.
Friends particularly urged each other to visit the couple's "unintentionally hilarious" photo gallery, a meticulously curated series of fall-themed snapshots featuring Kerry and Tompkins dressed up in different outfits sitting on a log, kissing in an apple orchard, and, for "reasons that must be known only to them," tossing an armful of leaves into the air.
In addition, sources said that the extensive FAQ tab, which reportedly sheds light on "absolutely vital" questions such as "Will the band be taking requests at the reception?" reportedly received responses including "Who gives a shit?" "Why do I care?" and "Here's a frequently asked question: Is this website dumb or what?"
"I can't wait to work my way through this long list of things to do in Charlotte—after all, we'll be staying there for so long!" groomsman Jake Whaley said while reading the site's thoroughly researched guide of popular tourist attractions and shopping outlets. "Did you know that the city has one of America's four photography museums? I'll definitely want to spend some money there after paying $900 for my flight and hotel. Tom and Jess truly thought of everything."
"And look, here's a hand-drawn map I can print out in case I'm physically unable to type directions into Google," he continued. "I'm going to print out at least 10 of these!"
Sources confirmed that in the last few days alone, visitors have linked to the wedding website in dozens of emails, chats, and private Facebook messages, snidely urging others to "sit down and buckle up" for the "Wedding Party" section with painstakingly fact-checked biographies of the wedding party, the "Contact Us" page with just the bride and groom's email addresses, and the "Accommodations" page featuring a bulleted list of amenities at the local Hilton Garden Inn.
Rounding out the website's "utter ridiculousness," friends said, is a "Registry" page complete with links to personalized lists of goods from Macy's, Crate & Barrel, and Bed Bath & Beyond that the couple, who reportedly still live in a rented apartment with three roommates, "apparently need to own."
When reached for comment, the couple said they were delighted that the webpage has proved so popular among their friends.
"I can't believe our 'How Well Do You Know Tom & Jess' quiz has been taken over 100 times already!" an excited Tompkins said of the questionnaire that friends have taken multiple times each in order to repeatedly laugh at the questions and answers. "It's so nice to know people are actually making good use of the site and having a little fun before the wedding."
At press time, friends confirmed that, in fairness, the idea of taking a trolley from the church to the reception hall was actually pretty cool.