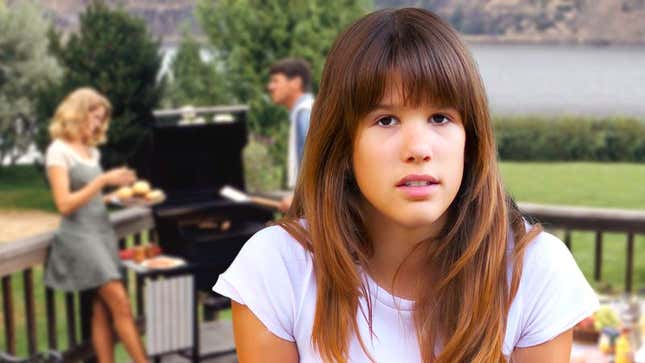 LAKE WINNIPESAUKEE, NH—As she entered her third day vacationing with the family of friend and classmate Jessica Matthieson, 15-year-old Kayla Phelps confided to reporters Tuesday that cracks had begun to emerge in the facade of domestic harmony that the Matthiesons had consistently projected.
This Week's Most Viral News: September 29, 2023
Phelps, who prior to the present trip had never spent more than a few hours at a time with the family of four, confirmed that several cold stares and emotional outbursts she has witnessed so far at the Matthiesons' rented lakeside cabin have led her to believe her friend's home life may not be as happy as she had always assumed.
"I've been to Jessica's house for dinner before, and her family always seemed really sweet and nice, but I'm starting to see a different side out here," said Phelps, remarking that midway through the weeklong vacation the Matthiesons appeared to have become less adept at keeping up their usual appearances. "I used to think her dad was pretty funny, but now I'm starting to wonder if maybe his jokes are just mean. He teases Jessica's mom a lot, and she almost never laughs along with him. When she does, I'm pretty sure she's faking it."
"And [Jessica's 12-year-old brother] Joshua has been acting really weird ever since we got here," the teen continued. "He's super quiet all the time and has been in bed by eight o'clock every night. It's kind of strange."
During the three-hour drive to the lake, Carolyn Matthieson, 42, reportedly snapped a few times at her husband Ted Matthieson, complaining about his driving and getting in an argument over directions, but Phelps said she didn't think much of it until the group arrived at the cabin and Carolyn threw down her luggage, walked directly into a bedroom, and slammed the door.
Citing further evidence of trouble brewing beneath the surface, Phelps stated that the Matthiesons rarely make eye contact when they speak to each other, something she had never noticed before, though she has known the family since she and Jessica became friends in sixth grade. She also said Jessica's parents often step outside onto the cabin's deck to trade whispered, harsh-sounding words, leading her to suspect there may be something really serious going on that she knows nothing about.
According to Phelps, her friend also spends the majority of her days vindictively calling her younger brother a "friendless freak" and finding other ways to push his buttons, having seemingly made him angry "just for the fun of it" throughout the family's recent day at the public beach, during lunches on the outdoor picnic table, and even while he's simply sitting alone at the end of the property's dock.
"Jessica's dad spends all day fishing, and he doesn't even seem to care when no one wants to go with him," said Phelps, affirming that the 43-year-old displays no outward signs of enjoying himself while methodically engaging in the activity. "And Jessica's mom keeps making up excuses to go run errands in town, but half the time she doesn't actually buy anything. At lunch yesterday, she suggested taking a drive up into the mountains, but when Jessica and Joshua both just kind of shrugged, she suddenly got up from the table without saying anything and started doing the dishes."
"Then last night at dinner, the four of them went practically the entire meal without saying a word," she added. "Back home, they'd always at least talk about their day."
The high school freshman confirmed that the family's veneer of tranquility had worn thinner each day, and that she worries about how tense the situation might become if rainy weather forces them to stay inside the cabin together for an entire 24-hour period. Noting that she had never seen Jessica and her mother argue before, Phelps also told reporters that this morning she walked in on a hushed exchange between the two of them on the screened-in porch, during which her friend said, "This happens every time—every time," before storming out toward the lake as her mother started crying.
Reached for comment, both Matthieson parents said absolutely everyone was having a great time on the trip and it was without a doubt shaping up to be their best family vacation ever.