CHICAGO—Dozens of innocent citizens were infatuated Monday, when a winged angel of romantic inspiration—or "Cupid"—drew his magical bow and opened fire on a crowd at Lincoln Park, striking an as-yet-undetermined number of people directly in their hearts during a 13-minute enchanted-arrow shooting spree.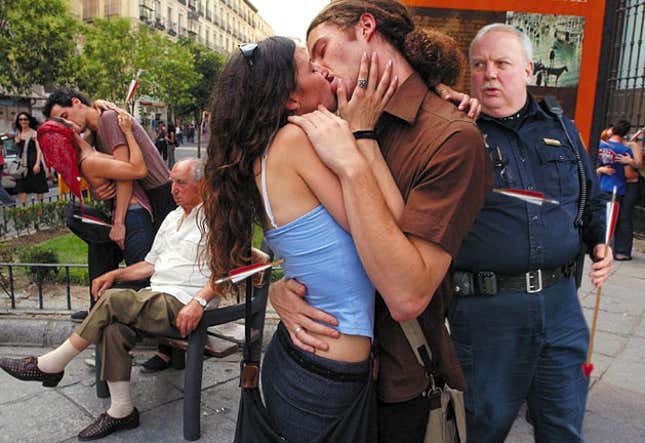 This Week's Most Viral News: September 29, 2023
"I was just walking along the sidewalk when I saw this chubby, winged guy wearing some sort of diaper, pointing a red-tipped arrow in my direction," said Steve Kremms, an insurance adjuster who was pierced by love's dart during Monday's incident. "I didn't really know what was happening. I barely had time to shout 'Down!' and wrestle this mousy librarian-type to the ground before I started stammering and feeling light-headed. Her name is Jackie and she writes poetry… We both come to this park a lot, but I'd never noticed her before, even though she has these amazing eyes."
"It was just so senseless, so out of nowhere, like a bolt of lightning," Kremms added. "Girls do like getting flowers, right? That isn't just a myth? God, I'm no good at this."
Police responded within 90 seconds of the incident. Some were caught in the crossfire.
"I haven't seen anything like it in my 13 years on the force, and only a few things like it since high school," said Detective Jim McClancy, one of the first officers on the scene. "Pairs of people were lying on the grass, on park benches, sitting on the curb, everywhere. They were giggling, murmuring sweet nothings… some were even moaning a little. I felt so… helpless—we knew the shooter was still in the park somewhere. I'll never forget how my heart almost stopped when my partner Julio, a guy I've served with for half my career, turned to me and said, 'Do you feel like getting some Chinese?'"
Amateur video shot at the scene shows the apple-cheeked cherub firing bolt after heart-tipped bolt into the crowd. Those hit reacted immediately by clasping their hands between their knees, casting their eyes downward, and digging their toes sheepishly in the dirt. In some cases, the victims hid their eyes altogether and grinned vacuously at absolutely nothing.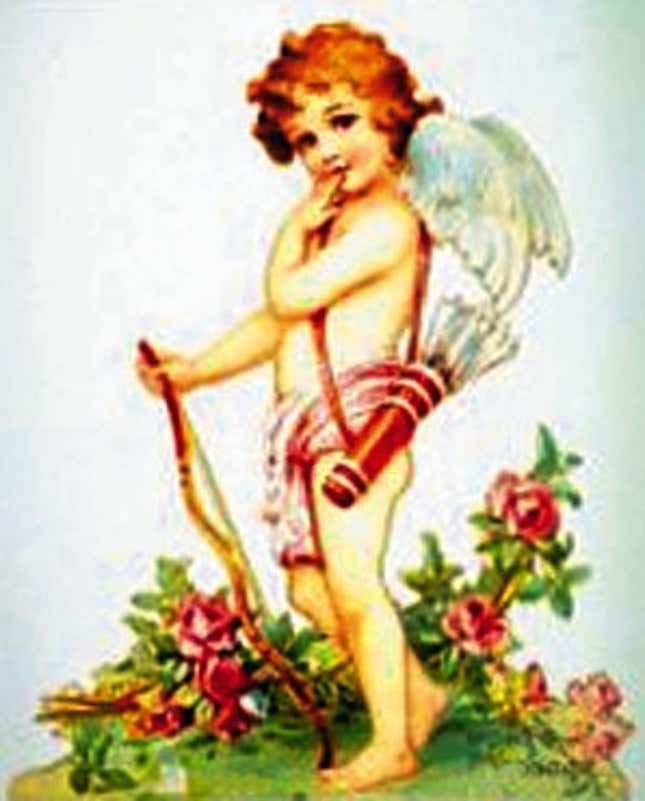 Although the tape has not yet been aired on television, authorities plan to do so as soon as soft-focus filtration effects are added and the footage is overdubbed with the Gary Wright ballad "Dream Weaver."
No arrests have been made, but police are currently rounding up local personifications of love's sudden and unpredictable onset. At least three winged, shirtless, cherubic residents of neighboring Winnetka and Mundelein are being kept in police custody as "persons of interest."
No motive has yet been given for the shootings, but forensic romantics speculate that the unusually benevolent spring weather and warm, breezy day may have played a part in the shooter's actions.
Police do not yet have an exact count of the victims struck by what they call "the heart's sweet, sweet wound," but at least six people were smitten seriously enough to rush themselves to emergency suites at area hotels, from which none have yet emerged.
Determining the extent of the shooting will most likely be difficult, experts say, due to the tendency of those affected to strenuously deny their infatuation while simultaneously refusing to seek treatment, in some cases actually resisting all offers of assistance and withdrawing from human contact for weeks.
"It's way too early to fully understand this wonderful shooting," said Anna Gardner, a relationship therapist working to help shooting victims get up the nerve to confess their feelings to one another. "People are going to come forward for weeks, talking about this memorable day. Roger, this very sweet man I met at the scene, said sometimes the enchanted arrow hits so hard, the victims don't realize they've been struck."
"He also said I have cute toes," added Gardner. "Such a thing to say! Can you imagine?"
Although the victims' reactions varied from blushing reticence to giggling denial to erratic behavior such as singing under other victims' windows, the total number of those lovestruck in the attack may never be accurately determined. Early reports indicate that as many as 24 people were exhibiting obvious signs of distraction and giddiness, and perhaps a dozen more were refusing to leave the sides of other victims.
Crisis-center representatives report that they are being flooded with calls inquiring about the welfare of possible victims, asking whether said victims have mentioned the callers in any way, and wondering if the hotline operator would agree to speak to the victims on the callers' behalf.
As of press time, at least three Chicago-area couples are missing and presumed wed.