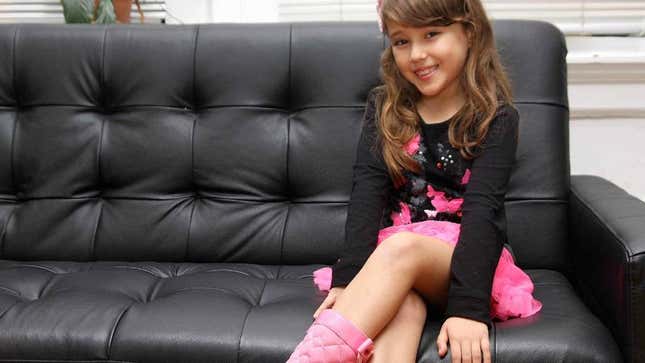 WINNEMUCCA, NV—Eight-year-old Ella Neumark said Saturday that in recent weeks she has become increasingly aware of how her adorable physical characteristics make her superior to unattractive girls.
CDC Issues Dire Warning That Nick Cannon Is Feeling Horny
Ella told reporters she has only lately begun to appreciate how her wide, expressive eyes, shiny blond hair, and flawlessly straight teeth cause her to be a far more worthy human being than her less appealing peers.
"I never really noticed it before, but my prettiness makes me better than every girl who isn't as pretty as me," Ella said. "The face I have means I deserve more attention than anyone whose face isn't as good."
"Mrs. Hothan calls on me all the time in class because my eyes, nose, and mouth are a certain way, and that's why she also gives me more time to answer questions," Ella continued. "She likes to look at me, so she's nice to me. Other girls don't get treated as nice because they aren't nearly as good to look at. That's so amazing."
Ella's growing recognition that her cuteness endows her with intrinsically greater value than girls who are overweight or possess thick eyebrows has reportedly caused her to see her friendships differently. The third-grader said she has begun to fully understand that she can in fact exploit her appearance to obtain benefits she believes she is entitled to.
"Girls who aren't as cute as I am will want to be friends with me, because if I like them, they'll feel less ugly," said Ella, adding that, conversely, the opinion of a girl covered in gross freckles wouldn't matter in the slightest. "I bet I can make them do my homework or carry my books or anything I want. If they don't, I can stop being their friend, and they'll be really sad and have to be friends with girls who look as ugly as they do."
"Isn't that cool?" Ella added.
In addition, Ella told reporters she has been equally delighted to discover her beauty has earned her significant advantages at home. Despite the fact that she bears a definite resemblance to her sister Melissa, Ella said her own more exceptional physical features nevertheless seem to have garnered her preferential treatment from her parents.
"If I want to go out for pizza or a movie, all I have to do is ask," Ella said. "I used to wonder why, and now I understand: I'm supposed to be happier than my sister. I'm really cute, and I get to have whatever I want; my sister has a really big nose, so she doesn't. I bet Mom and Dad love me more, too. Who could blame them?"
Ella said she was hopeful her appearance would continue to elevate her far above other girls and was eagerly anticipating being rewarded for her looks for years to come.
"I can't wait to see how being adorable helps me next," Ella said. "I'm excited to find out how far out of their way people will go to make me smile and make my problems disappear. My life's going to be great!"
"I'm a lucky girl," she added.