WASHINGTON, DC—In a grand opening Monday, Washington became home to the first Homeless Depot, one link in a nationwide chain of warehouse-style stores that will supply the nation's estimated 350,000 homeless people with all of their street-lifestyle essentials.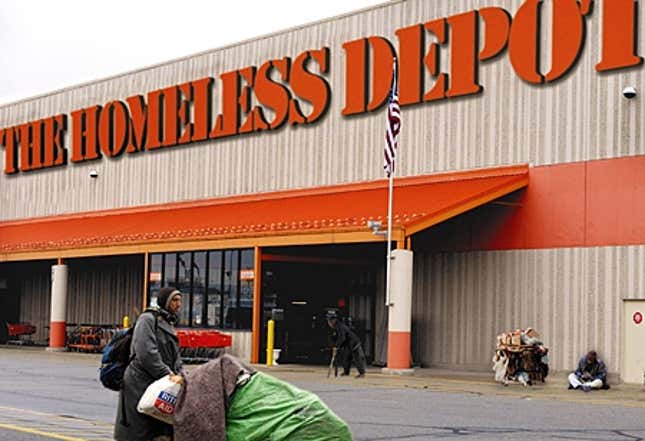 "There are 14,000 homeless people in D.C. alone, but there's never been a retail business that catered to their unique needs," store manager Geoff Alberts said. "Homeless Depot is a one-stop spot for cardboard building supplies, used carpet scraps, filthy woolen blankets, and flattened garbage-can lids. We also sell coffee cups, cigarette butts, soiled clothing, expired coupons, June 2001 People magazines, and half-empty containers of Dippity-Do hairstyling gel. Best of all, we have really nice, big, sturdy shopping carts."
"Wide selection and low cost are the benefits of a store this size," he added, as he led reporters through the 90,000-square-foot Homeless Depot's neatly organized rows of inventory.
"The liquor department features more than 40 types of fortified wine, 30 different malt beverages, and a full selection of budget-priced liquors, including Old Thompson Whiskey and McCormick Vodka," Alberts said, gesturing to racks stretching up to the store's two-story ceiling. "We're able to offer alcoholics their favorite brands at prices up to 15 percent lower than those at convenience stores."
"Volume buying allows for low prices on the essentials," he continued. "Whereas the corner bodega charges $2 for a butane cigarette lighter, we can offer them for half that, and our clerks provide service without a sneer."
Alberts led the group past a Homeless Depot employee conducting an in-store "Know How" customer clinic titled "Installing A Temporary Garden Bed." As several dozen onlookers watched the employee fasten a length of plastic sheeting to an artificial bush, Alberts explained that, in addition to selling materials for building and decorating temporary homes, the store will also feature weekly entrepreneurial how-to demonstrations.
"This week, we've got UB40 cassette tapes, still in their original packaging," Alberts said. "Come on in, and we'll show you how any ambitious do-it-yourselfer with a dirty blanket can turn cassette tapes into big cash."
Though the cavernous store also offers many useful services and filthy odds and ends, Homeless Depot specializes in home-building materials.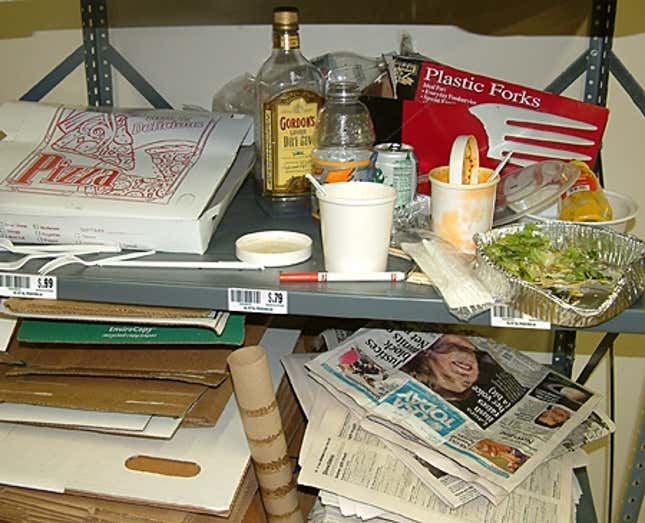 "We've got some very interesting offerings in the cardboard division," Alberts said, gesturing toward a 200-foot-long aisle of appliance boxes. "Now, it used to be that, in order to get a refrigerator box, you had to search high and low, with no guarantee you'd ever strike gold. No longer. We sell our top-of-the-line, Kenmore 25.5 cubic foot double-door refrigerator boxes right here, only $4.79 each."
Alberts added that, while much of the store's inventory is available curbside at no cost, customers should be willing to pay for quality and availability.
"Our sheets of corrugated cardboard are coated with a polymer that will withstand intense rain and snow," Alberts said. "It may cost more than something you'd find on the curb, but we guarantee that a temporary shelter built from our products will provide you with several months' protection from the elements. That's the Homeless Depot promise."
According to Street Voices, the Homeless Depot advertising circular written by and for homeless people, the items carried in the cardboard section—excluding television boxes, microwave boxes, and air-conditioner boxes—come with a 60-day aluminum-cans-back guarantee.
Convenience represents another benefit Homeless Depot holds over scavenging, Alberts said.
"Our five-pound sack of cigarette butts represents hours, if not days, of labor saved," Alberts said. "As so many of our customers are self-employed, that's time that could be spent writing a manifesto, praising Jesus, or crafting a list of one's military-service credentials to aid in the acquisition of spare change."
"We also carry a wide array of gently used markers," he added.
Alberts said the first day of business generated widespread interest, with nearly a thousand customers entering the store and using the bathroom.
Theodore Nathan, an analyst for the Professional Association of Retailers, said he was impressed by the stores' unique business plan.
"With the success of Wal-Mart and similar chains, the market for budget retail goods is crowded, to say the least," Nathan said. "Stores like Target have chosen to go slightly up the price ladder, while stores like Homeless Depot and ALDI cater to the extremely budget-minded consumer."
Homeless Depot CEO Randy Thompson said that several other Homeless Depots are currently under construction.
"We're going to open stores in Detroit, Chicago, St. Louis, and New Orleans by January 2005," Thompson said. "And, unless the economy gets significantly better, we plan to add another 20 cities to that list in the next five years."
Thompson denied rumors that jobs are available at any of the stores.