PHOENIX, AZ—Rodney Granger, 46, a Phoenix-area father of three, drops frequent hints about his wife Sandy's sexual proclivities, his creeped-out children announced Monday.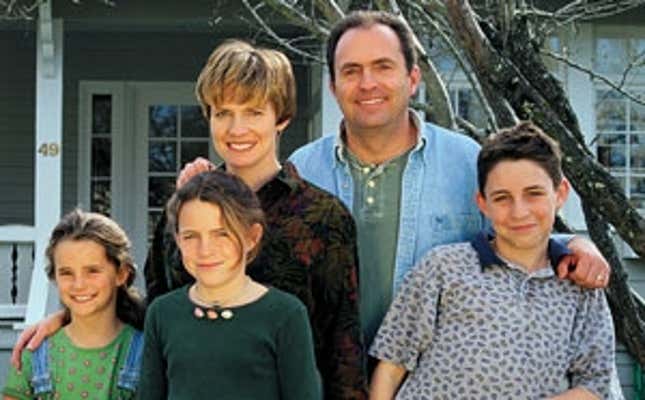 Edgelords Explain Why They Love Elon Musk
"Yesterday, we passed a sign on this supermarket loading dock that said 'Deliveries In The Rear.' Dad jabbed Mom, and they both started to laugh," said Andrew, the couple's 13-year-old son. "I acted like I didn't get it, but I got it all right. Apparently, Mom does, too."
According to Andrew's sister Erin, 11, the remark was far from atypical.
"On weekends, Dad and I sometimes go to the park to shoot hoops," Erin said. "Last Saturday, Dad told me to go without him, saying, 'Your mom needs me to take care of some things at home.' Then he smiled in this really weird way. I did not need to know that."
Erin said she believes her father is unaware that she, Andrew, and even 8-year-old Rachel are able to pick up on much of his thinly veiled sexual innuendo.
"I didn't used to get what Dad was saying, but now I'm catching on more and more," Erin said. "I'm starting to miss those days when I didn't know what Dad meant by, 'Your mother doesn't get tired very easily,' or 'It's time to do some drilling.' Blech."
As the oldest child, Andrew said he better understands his father's comments than his sisters do. As a result, he tries to protect them.
"Sometimes, Rachel will ask me what Dad meant by some strange comment, like 'It's seed-planting time,'" Andrew said. "I'll say, 'He was talking about putting some tulips in the garden.' I can't let her know what sort of shit is going on in her own house."
Still, little Rachel is beginning to catch on to the racy double talk.
"On Mom's birthday, Dad told her she'd get her other present later," Rachel said. "Well, I know what that meant. That meant some sort of sex or something. Eww, nasty."
"They're always kissing in front of us, even Frenching," Andrew said. "How disgusting is that?"
Last week, on family board-game night, Rachel expressed her disgust with the open displays of affection. Her protestations, however, fell on deaf ears: Her father kissed her mother throughout the Pictionary contest, saying that he couldn't resist because she is "the best kisser in town." Granger then added, "Just ask your Uncle Kyle," provoking playful slaps from Sandy.
The Uncle Kyle remark, Erin explained, was an allusion to events of many years ago.
"I heard the story about how Dad stole Mom from his brother Kyle, who went on one date with her a long, long time ago, before Mom and Dad were ever married," Erin said. "But now I have to imagine Mom making out with Uncle Kyle. God, I want to puke."
Equally nauseous is Andrew.
"I spend a lot of time at my friend Danny's house, and his parents never touch each other at all," Andrew said. "Why are Mom and Dad still chasing each other around the table and tackling each other in piles of leaves on the front lawn? It completely makes me want to barf. If I grow up warped, it's so their fault."