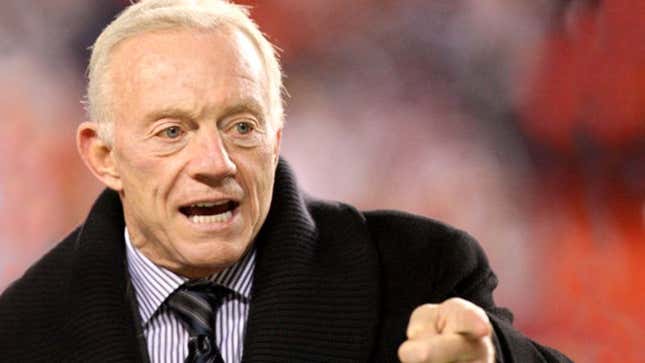 IRVING, TEXAS—In an attempt to cut the franchise's losses and "move forward in a positive direction," the Dallas Cowboys severed ties with controversial owner Jerry Jones Monday, ending their tumultuous 20-year relationship with the divisive figure.
According to sources within the Cowboys organization, the decision to release Jones was influenced by the lack of any playoff victories in more than 12 years, the owner's distracting sideline antics, and his selfish, "me first" attitude, which many said was having a cancerous effect on the clubhouse.
"We value Jerry's contributions to the Cowboys over the past two decades, but it has become painfully clear that we just don't share the same priorities," Cowboys public relations director Richard Dalrymple said. "This wasn't an easy choice to make, but we're confident it is a decision that can only make our team better."
"Losing to our NFC East rivals the Giants in our brand-new stadium was really the last straw," added Dalrymple, who said Jones "insisted" that the $1.2 billion facility would solve all of the team's problems. "The Cowboys need to focus on winning, and we can't do that with Jerry's incessant ego-boosting publicity stunts, or this opulent sports venue that's devoted more to himself than achieving postseason success."
Cowboys officials called Jones Sunday night to inform him he was being cut from the team, ordering the 66-year-old owner to clean out his luxury box and remove his personal belongings from the premises immediately. Jones, who was reportedly stunned to be removed from his ownership duties, issued a statement on his website thanking himself for all his hard work and years of service.
"Well, damn, looks like the 'Boys couldn't handle Double J anymore," the blog post read in part. "I'll never forget my time in the Big D, and how I single-handedly won three Super Bowls. Don't worry, Jerry Jones will land on his feet somewhere, and when he does, Dallas better watch out."
Jones' questionable conduct on and off the field almost certainly played a role in sealing the troubled owner's fate. Although some members of the Cowboys' management have reportedly contemplated Jones' termination for the past several years, sources said his recent association with known criminals as well as a perceived lack of character and poor leadership qualities provided ample reasons for his release.
Ultimately, team officials said that Jones had become an embarrassment to the storied franchise.
"Between the opportunistic condemnations of game plans, the uninformed evaluations of draftees, and the paranoid delusions that players and coordinators were scheming against him, it's no wonder the Cowboys have had enough," NFL Today commentator Boomer Esiason said. "Maybe his absence will finally give the team a chance to start living up to its full potential."
"Just watching the Cowboys practice without Jones leering at them, you can tell that morale has already greatly improved," Esiason continued. "They seem so loose and relaxed and their faces are just lighting up with smiles. This is the first time Tony Romo has had fun since he put on the Cowboys uniform."
Former Cowboys head coach and Fox Sports analyst Jimmy Johnson speculated that the team's real motivation for cutting Jones was that the aging owner, who turns 67 in October, is well past his prime and would have continued to cost the ball club too much money.
"His skills have really diminished the past few years, and he just can't make the moves that he used to," said Johnson, adding that the rest of the NFL was passing Jones by every day. "When you get older you start to slow down, and as you try to compensate, you wind up making poor decisions."
"He had to eat more than $9 million dollars of salary cap just to get rid of Terrell Owens," Johnson added. "In this economy? What was he thinking?"
Though his publicist would not say whether the former Cowboys owner was entertaining offers from any other teams, an anonymous NFL source told reporters that, immediately after Jones cleared waivers Tuesday, Oakland Raiders owner Al Davis offered him a record-setting three-year $120 million deal.