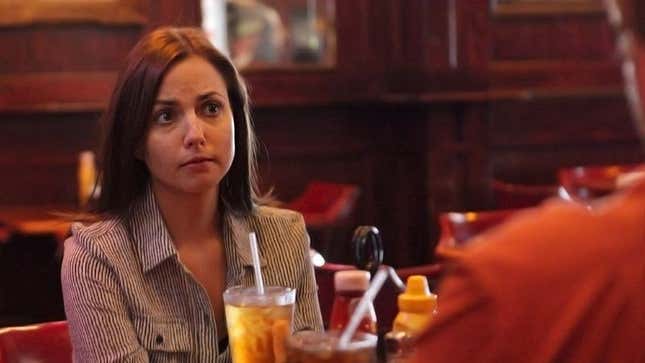 WILMINGTON, DE—Over the course of their dinner Tuesday evening at a local bar and grill, area woman Melissa Kowalski, 27, reportedly faced a constant stream of her date's personal flaws so swift and intense that she could not possibly rationalize them all.
104-Year-Old Man Awarded WWII Medal Just To Be Nice
Kowalski told reporters that throughout her 90-minute first date with 28-year-old digital media producer Colin Layner, she was unable to formulate the excuses and justifications necessary to keep pace with his rapidly emerging negative qualities, admitting that at numerous points she became completely overwhelmed by the unrelenting barrage of deficiencies in Layner's behavior, background, career, general personality, and physical appearance.
"The second we stepped into the restaurant, I had to tell myself that not holding the door open for me just meant that he wasn't caught up in old-fashioned gender norms, but from there, his shortcomings just never let up," Kowalski said, describing the deluge of her date's social missteps, character defects, and lackluster table manners that she had to negotiate throughout the meal. "Each flaw—from his tendency to talk over me to his poorly groomed facial hair—required time to process and then explain away, but they kept coming at me all night, sometimes three or four of them at once."
"Honestly, I started losing track of all of his faults before our drinks even arrived," Kowalski continued. "I was barely done convincing myself that his wheezing laugh is somewhat endearing when he got a little curt with our waiter, and I had to chalk that up to him having a rough day at work. It was just about impossible to keep up."
Kowalski confirmed that she spent the vast majority of her time with Layner frantically attempting to come to terms with his numerous imperfections, each one of which, she explained, would typically have required an entire evening for her to excuse under normal circumstances. However, given the breakneck speed with which Layner's flaws—from his evident dandruff to the fact that the majority of his anecdotes about himself revolved around drinking—were being unleashed, Kowalski said she could only give each a cursory rationalization before being compelled to move on to the next.
According to Kowalski, Layner began their conversation by mentioning that he hadn't been on a date "in ages," a statement she reportedly justified by speculating that his busy professional schedule prevented him from meeting many women. However, when he then immediately explained that he recently started a new job after being out of work for more than a year—which Kowalski attributed to the sluggish economy—she was forced to revise her thinking and assume that Layner hadn't dated much because he may have just ended a long-term relationship.
"About halfway through dinner, I realized that even though I had spent the entire evening trying to get a handle on his flaws, I wasn't even close to being caught up," Kowalski said, pointing to Layner's poor posture and how he barely asked any questions about her, both of which she was unable to find time to address. "It seemed like whenever I managed to justify one flaw, there were two more waiting for me to deal with. After a while, it all became a blur."
"And when he casually mentioned that he was 'not much of a reader,' I had to push that out of my mind without ever coming back to it," she continued. "At that point, I was just falling too far behind."
Kowalski reported that the outpouring of flaws reached its greatest intensity at the meal's conclusion, with nearly every action and sentence from Layner revealing some new and unexpected red flag. After briefly retreating to the bathroom to collect herself and resolve a few stray flaws that she hadn't yet whitewashed, Kowalski reportedly decided to only attempt to make excuses for Layner's smaller imperfections and made a mental note to remember his larger flaws until after the date, when she would have ample time to try to justify them.
"The end of dinner was the toughest stretch," Kowalski said. "He assumed we would be splitting the check—which I accepted by noting it is actually pretty common these days—before leaving the waiter a 10 percent tip, so I had to give him the benefit of the doubt on that and trust that he simply miscalculated. And then, as we were leaving, he started typing on his phone while I was talking to him, so I had to assume he had just gotten an important work email, which seemed plausible until I remembered that a few minutes earlier I had gotten over the fact that he only works part-time by reminding myself that he probably doesn't want to put his full effort into a job he doesn't consider a long-term career. The whole thing got pretty exhausting."
"Colin does seem like a good guy, though," Kowalski continued after a short pause. "I'd say, yeah, I think we might end up being a good match, actually."
When reached for comment, Layner confirmed that while he thought Kowalski was "very nice," he would likely not go out with her again, as he found it difficult to look past the fact that she is several inches taller than him.