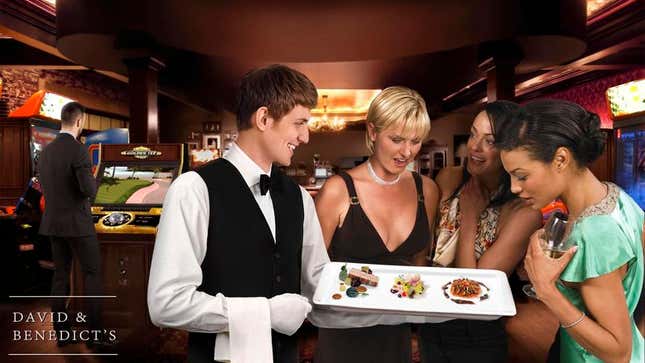 DALLAS—In a bold move marking its first foray into the luxury market, restaurant and video arcade chain Dave & Buster's announced Thursday the opening of David & Benedict's, a new fine dining and gaming outpost in the Napa Valley region of Northern California.
This Week's Most Viral News: September 29, 2023
According to company spokespeople, the lavish yet tastefully modern Rem Koolhaas–designed gaming hall and gourmet eatery will feature an upscale amusement experience coupled with some of the latest and most exciting gastronomic innovations to be found in New American cuisine.
"Guests of David & Benedict's won't just have a meal and play some games—they'll be treated to a complete immersion of the senses," said public relations director Diane Feng, touting the new restaurant's solid mahogany Skee-Ball tables and epicurean dishes, which include the Benedict Burger, a deconstructed hamburger made from Japanese Wagyu beef suspended in a buffalo-sauce-infused marrow broth. "From the solid-brass-encased Marvel vs. Capcom arcade console to the delicately panko-fried aged-Roquefort spears served in a guacamole foam, your evening is sure to be absolutely unforgettable."
In addition to the awe-inspiring menu—created by Michelin-starred chef Thomas Keller and featuring several other radical reinterpretations of classic Dave & Buster's fare—reports confirmed David & Benedict's houses a world-class wine cellar that includes bottles of the celebrated 1947 Château Cheval Blanc vintage, which will be served to the restaurant's most well-heeled clientele in yard-long neon-colored plastic champagne flutes.
Before leaving, guests will reportedly be able to take their winning gold-foil-stamped game tickets to the Victors' Podium and exchange them for a Swarovski crystal key chain, a 4-foot-tall Super Mario plush toy made from imported handwoven silks, or an original Ming vase. In addition, sources said, patrons can acquire a prepaid David & Benedict's platinum-preferred Power Card that will allow them to play games at the venue and, in a crossover promotion with Emirates Airlines, purchase luxury amenities when flying first-class to Dubai.
"There's nothing quite like meeting up at David & Benedict's with a bunch of buddies from your hedge fund and digging into some caramelized foie-gras-and-nacho-cheese poppers," Feng said. "After you've enjoyed a couple of our signature Wildberry Burst cocktails made from 50-year-old single-malt scotch, you'll want to head on over to the custom-built Dance Dance Revolution game station, which was developed using data from motion-capture suits worn by the company of the Bolshoi Ballet."
"Particularly adept guests will be able to dance the entirety of both the black and the white swan leads for the entire two-hour-and-25-minute run of Swan Lake," she added.
Industry analysts said they expect David & Benedict's to face stiff competition from rivals, with Chuck E. Cheese's having recently opened a lavish venue called Charles Ellsworth Cheddarton's, which features its beloved animal characters in a 100-piece animatronic symphony orchestra that performs the works of Wagner, Mozart, and Stravinsky.